Tosca
Giacomo Puccini
Arena di Verona, Italy
(2006)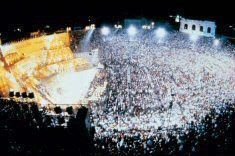 Did she jump or did she change her mind?
One of the great tragic scenes in the grand opera canon was left shrouded in mystery after the first night of Hugo de Ana's impressive new production of Tosca in the vast Arena of Verona on Saturday.
Soprano Fiorenza Cedolins, a shapely, warm-voiced Floria Tosca, is last seen poised high above us on the edge of the uppermost tier, clutching a large wooden cross. But whether or not she follows the tradition of other great Toscas – including Callas herself, arguably the finest exponent of the role - and leaps, we shall never know. At that moment the great lights dim and the next we see of her she is taking her bow with the excellent tenor Marcelo Alvarez.
A near capacity house of 14,961 enjoyed an exciting account of Puccini's masterpiece – a work decidedly intimate for the great reaches of this Roman amphitheatre yet which, thanks to director Hugo de Ana, the fine voices of the Italian ensemble – and the splendid two thousand year-old acoustics, gripped the international audience almost as if it were a chamber performance.
As the painter Cavaradossi, Alvarez himself enjoys a considerable triumph in this new production. His assured performanceof Strange harmony of contrasts, the vision of his love Tosca, is surpassed only in the Act 3 letter song, When the stars were brightly shining which so captivates the Arena that an encore, a highly popular tradition in these parts, is inevitable. The young tenor gracefully obliges, egged on by the superb conductor of the orchestra and chorus of the Arena, Daniel Oren
Maestro Oren is clearly the star of Verona, popular with singers and audience alike. Moreover, his requirements of his forces are powerfully communicated by a remarkable presence.
In the role of Scarpia, the villainous police chief, Ruggero Raimondi gets to the heart of their love-hate relationship with the fashionable singer desperate for the release of his prisoner. Venal my enemies call me he sings in a great baritone passage leading to the soprano's great prayer, Visit d'arte, vissi d'amore delivered, seated down stage, with remarkable control.
Less convincing are Signor de Ana's settings which, in addition to certain clutter that even threatens to interrupt Scarpio's famous entrance, also fail to establish a truly ecclesiastical sobriety about the Act 1 scene in Sant' Andrea. The torture chamber of Act 2 also remains strangely concealed though there is a splendid Act 3 execution platform of St Angelo, a worthy setting for a full compliment of riflemen in the penultimate scene.
This act opens beautifully with the treble voice of Ottavia Derrucci in the role of the shepherd boy, as specifically required by the composer.
The performance will be repeated on the 22nd and 29th July and 12th, 18th and 25th August.
Reviewer: Kevin Catchpole