Total Eclipse
Christopher Hampton
Menier Chocolate Factory
(2007)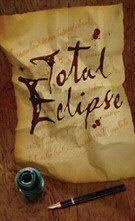 A play about a pair of French symbolist poets from the late-19th century sounds dull and worthy. However, when that pair is Rimbaud and Verlaine, the evening turns into a cross between Men Behaving Badly and Withnail and I - only more so.
There is also a serious echo of the sad tale of Oscar Wilde and his obsession with Bosie (Lord Alfred Douglas), particularly in a court case where yet another accuser falls to the temptation to use a euphemism to describe the act that they enjoy, before the older poet goes to jail for his malicious lover.
Anyone hoping to get an insight into the poetry should stay at home with a couple of volumes of collected works. Christopher Hampton wrote this play in 1968 when he was only 22 and it has all the marks of a young man's work. This is sex and drugs and rock 'n' roll with a vengeance and, at times, the fact that the co-protagonists are famous people from long ago is almost completely forgotten.
Total Eclipse opens on the relative marital bliss of the bearded Paul Verlaine, played by Daniel Evans. Following the revolution, he has been forced to take the family into his mother's home and an interminable battle with his stepfather, a man with the sternest Victorian values.
Already, he is showing signs of manic depression with violence emerging courtesy of regular doses of absinthe, to the extent that he beats his pregnant wife, played by stage debutante Georgia Moffett. He mixes bad behaviour with abject apology and Evans skilfully manages to make these split personalities compatible.
The family's life changes irrevocably with the arrival of Jamie Doyle's pretty 16 year-old Arthur Rimbaud, a role played on film by Leonardo DiCaprio. He is a prodigy of a poet who, as soon as he dons his top hat, looked exactly like the Artful Dodger. He may look cherubic but has a mean streak that puts his friend's outbursts to shame.
Rimbaud is a man without morals and taking a homosexual lover from the bosom of his wife who is nursing a newly-born baby is a badge of pride for him rather than shame. Quite where he will stop is never clear, since twice we see him stabbing innocents and lying and stealing are his normal way.
His lack of honour is such that when he finally drives Verlaine into shooting and almost missing him, he rushes to the police and lands his friend in jail for two years. Their reconciliation is hardly what Verlaine could have expected, ending with a beating and a rift that proves permanent.
A final scene twenty years later is tacked on to give perspective on the relationship and the lives of the poets. Until that point, the play might have been exciting but Hampton almost completely forgets to tell us who these people really were. They might be artistic geniuses but could as easily have been sportsmen or the idle rich.
The staging by Paul Miller and his designer Paul Wills is in traverse with a very narrow walkway between five rows of viewers on either side. Regrettably, the word viewers is something of a misnomer since towards the back, the rake is not steep enough to allow even the relatively tall to see much of what is happening on stage.
The tension though was often palpable, enhanced by the acting of both stars in what is effectively little more than a two-hander. The soundscape helps with scene changes accompanied by two different musical tracks, both dissonant. The rock guitar presumably symbolises Rimbaud while the solo piano is Verlaine.
It is good to see Daniel Evans, a double of Olivier Award winner for musicals including Sunday in the Park with George at the Menier, in a straight play and his treatment of his character proves to be suitably sensitive.
Jamie Doyle genuinely carries off the difficult job of portraying a completely amoral and absolutely cruel 16 year-old who hardly matures over the next three years.
Quite what Total Eclipse is setting out to prove could be a matter for serious debate. Ultimately, it might well be seen in retrospect as a young playwright's dabble with the wild side of life using a couple of names from the history books and jazzing up their sordid story. In that the world loves bad boys, it might well prove popular.
Reviewer: Philip Fisher