Totally Trucked
Katie Damer
Katie Damer
The Peer Hat, Manchester
–

Listing details and ticket info...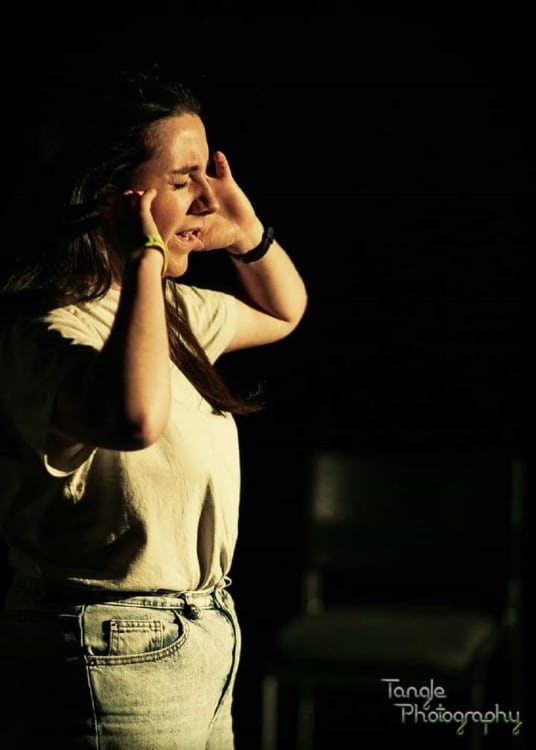 Pain determines and distorts priorities. When my reoccurring bad back went into spasm last week, the pain was so intense people thought I was having a heart attack and two complete strangers stopped their cars and offered to drive me to hospital. In future, I'll exercise by swimming rather than in the gym.
Totally Trucked is an autobiographical play detailing how author and sole performer Katie Damer copes with a potentially debilitating health condition. In 2014, schoolgirl Katie's efforts at a healthier lifestyle end abruptly when she is knocked off her bike by a ten-tonne truck. Although the physical effects initially seem light, Katie's swollen knee becomes unbearably painful.
Eventually, the condition is diagnosed as Complex Regional Pain Syndrome—which can never be cured only managed by drugs. The medication is so strong, Katie must be supervised during exams to ensure she does not fall asleep. The condition has a secondary effect as the need to use a crutch results in a trapped nerve leaving Katie's hand frozen and there is an almost inevitable impact upon her mental health.
The gallows humour in Totally Trucked is earthy and dark, laughing to avoid facing the horror of the situation. Damer takes an extremely frank 'warts and all' approach to describing her somewhat slovenly lifestyle, dousing herself in perfume rather than bathing. Katie lives a downmarket hedonistic existence—knocking back vodka, gorging on meals from Nando's and enjoying a very active sex life. Her health condition prompts no change in behaviour, but a growing awareness friends have similar problems and are coping less well leads to a different attitude.
Damer's empathy, her concern for the problems suffered by her classmates and willingness to help shifts Totally Trucked from being a shallow but amusing romp through alcohol fuelled misadventures towards mature considerations. Away from the drinking and shagging anecdotes, a quiet desperation underlies the play as Damer, without alarming her family, comes to terms with the diagnosis her health is likely to continue to decline and she may have to use a wheelchair. As the damage may move upward through her body, there is the possibility the nerve endings in her vagina may mutate and cause pain instead of pleasure.
Although the speeches are delivered with every word clear as a bell, Damer belts out the dialogue in a breathless, rapid manner suggestive of someone on the verge of panic made desperate by horrific events. The approach certainly helps set a tone of urgency for the play and raises the question of the extent to which Damer's drunken behaviour might have been prompted by, or concealing, her fear. In a particularly strong sequence, items which Damer once regarded as symbolising freedom—physical distance, and so independence, from her family—are recognised as contributing to a sense of isolation.
The unusual approach ensures Totally Trucked is not a standard 'triumphing over adversity' tale. The bawdy anecdotes combined with the raw description of Damer's health and appreciation of her family makes for a brutally honest play, so, although bleak, the tone is inspirational rather than depressing.
Reviewer: David Cunningham