Touched
Stephen Lowe
Salisbury Playhouse
(2008)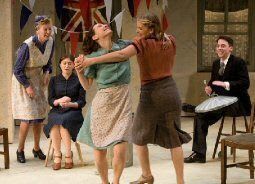 Semprini, the popular radio pianist of the '40s and '50s, used often to feature in his late-night repertoire "neglected ones" as well as old and new.
That mantle has, it seems, been acquired by Salisbury Playhouse Artistic Director Philip Wilson who, after directing J.B Priestley's long forgotten People at Sea, has now brought to the city Rebecca Gatward's production of Stephen Lowe's rarely performed nostalgia for the Home Front of World War 2 , Touched.
There is an argument that neglected plays lie in the archives for good reason and that possibly we do better to leave them there, as in the case of Priestley's lost work found by Wilson in the British Museum.
Set in the 100 days between VE Day and VJ Day, this play focuses almost exclusively on the women who peopled the homes and factories of England while their men were putting the finishing touches to hostilities in Europe and Asia.
Thus, the first words we hear are Richard Dimbleby's from Belsen while the last are those of the American voice confirming the carnage of the atomic bomb on Hiroshima.
In the light of those dreadful theatres, life at home seems almost dull - unless this is down to Lowe's insistence on confining himself largely to life at home after the Blitz and before the end of rationing.
A bleak picture nonetheless. Perhaps my own problem with it is that I expect too much, having grown up during rather than after hostilities with Hitler. Compared with nights in the shelters or gathered around the radio awaiting Churchill's messages of gloom, Lowe's account is pretty tame stuff. Rather like the rugby match after the players have left the field.
Yet Lowe's chronicle is a vivid record of uncomfortable times when women, shorn of traditional home comforts, looked elsewhere for romance and the work that paid the housekeeping.
Juliette Goodman gives a strong performance as Sandra, whose imagined pregnancy is almost a let-down, and there is a strong performance from Lynda Rooke as the kind of Mam that had been running our homes since World War1!
Mark Stratton as Harry has the voice of an old factory manager, heard more often, one recalls, at factory gate meetings rather than in the workshop. Be that as it may, such bold, stentorian tones are "heard" all too rarely in playhouses these days.
Liz Cooke's designs are comfortable, if suggesting austerity and deprivation rather than blitz and sudden death - but then this is, as we've pointed out, Britain on the cusp of post-war credits rather than families at war.
The production continues until Saturday 26th April.
Reviewer: Kevin Catchpole