Tragédie
Creation and choreography by Olivier Dubois
Olivier Dubois Ballet du Nord
Sadler's Wells
–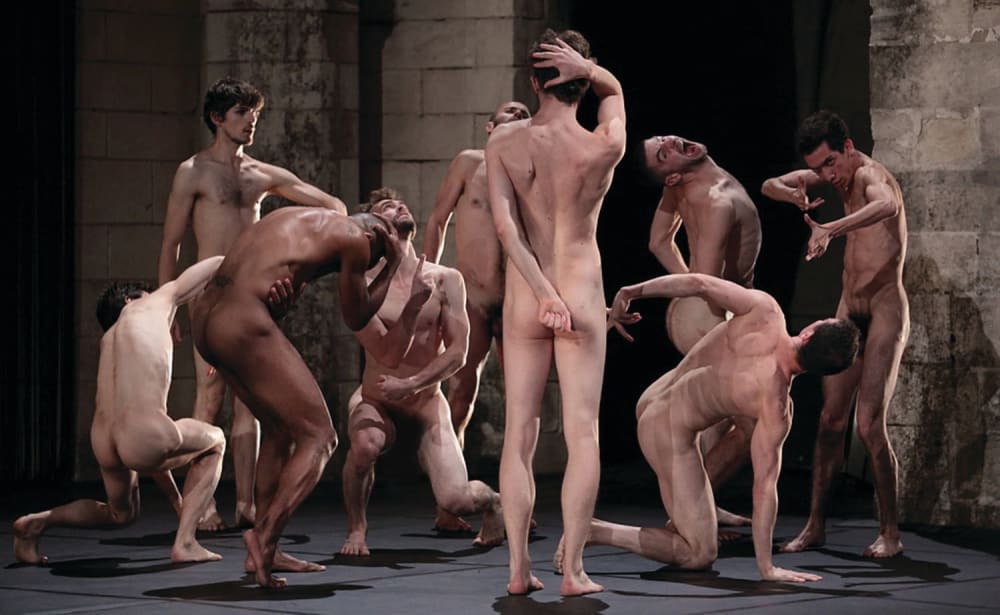 Eadweard Muybridge's studies of motion are given the French existentialist treatment by Olivier Dubois in Tragédie, a mesmerising brain-numbing study of the human condition.
A figure walks forward from back to front stage, turns and walks back again, the shielding dim light revealing little.
Another body falls in step with the first, and another, until the full complement of nine men and nine women march to a persistent beat. And the light lifts.
In military phalanx, in variations and mathematical pattern permutations they about turn, wheel round, and on they go, steady, unrelenting, on and on. Naked bodies of varying sizes, a life class, a study. Ninety minutes of study.
Plenty of time to study the different strides, the ones who keep to the beat, the ones slightly out, the different body proportions, the different centres of gravity, the different states of tension and posture.
François Caffene's soundscape builds from a simple percussive beat to head-banging painful layers of sound, punishing on the ears, as the Tragédie unfolds. When the mental metal music stops, my ears pop.
Ninety unrelenting minutes are punishing on the performers and the audience, some of whom don't stay the course. It is a fascinating course, but too long. We're caught like rabbits in headlights by an onslaught of sound and intense repetitive movement.
Halfway through, the performers suddenly become aware of each other, crouch in expressive poses, face one another, integrate and separate slowly, three steps forward, two steps back.
A limp, a twitch, a shrug, minimal hand gestures—are the robots rebelling? Becoming individuals? Becoming self-aware? Out of this liberation comes chaos. They stumble and fall randomly.
The music screeches. They roll on the floor, a Hieronymus Bosch heaving mass of bodies, wet with sweat. The Apocalypse? We walk this earth and then we are gone—is this the human tragedy Dubois is trying to fix in our exhausted minds? The fall from grace?
Up they get and walk again. This time with more dynamic turns, jumps, and leaps. They almost dance a jig. The music chugs in Rite of Spring mode. They shake, twitch, fall on all fours in orgasmic orgiastic ritual—are they under the influence?
The music screams, Patrick Riou's lighting strobes, we're in a madhouse. Women spread their legs, men dry-hump the ground. It is not erotic. Looks more like electro-convulsive therapy.
Please stop. Enough, enough. The music is pitiless. Life is pitiless. The performers are exceptional, but I couldn't sit through it again even though the black on beige body tones speak of age-streaked statuary, timeless, eternal.
When the eighteen performers take the stage for their final bow dressed in a motley of clothes, they have lost their naked grandeur. Point made in a curtain call. What a piece of work is man.
Although Olivier Dubois came late to dance, he has performed with Jan Fabre, Ballet Preljocaj, Sasha Waltz, to name but a few, and since 1999 "has been at the cutting edge of the French contemporary dance scene". Finally, British audiences can see what the fuss is about in this "his long awaited choreographic UK debut".
Tragédie, which opened at the Avignon Festival in 2012, is the final part of a trilogy, Étude critique pour un trompe l'oeil, begun in 2009 with Révolution, followed in 2011 with Rouge (a solo).
Much sought after as choreographer, teacher and performer Dubois says: 'The 'tragedy' at the heart of the piece is the fact that being human doesn't equal humanity".
Reviewer: Vera Liber