Trance
Shoji Kokami, translated by Amy Kassai
Bush Theatre
(2007)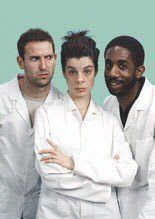 The English version of this Japanese play has been a long time coming. Shoji Kokami's meditation on schizophrenia (and madness more generally) was first seen in his home country in 1993 but only now has its world premiere in English.
The writer also directs on this occasion and does so with both wit and style. He is fortunate to have chosen a trio of actors who inhabit difficult roles with élan and work well together.
The opening moment, when they fight over a doctor's white coat, takes on deep meaning two and a quarter hours later, as the purpose of so much of what has gone before becomes clearer.
On Bob Bailey's bright, white set featuring four cubes in front of smoke-filled glass cases, we meet three people who had last been together on the day that they left school fifteen or more years before.
Masa, played by Irish actor Stephen Darcy, is a lowbrow magazine writer. He is picked up by gay night-club chanteuse, Sanzo better known as Sylvia Stallone, the female Rambo. The pick-up is literal, after Masa is chucked out of the club and given a beating.
He was already struggling with life, fearing that he was schizophrenic. That is how he was reunited with a psychiatrist, American actress Meredith MacNeill as Dr Reiko.
Much of the play sees Masa drifting between himself and an alter ego as a pompous Chinese emperor. Throughout, he is protected (and loved) by Rashan Stone's touching Sylvia.
Somehow, the text gets itself into far too many scenes that are close to repetition as Masa fights madness, Reiko reasons and Sylvia comforts. The loop is eventually broken by the loopy, as Kokami wittily allows a good dose of surreality to liven up the ending.
The Bush may not have done Trance any favours by programming it immediately after another play about madness, the far superior Elling. This schizophrenic second cousin to Joe Penhall's Blue/Orange has moments of great insight but these are not sustained through the evening. However, the direction is good and all three actors are on top form in a play with a series of final twists that are worth waiting for.
Reviewer: Philip Fisher