Translations
Brian Friel
RNT Cottesloe
(2005)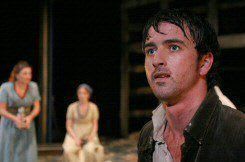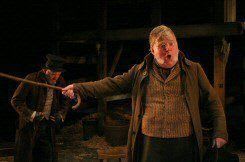 Sean Holmes' revival of Brian Friel's 25 year-old drama owes its brief appearance at the National Theatre to success as a touring production under the NT Education mobile banner.
Translations is, like so much of Friel's work, a play that might easily have been written by Anton Chekhov, had he been Irish. The similarities occur in both the characterisation and also the selection of a point in history where rural life will inevitably change forever.
In 1833, the residents of Ballybeg- or more accurately Baile Beag - enjoyed a relatively happy life. However, poverty and the ever-present threat of the potato blight that was beginning to drive so many of their fellow countrymen across the Atlantic were never too far off.
The action takes place in a hedge school, a kind of unofficial adult educational establishment operating from a barn. This is run by the imposing Hugh, played by theatre director and occasional actor, Kenny Ireland.
There the locals who struggle with the three Rs are indoctrinated into the classics, none more so than Tony Rohr's Jimmy Jack Cassie. This wonderful top-hatted invention is a strange, romantic little old leprechaun of a man whose main charm lies in a sense of humour and an unwillingness to wash.
When Hugh is occupied with the sauce (most of the time), the teaching is left to his son Manus, played by David Ganly. This penniless unfortunate would love to marry Mairéad McKinlay's Maire, a girl from a large family but she refuses him until a steady salary is coming in.
In the distance, this Gaelic community is threatened by a law that will introduce state-funded National Schools, which may not charge for their compulsory education but work only in the hated English language.
Much closer to home, English soldiers are just outside the village, ostensibly on a friendly visit to re-map the area. The problem is that the names that they will give to each village and even every rock and stream will be anglicised, thus removing another small piece of Irish culture.
Friel cleverly introduces the two English soldiers who are leading the project through their interpreter, Hugh's well-to-do Dublin-based son Owen (Roland to them), played by Billy Carter. He is happy to act as a go-between but can also be seen as not too far from a traitor to his homeland and family.
As the play develops, the Irishmen are counterpointed with Simon Coates' strict army captain and his delightfully unconventional lieutenant, given comic life by Tom Vaughan-Lawlor.
The play juggles its various plot lines including hints at the start of IRA guerrilla-style warfare well, until it reaches a sudden and very abrupt ending in which almost nothing is resolved.
This well acted two-and-a-quarter hour production has been simply designed by Anthony Lamble and contains strong acting all round.
While there is much laughter and a little romance, the poignancy of the situation cannot be hidden, particularly in retrospect. Everyone in the audience knows what happened in Ireland over the following century and a half and the suffering that the arrival of the Englishmen would bring. In this respect, Translations takes on a heavy weight of importance.
Reviewer: Philip Fisher