Translunar Paradise
George Mann
Theatre Ad Infinitum
Pleasance Courtyard
–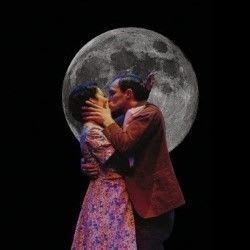 A previous hit of the Fringe, Translunar Paradise is back, bringing with it the same quiet grace and George Mann and Deborah Pugh's memorising movements.
When an old man is widowed, he's left alone with memories, nostalgia and old habits. The simple absent-minded action of getting two coffee cups out of the cupboard is made all the more emotional by his sudden realisation that it's still just him and his situation is real.
Memory is a powerful tool however and the spirit of his late wife makes one last visit to their home to help him relive the past and embrace the grieving process. Accompanied only by an accordion and Sophie Crawford's haunting voice the pair dance their hearts out, delving into the happy and also not so happy experiences that they shared together.
The use of masks here is hugely poignant, the older faces often removed to reveal the young lovers beneath—as they grew old together they never quite lost sight of their younger selves, never quite surrendering that youthful energy. Their bodies intwine but rarely touch, the old man reaching out for the woman he so recently held in his arms.
Crossing from physical theatre to dance and back again, Translunar Paradise fuses the motion of dance with the characterisation of storytelling, the independent feisty woman and her adoring husband clearly defined. With only a slight turn of the head and stoop of the knees, the older mask subsumes the whole body but when memories pull the figures back into the past their lithe selves reappear.
Translunar Paradise is a silent tale that speaks volumes—about love, grief and how memories can manifest. Emotional but never maudlin, it's a beautiful 75 minutes of storytelling.
Reviewer: Amy Yorston