La Traviata
Giuseppe Verdi, libretto by Francesco Maria Piave, based on La Dame Aux Camélias by Alexandre Dumas
Metropolitan Opera House, New York
(2011)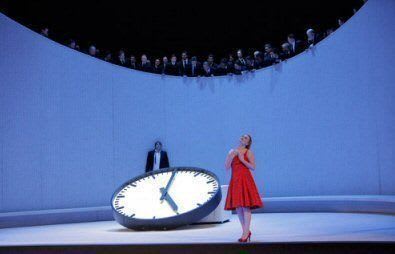 For his New Year's Eve Met debut, German director Willy Decker has created a remarkably austere production of La Traviata.
It starts out practically in black and white with a single significant exception, as Violetta consults her doctor, a man who seems to have more than a touch of the grim reaper about him. Presiding over all is a gigantic clock ticking away the remainder of the loose-living lady's life.
The heroine Violetta, drawn like so many others in various artistic fields from Alexandre Dumas'La Dame Aux Camélias and played by glamorous Russian soprano Marina Poplavskaya, is clad in the inevitable scarlet designer party frock.
This is the old, old tale of an inveterate partygoer who is forced to pay for her dissipation by enduring a long and painful death from consumption.
The party scenes are unusual in that Violetta is joined by around fifty enthusiastic preppy types with no other woman in sight. One of those men is innocent Alfredo, on this occasion, played by the barrel-chested American, Matthew Polenzani.
He is seriously smitten and willing to give up everything that he owns for a few moments of passion.
These arrive after an early interval in a tableau of symbolic silliness. Not only is the backdrop above the wheel of death-shaped playing space filled by brightly coloured camellias, so is the furniture and, believe it or not, the loving couple.
This creates some very strange effects as they canoodle. In particular, so good is the flowery camouflage that at one point your diligent critic completely lost sight of Violetta, even though she was downstage left in full view.
The purpose, if not the extent, of the design by Wolfgang Gussman becomes apparent, as first all colour is bleached from the backdrop and then it is drenched in blood red lighting.
Before that, Alfredo's unhappy dad Giorgio, memorably sung by Andrzej Dobber, has begged Violetta to forsake her son for the good of his family, which cannot afford to be besmirched by scandal. This allows the dissolute but doomed heroine to achieve nobility, if she chooses.
Miss Poplavskaya sings well but also proves to be a fine operatic actress, when making love to her partner, fighting his father then facing up to her loss and soon afterwards death.
This 961st performance of Verdi's classic weepie will probably divide opinion but few would disagree that the orchestra under conductor Gianandrea Noseda were as good as ever, while none of the singers let the side down either. The questions will come with regard to the staging for what is arguably the Met's gala highlight of the year.
Reviewer: Philip Fisher