Tread Softly / Carnival of the Animals / The Comedy of Change
Choreography by Henri Oguike / Siobhan Davies / Mark Baldwin
Rambert Dance Company
Sadler's Wells
(2009)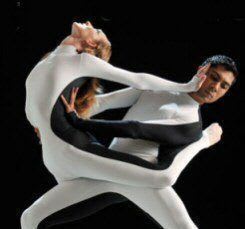 Everything is connected. Mark Baldwin's (Artistic Director of the Rambert Dance Company) new piece, The Comedy of Change, celebrates Darwin, as well as Rambert's inherited spirit of Diaghilev, which was commemorated in this very venue last month. It is dedicated to Merce Cunningham, whose Rainforest is promised in May 2010. Wayne McGregor dedicated his Darwinian 'Spirit of Diaghilev' Dyad 09 to Cunningham, too. Dance's chain of links, and its organic evolution - the past has become the future.
'Time past and time present are both perhaps present in time future, and time future contained in time past" (TS Eliot in Burnt Norton) - Professor Clayton explains in her programme notes, that Darwinian theories are basically - 'same / different, past / future, and conceal / reveal'. Dance variations, influences, references and innovations, surprise and display?
Baldwin, asked by his "good friend Stephen Keynes, great-grandson of Charles Darwin to be involved in the Darwin year 2009", has programmed a themed trio of dances - two new, one a golden oldie - with a talented group of collaborators. If the dance doesn't please, then the music will, or the lighting, or the décor and the costumes, and the Rambert orchestra deserves its well-earned applause.
Henry Oguike's first commissioned piece for Rambert, Tread Softly (yes, the quote from WB Yeats), to Schubert's exquisite String quartet in D minor (Death and the Maiden), is witty (opening with a male dancer standing on a female dancer's stomach), erotic, energetic, beautiful but not afraid to be awkward. There are some unusual moves and holds - dangled by one leg, a dancer walks around her partner on her hands; heads shaking hands on arched backs dancers stumble into old age.
The dancing does please - Rambert has a fine ensemble of dancers - and Oguike's choice of music, Romantic with a gentle courtly Renaissance resonance, helps. Rites of passage, cathedral to crypt, via la petite morte, mortality is only a step away.
What gives it that extra dimension, for me, is Yaron Abulafia's exceptional lighting design. He makes visible his PhD research into "the poetics and meaning-making of light". An art installation, defining the content, creating a drama of its own - smoky, mysterious, deathly cold (in tone with Asalia Khadjé's white costumes), then giving warm life to ghostly shades - augments Oguike's dance form.
Baldwin's brief (as life, la comédie humaine, itself) intelligent The Comedy of Change, which closes the evening, is also gifted - with design from Kader Attia and Georg Meyer-Wiel, and music specially commissioned from Julian Anderson.
Darwin is distilled. The dawn of creation, darkness, a quiet hum, seven white translucent chrysalises litter the black floor. A black elbow pokes out, and another. A black and white creature emerges - in two-tone unitards (black back, white front) - now you see it, now you don't against the black set. More emerge, all the same. Amoebic cells, they join and separate, in various formations, two conjoined bodies making a new creature.
Meanwhile, a dancer is swaddled in silver foil. The body slips out, his outer shell remains - a sitting Buddha, aglow under Michael Mannion's minimalist lighting.
The salamander-like creatures vanish to be replaced by dancers in skintight body suits, top of head to ankle, some clad in white and some in black. I'm picking up Anthony Gormley signals... Can't be right.
Mummified bodies, duality, separation of the species, or pigmentation issues? And, forgive me, but for a silly moment I'm reminded of Woody Allen's 'sperm' role in his 1972 film, Everything You Always Wanted to Know About Sex* (*But Were Afraid to Ask) it does fit the evolutionary theme... The hollow effigy is smashed. Lights out.
The two new monochrome studies are relieved by Siobhan Davies's entertaining Carnival of the Animals with its splash of colour and playful humour - the warm filling in a cold sandwich. Thankfully, Siobhan Davies's 1982 delightful number has stood the test of time, as, of course, has Saint-Saëns' charming music, written easily and swiftly over one weekend, a 'grand zoological fantasy'. The dancers, easily and swiftly too, assume animal characteristics in amusing fashion. No ambiguity here.
In white suits, and bright shirts, to which are added wrist cuffs, blue evening gloves (for the aquarium scene), and feathered fans (costume design Antony McDonald), dancers transmogrify into anthropomorphic animals against a Henri Rousseau naïve jungle backcloth (set by David Buckland). Amongst which are found curious creatures, beginner pianists... Cerebral Davies does light-hearted rather well. Long may this remain in Rambert's repertoire.
Till 7 Nov and then touring
Check dates at www.rambert.org.uk
Reviewer: Vera Liber