Treasure Island
Le Navet Bete & John Nicholson, based on Robert Louis Stevenson's novel
Le Navet Bete & Barbican Theatre
Bristol Old Vic
–

Listing details and ticket info...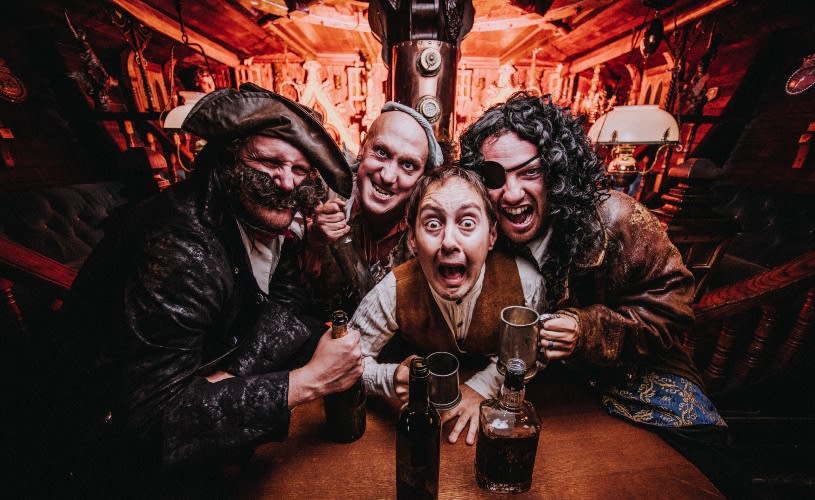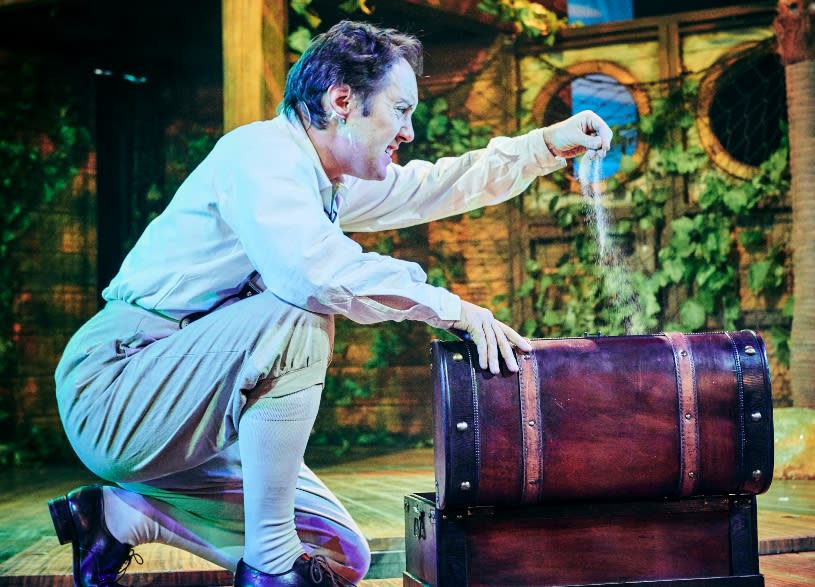 We all love classic children's stories about treasure. And it does not get much more classic than Robert Louis Stevenson's legendary novel. The very book, published in 1883, heavily influenced the portrayal of pirates on screen and stage in just about every way possible. Adaptations of Treasure Island are frequent and the coming-of-age story about buried gold, pirates at sea and the thrill of adventure is essentially the DNA of every treasure-seeking story since the novel was released.
Le Navet Bete are Al Dunn, Matt Freeman and Nick Bunt. The trio's roots are in the West Country, where this show is being performed, with the theatre troupe based in Devon. Much like comedic groups in their field, the founding members are all friends that met at university and have created a handful of well-received works in recent times. It is not uncommon to see comparisons to Mischief Comedy, the team behind The Play That Goes Wrong. The group uses creative licence in a bid to make classics like Treasure Island, and previous adaptations such as A Christmas Carol and Dracula "more accessible".
Co-written by Le Navet Bete and John Nicholson (Peepolykus, BBC Radio 4), who also directs, Treasure Island sees Jim Hawkins (Nick Bunt) come across a treasure map and journey to the Caribbean with Long John Silver (Al Dunn), Blue Peter (Matt Freeman) and Captain Birdseye (Simon Burbage). First performed prior to the COVID-19 pandemic, this production fits into the panto mould. Audience participation is encouraged, fourth-wall breaks are common and silliness is the name of the game. It is a genre not often performed away from its primetime slot at Christmas, when this show made its première in 2019—maybe it is the holiday spirit which enables us to get fully behind the antics on show?
However, unlike pantos, jokes here are rarely intended for the whole family. It is either just for the adults, bordering on the tasteless (mentioning spit roasts in front of children is just one example), or solely for the children with cheap, uninventive gags. Children's comprehension can be cruelly understated—they thrive on challenging story-telling and this is lacking in that department.
There is no problem with silly, even the ludicrous done well can be entertaining, but this felt out of sorts. For sure, families may get some enjoyment out of this but it isn't one that will stick in the memory. Children's theatre has the ability to take the whole family on an adventure. This is less of a rollercoaster at Alton Towers, more of a dodgy dodgems at your local carnival. While the set (Fi Russell) and lighting (Alex Best) design provides a positive with its multi-functional use and clever changes, the gags unfortunately carry little weight.
Visiting productions at Bristol Old Vic tend to hit home runs for fun, but this is a wayward attempt. The award-winning company is capable of much more and they've built up a solid reputation for family fun. But this doesn't pitch right for the family, nor is it particularly fun.
Reviewer: Jacob Newbury