Treasure Island
Robert Louis Stevenson adapted by Theresa Heskins
New Vic Theatre
New Vic Theatre, Newcastle-under-Lyme
–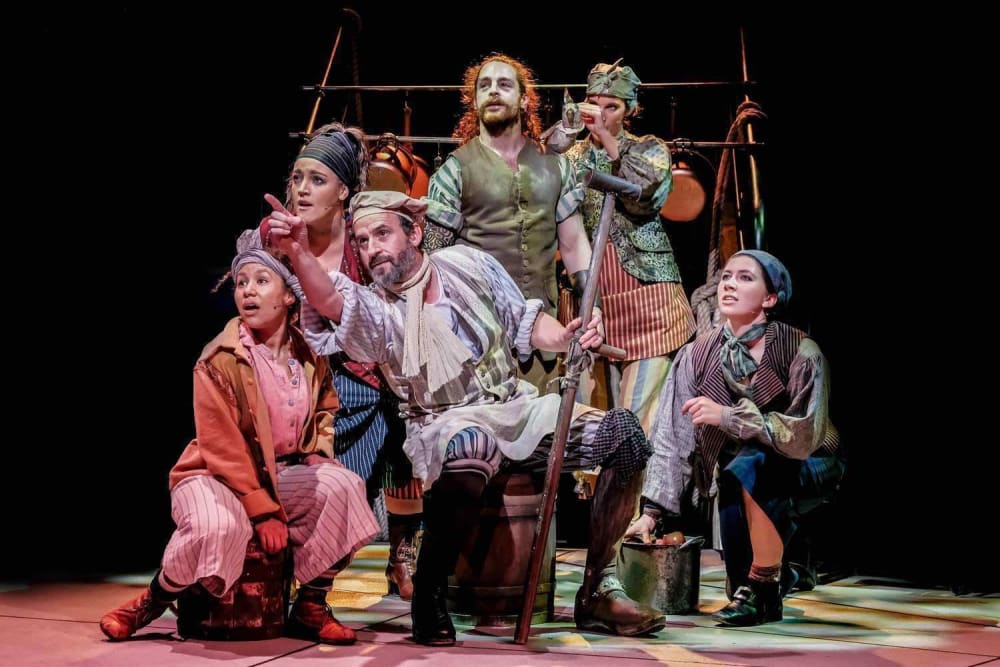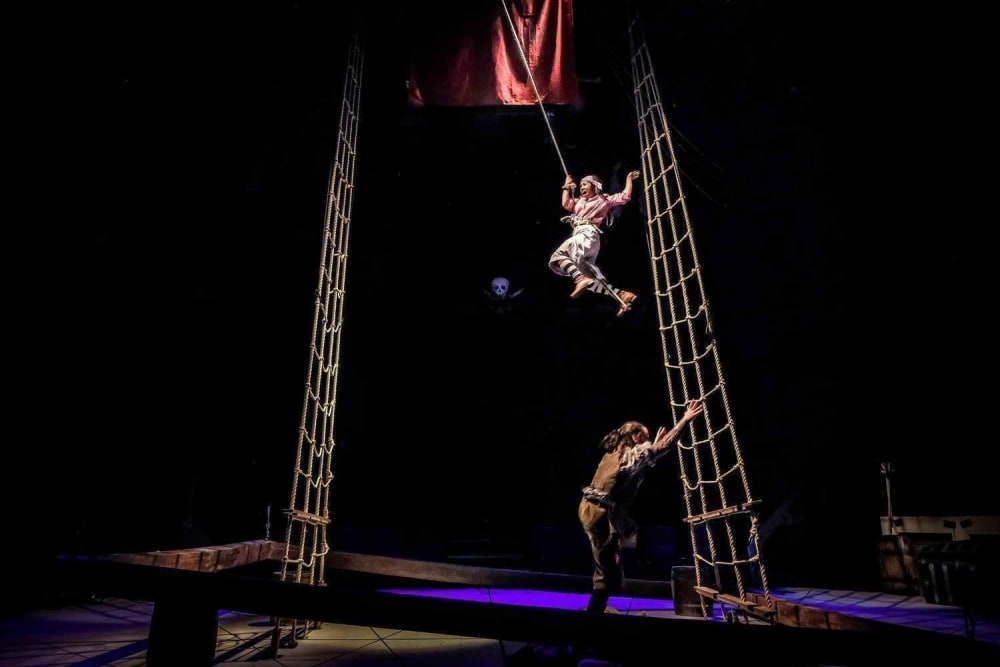 Many people look forward to the annual festive show at Newcastle-under-Lyme's New Vic whether it has a Christmassy feel or is merely a dramatic story.
The Staffordshire theatre-in-the-round does not shy away from presenting something slightly unusual. In 2014 it was rewarded with a "memorable" production of The Borrowers by Mary Norton and the previous year showed it was not barking up the wrong tree with a "pedigree" version of Dodie Smith's The Hundred and One Dalmatians.
One of the common factors of all New Vic Christmas shows is the theatre's artistic director Theresa Heskins. She adapts and directs each one, often gaining nominations for best show for children and young people in the UK Theatre awards. Her 2016 production, Hans Christian Andersen's The Snow Queen, won that particular category although I felt it did not have the magic of some of her previous festive successes.
Another constant ingredient is a talented cast of actor-musicians. In Treasure Island, there are 13 of them, nine of them appearing on the New Vic stage for the first time. All show commendable enthusiasm and vigour.
In the programme for Treasure Island, Heskins admits Stevenson's novel was not high on the list of works that she wanted to adapt. But schools were consulted about what they would like to see on stage and their "resounding" answer was buccaneers and buried gold.
Heskins also reveals she enjoyed rehearsing Treasure Island more than any other Christmas show.
Why should that be? Well, Treasure Island is a gripping story. It's packed with action and adventure. And the pantomimic elements, such as Long John Silver hopping around on one leg and pirates shouting "ooh arr" at every opportunity, have been jettisoned and replaced with boisterous sword fights, betrayals and surprises in the search for buried treasure.
The New Vic's customary inventiveness, attention to detail and assured staging add up to another successful production.
Although it is an ensemble piece, two actors leave a lasting impression. Nisa Cole shines as Gem—changed from Jim Hawkins in Stevenson's original—while Tom Peters is suitably enigmatic as Long John Silver whose motives are often suspect.
My grandchildren were enraptured throughout, with eight-year-old Toby enthralled with scenes in which actors climbed up and down the rigging of the Hispaniola while six-year-old Holly was spellbound by the ending as the treasure is unveiled in all its glory.
Much of that is down to set designer Laura Willstead and aerial consultant Graeme Clint who are a good match for Stevenson's imagination and vision.
The production is enhanced by James Atherton's atmospheric music. Some of it stays with you after you have left the theatre, partly because of the way in which it is played stirringly and confidently by the cast.
Treasure Island will go down in the annals as a superbly acted, well staged production that could be presented at any time of year. My reservation is that it may not be for everyone. Its appeal might be limited for the fairer sex even though there is a modicum of gender realignment, and its complicated plot might just be too involved for very young children.
Reviewer: Steve Orme