The Hundred and One Dalmatians
Dodie Smith, adapted by Theresa Heskins
New Vic Theatre Company
New Vic Theatre, Newcastle-under-Lyme
–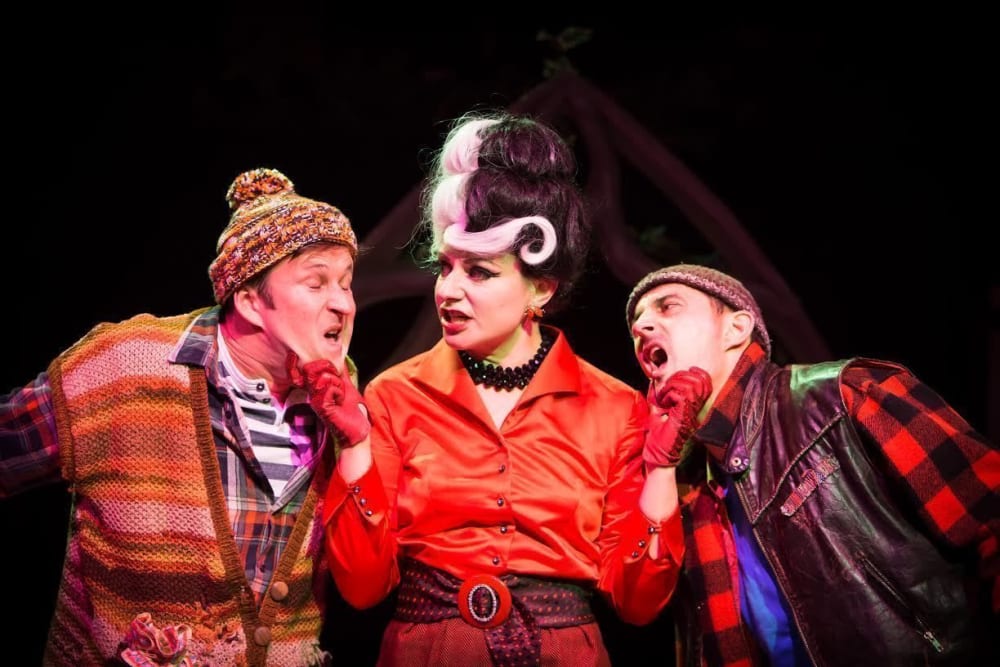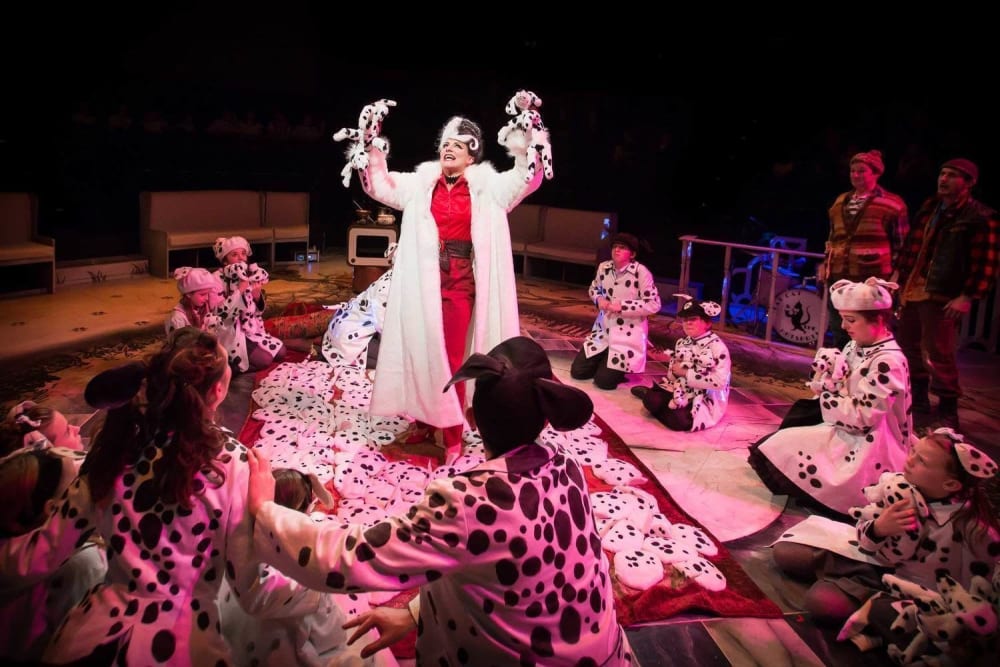 Each year, the New Vic at Newcastle-under-Lyme plumps for something different over the festive period. Artistic director Theresa Heskins has adapted the Christmas offering for the past five years, turning her talents to everything from C S Lewis's The Lion, The Witch and The Wardrobe to Alice in Wonderland and Peter Pan.
Now, Dodie Smith's most famous work The Hundred and One Dalmatians is being presented at the Staffordshire theatre-in-the-round as an ensemble piece which, like a number of New Vic productions, allows the cast to show their versatility as musicians as well as actors.
The Hundred and One Dalmatians is a typical New Vic yuletide show: a classic story which has a dark side but still appeals to all the family and leaves you feeling good at the end.
Transforming Smith's classic for the stage is no simple task. Yet Heskins, set designer Laura Clarkson and costume designer Lis Evans rise to the challenge and do an exceptional job with some very clever, inventive touches.
The story centres on Perdita and Pongo, two adult Dalmatians with a 13-strong litter, who find that their pups have been stolen by the wicked Cruella De Vil. She wants their pelts to make into furs. She ends up with 99 dogs and wants her henchmen to "garrotte the lot".
The couple set off to rescue the pups, recruiting virtually every dog in the UK to assist their mission.
Oliver Mawdsley and Hannah Edwards shine as Pongo and Perdita, showing canine mannerisms and leaving the audience in no doubt that dogs control humans rather than the other way round.
Matt Connor and Sophie Scott as their owners Mr and Mrs Dearly give spirited performances, especially in their dance routines.
Some elements of the production verge on pantomime, although Heskins reins in her cast who never overact.
Polly Lister, with cackling laugh, plays Cruella De Vil as a larger-than-life character with totally evil intentions. One of the highlights of the show is her entrance in a car; later it comes to a spectacular, explosive end.
Andy Cryer and Anthony Hunt are her intellectually challenged collaborators whose humour verges on but never crosses over into farce.
Ten youngsters throw themselves into their roles as Dalmatians and prove charming additions to the production.
Heskins directs with her customary style and aplomb. She knows how to make maximum use of the theatre-in-the-round's intimate space and uses it to create a thrilling spectacle.
Occasionally James Atherton's songs—sometimes moody, often with a hint of swing or jazz—tend to slow down the pace a little. It also takes a while for the production really to get going—it's 40 minutes before the revelation that Pongo and Perdita's pups have gone missing.
The second half, though, races by as the dalmatians plan to escape Cruella's cruel clutches and return to the Dearlys.
Overall, The Hundred and One Dalmatians is a pedigree show with plenty of enchanting moments which ensure yet another festive success for the New Vic.
Reviewer: Steve Orme