Treasure Island
Robert Louis Stevenson, adapted by Bryony Lavery
Olivier Theatre (National)
–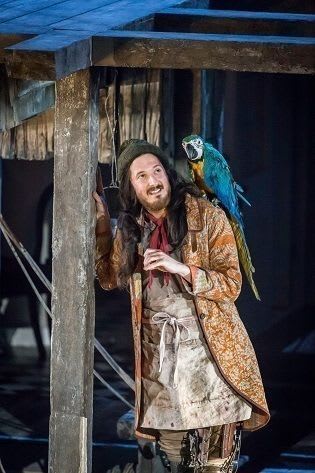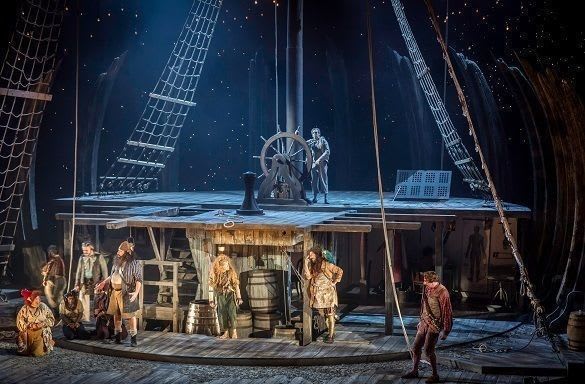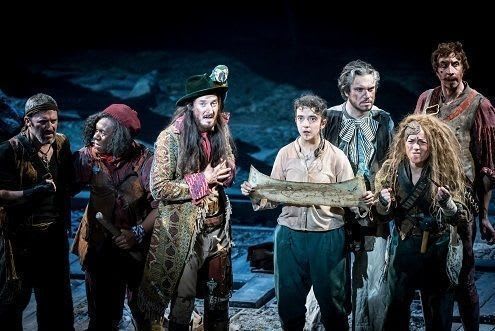 This writer is probably not the only person whose first theatrical recollection is of Bernard Miles hopping around with a parrot on his shoulder as Long John Silver in a Christmas production of Treasure Island at the Mermaid Theatre.
One imagines that Bryony Lavery and director Polly Findlay have been commissioned by the National to give a new generation of children a brief taste of thrilling theatrical hijinks that might eventually turn into a life-long love affair.
Lizzie Clachan's set, surrounded by the collapsing skeleton of a ship, certainly grabs the attention. It features a revolve and also the theatre's spectacular riser, which reveals much including the comfortable interior of a ship, the Hispaniola and also tunnels as the drama hots up to an exciting finale.
Like the presentation, the 2¼-hour production is surprisingly dark for a family entertainment.
This version of Stevenson's timeless classic takes time to get going, making the flashes of humour more significant, which is no bad thing.
The early scenes feature a female Jim (Jemima) Hawkins played with suitable innocence by Patsy Ferran as she and her grandma eke out a miserable, hungry existence until Aidan Kelly playing Bill Bones turns up with his haunted demeanour and mysterious chests (one tattooed to the other containing doubloons and a treasure map).
By the time that a series of bizarrely-named villains have come searching, including Blind Pew with his dreaded, fatal black spot, Jim has been sent on the trail of treasure accompanied by the oddd couple of Nick Fletcher as dim Squire Trelawney and Helena Lymbery's sensible Doctor.
Their adventure on the high seas is spiced up by the presence of a terrifying crew put together by Doctor Who favourite Arthur Darvill in Miles's classic role as Long John Silver.
Where one expects a yo ho hoing, eye-rolling comedian overacting his heart out, this incarnation is a more naturalistic invention, perhaps a cross between Fagin and Jack Sparrow from Pirates of the Caribbean.
He mixes humour and evil to good comic effect, frequently accompanied by one of the evening's stars, the animatronic piratical parrot, Captain Flint, who benefits from a series of special effects courtesy of illusionist Chris Fisher that are generally low key but always please.
This production is filled with the ingredients for a swashbuckling evening to remember but doesnt quite mix them together to the best effect.
In minor roles, Tim Samuels playing Grey (by name and nature) and Joshua James, the schizophrenic Ben Gunn both catch the eye.
The plot feels sluggish and there are almost too many odd characters vying for attention to allow it to flow.
The result is an evening that both young and old will feel has been pleasurable but not the superlative experience that so many National Christmas events of the past have led one to look anticipate.
Reviewer: Philip Fisher