Tremor
Brad Birch
Sherman Cymru
Roundabout @ Summerhall
–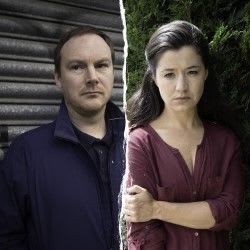 Brad Birch has written an edgy two-hander that proves to be a psychologically astute investigation into the ways in which people behave under extreme stress. It also looks deeply into the manner in which the media has begun to override truth and control our minds.
A well-judged production, directed by David Mercatali for Sherman Theatre, Cardiff, centres around a reunion between Paul Rattray as Tom and Louise Collins playing Sophie, former partners but long estranged.
At Tom's home, they relive the kind of experience that changes lives. Some years before, the pair had been travelling on a bus that disappeared off a bridge killing 32 people but leaving them amongst seven miraculous survivors.
Slowly, while discussing the missing years and Tom's new life and family, they begin to delve back into the past. The memories are painful but might also prove cathartic.
In particular, Birch introduces an underlying theme of racial prejudice, since the driver who was convicted and imprisoned but is now in the final throes of terminal cancer is a devout Muslim.
Since his conviction largely depended upon evidence given by Tom that he was drunk, tensions rise as Sophie attempts to make the liberal case for innocence, expanding the fate of the bus driver into that of so many of his British peers.
In response, Tom defends his own actions, trotting out views that will be familiar to many of those who have listened to debates about nationalism in the context of Europe and more widely in recent times.
Tremor is a clever, well-written and superbly acted play that will leave viewers pondering their own opinions long after the end of the 70 minute running time.
Reviewer: Philip Fisher