Tremor
Brad Birch
Sherman Theatre
Sherman Theatre Studio, Cardiff
–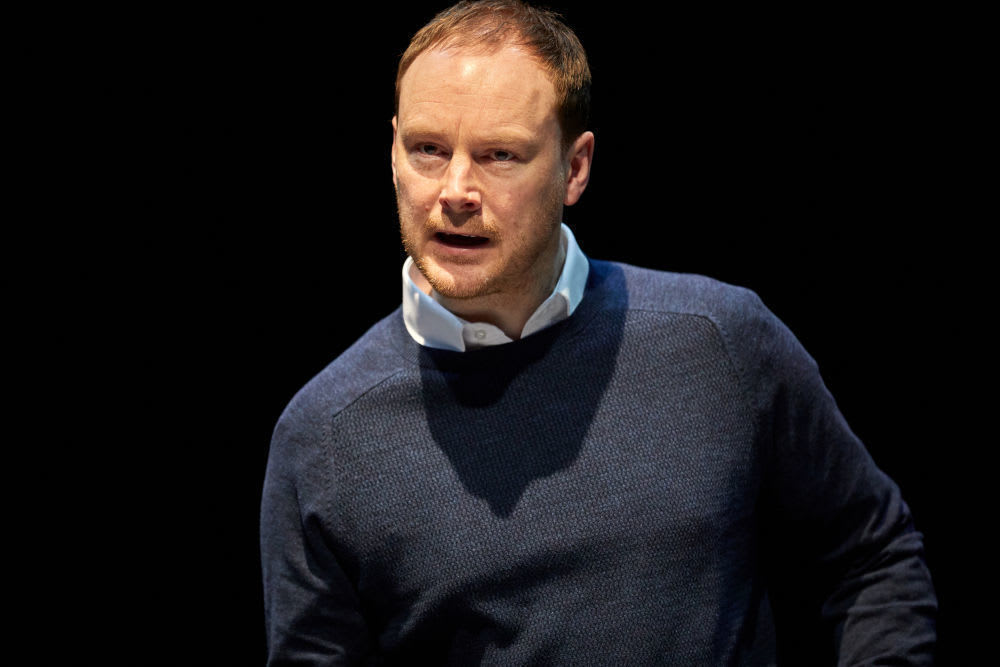 Still basking in the afterglow of the success of Gary Owen's Killology at the recent Olivier Awards, the Sherman brings us another timely, relevant new play from a Welsh writer—almost as disturbing, but for different reasons.
Brad Birch's Tremor is the first piece to be directed at the Sherman by David Mercatali since his arrival late last year. His appointment as Associate Director was slightly controversial, since he was perceived as having being imported from elsewhere while candidates with more experience in a Welsh context were overlooked. Thus, the choice of a play by Birch, a young playwright who has been carefully nurtured by the company over the past few years, is a shrewd one.
Hayley Grindle's set, in the Sherman's studio space, is minimal, but evocative of middle-class sterility—a circular living area (the piece being performed in-the-round) with a floor giving the impression of polished stone; an Ikea print hanging on the wall; two children's toys left out, facing one another in playful confrontation—a large and a small dinosaur, perhaps suggesting the nature of the conflict we expect to see played out; rooted in history, with unequal forces at play.
Under Ace McCarron's starkly cold lighting, we watch as Paul Rattray's Tom welcomes Sophie—Lisa Diveny—into his family home. She is apprehensive, he is defensive. It quickly emerges that they were once boyfriend and girlfriend, but haven't seen one another for four years.
In the interim, Tom has relocated, built a new relationship and become a father; he is scratching a living buying and selling sundry items on the Internet, and is unconcerned at being largely dependent on his partner's modest family money. Sophie, on the other hand, has not moved on—still in their old flat and working in a call-centre, she is somewhat discontented.
It soon becomes clear that any rekindling of the love between them is not on the agenda. What binds them instead is the fact that they are both survivors of a terrible accident which claimed many lives; they split up through instabilities which arose in its aftermath. Now, having developed a rapport with the man who was deemed culpable for the incident, Sophie has come to Tom in order to have her mind put to rest.
For reasons to do with the cultural background of the now-ailing perpetrator and the nature of the publicity surrounding the tragedy, Sophie is concerned that Tom may have been pressured into giving testimony which played into a certain kind of xenophobic narrative. The crucial issue for her, and the audience, is the extent to which he is troubled by her suspicions.
Under Mercatali's direction, Rattray and Diveny bring a tangible nerviness to their portrayal of the mistrustful pair, the fractiousness cleverly underscored by Sam Jones's understated electronic sound design.
The dialogue is snappy and believable, and if some of Tom and Sophie's speeches seem over-rehearsed, it is perhaps forgivable, since each has spent much time in deep, solitary reflection. Birch allows the narrative to unfold with admirable subtlety; this ebbs away, however, as we near a denouement which is perhaps too literal in terms of being "torn from the headlines".
Still, Tremor is an absorbingly tense hour of drama, although to my mind it scores more highly as a portrait of a long-dead relationship than an attempt to meld the personal and the political.
Reviewer: Othniel Smith