Trestle
Stewart Pringle
Maltings Theatre & Jack Studio
The Jack Studio Theatre
–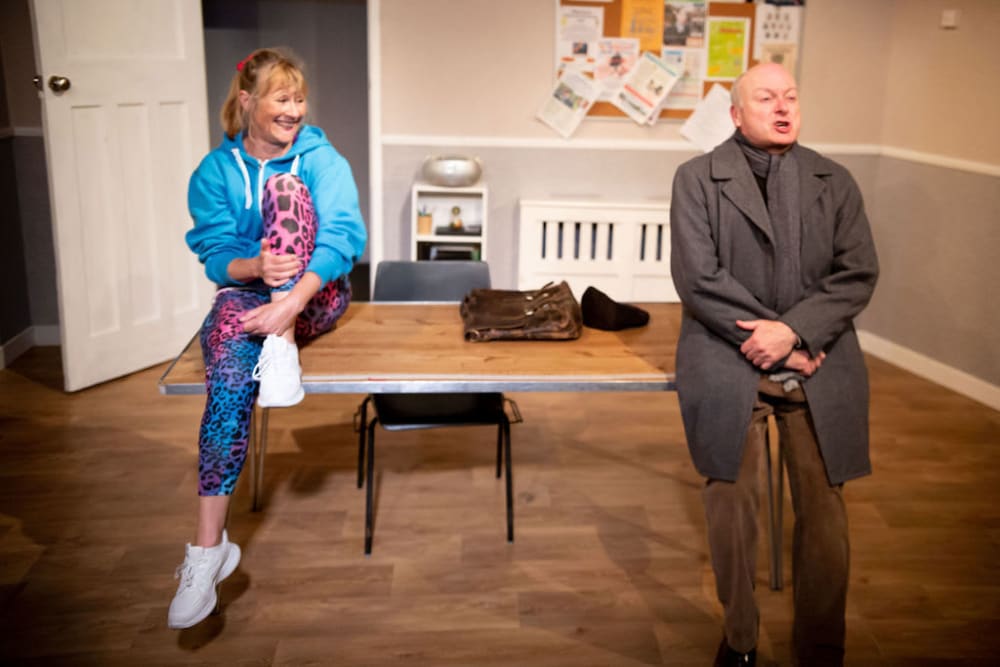 I am hesitant to say this because it sounds extravagantly emotional, but going to my local fringe theatre last night felt akin to returning home after an absence of some fourteen months. It was comfortably familiar though also slightly strange.
The characteristically warm and friendly welcome from artistic director Kate Bannister and theatre manager Karl Swinyard was as reassuring as the check-in formalities—out goes queueing and the exchange of paper tickets, in comes hand sanitising and temperature testing—and before I knew it, I was amongst the audience in a designated, socially distanced seat.
We may have been a room 'full' of strangers but the atmosphere was extremely cordial and the pre-show buzz was sensed rather than heard as we clearly all wanted to be there. And our anticipation paid off as Stewart Pringle's Papatango New Writing Prize-winning play, Trestle, is a bitter-sweet delight.
Under the direction of Offie-winning Matthew Parker, Jilly Bond and Timothy Harker give enjoyable performances as the two retired denizens of a small Yorkshire village around which the tenderly comic story revolves.
Long-time resident Harry is reserved and has a structured life based on routine whilst relative newcomer Denise is forthright and wants to live before she dies. Their paths cross when Denise comes to set up the room at the village hall for her weekly Zumba class as Harry vacates it following a committee meeting he chairs.
With Pringle's economic style, we learn a lot about the pair very quickly in the course of many short scenes, punctuated by the choreography of the mise en scene as the tables and chairs are rearranged between functions.
Over time, as their burgeoning friendship develops, we see their characters do the same, and with the second act approaching, the scenes become longer and what starts as weekly cross-over small-talk becomes companionable and more revelatory.
Inevitably, boundaries are breached, Denise and Harry start to clash and the piece morphs into something altogether more fulfilling.
In their quarrels, their opposing views are heartfelt and delivered straight without the burden of intellectualising. Here, Pringle teases us to take sides, but also tugs at our conscience.
Trestle looks at friendship and love in later life and finds them to be fragile. Diffidence and inexperience are not the preserve of the young, and how do you move forward when a friend challenges your principles but also needs your understanding?
The play also asks broader questions in parallel about the value of civic acts that go unrecognised and how you foster the nature of a community without resisting change that speak to us all.
It is a comic yet moving play that delivers food for thought seamlessly with entertainment. It is so good to see theatre like this; it is so good to be seeing theatre like this live.
This co-production of Trestle between the Jack and The Maltings runs in adherence with current safety guidelines details of which may be found online. All the facilities of the Brockley Jack pub are available pre- and post-show to theatre-goers who may also order interval drinks to be delivered to their seats. Suitable for ages 12+. Sandra Giorgetti spoke to Jack Studio artistic director, Kate Bannister, about the theatre's reopening.
Reviewer: Sandra Giorgetti