Tribes
Nina Raine
Royal Court Theatre Downstairs
(2010)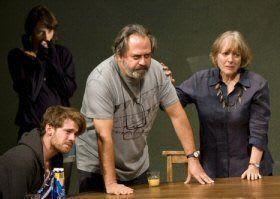 If you are ever invited to visit the Raines for an at-home, pick that night to wash your hair. On the assumption that the family depicted in Tribes has a great deal in common with the playwright's own, headed by burly, bearded poet/academic Craig and also including two playwrights and another academic, they are over-educated and self-satisfied to a degree that beggars belief.
However, the stage family is at least redeemed by their deaf son, the impressive Jacob Casselden's downtrodden Billy. He is a still and often baffled soul at the centre of the familial whirlwind, offering a little much-needed calm.
The play hits its zenith as it depicts his burgeoning love for Sylvia, brilliantly and very sympathetically portrayed by one of our very best actresses, Michelle Terry.
While Billy has been deaf (and patronised) from birth, despite having profoundly deaf parents, Sylvia is only losing her hearing in her twenties, which in many ways is even worse.
Nina Raine, who to date has been better known as a director than a playwright, does a wonderful job of chronicling the unorthodox affair. We witness Billy finally gaining independence and a voice, ironically as he no longer needs his own after learning sign language. At the same time, Sylvia has to come to terms with her own disability, becoming pigeon-holed and trapped by society as her own hearing diminishes.
Their story is told against the manic backdrop of the family. Stanley Townsend is Dad - burly, bearded Christopher, a sickeningly sanctimonious writer who loves showing off his intellect and has passed this deeply unattractive trait to the other two barely grown-up kids.
Harry Treadaway and Phoebe Waller-Bridge respectively play Daniel a depressed post-grad student whose life is unwinding, and shallow, perky Ruth, a wannabe opera singer without a voice but surely destined to become a playwright in the fullness of time.
Between them this trio completely exasperates mollifying Mum and another author - Beth (Kika Markham) and one imagines quite a few audience members as well.
On the showing of Rabbit which played at the Old Red Lion and took us into the world of single girls on the prowl, and Tribes, Miss Raine enjoys portraying her own experiences in heightened language and at high speed.
However, this time in the central relationship, she rises above the schematic, light comedy and achieves something much finer by presenting a really touching view of the pain experienced by those suffering from a handicap in a society where sympathy is at best skin deep.
Roger Michell directs a top cast with Michelle Terry and Jacob Casselden given the best opportunities and making the most of them.
Playing until 13 November
Reviewer: Philip Fisher