The Notebook of Trigorin
Tennessee Williams
Finborough Theatre
(2010)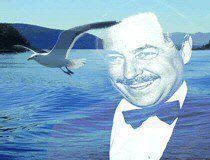 It might sound like one of those parlour games that you find on I'm Sorry I Haven't a Clue where performers are asked to re-write Chekhov in the style of Tennessee Williams but The Notebook of Trigorin is very much more than that.
Strangely, this excellent version of The Seagull, written in the thirty years until the writer's death in 1983, is only now enjoying its London premiere, thanks to the vision of Phil Willmott, having first appeared at the Exter Northcott in 2008.
Although it is set in the Deep South during the Jazz Age, the play faithfully follows its inspiration for most of its 2½ hours, allowing several actors to strut their stuff in familiar roles.
Two recent LAMDA graduates with virtually no previous professional experience make a strong impression. Rob Heaps plays Constantine, a would-be writer cowed by an overpowering mother, Carolyn Backhouse having great fun as a Williams' Southern Belle Arkadina, the most famous actress of her day - and doesn't she know it..
The morose young man is entranced by his young neighbour and aspiring actress Nina. In this part, Samara MacLaren, whom one fears will have to accept constant comparisons with the young Sissy Spacek, shows great promise as her character rides through stage fright to hope, passion to despair.
The two characters that make this very much Tennessee Williams rather than merely a version of Chekhov are a highly amoral and unpleasant Doctor Dorn (Morgan James) and Trigorin himself.
As if the latter is not burdened with enough emotional traumas balancing duties as Arkadina's toyboy and Nina's older man, the American playwright complicates him more. Stephen Billington's Trigorin also plays (and looks just like) Williams as narrator but additionally has a shady sideline in cruising younger men, a kind of reincarnation of the apparently autobiographical Sebastian Venable from Suddenly Last Summer.
The cast also contains Richard Franklin, who makes a really sympathetic and wholly convincing Sorin, the actress' much put upon but nevertheless much kinder elder brother.
The Notebook of Trigorin is a great discovery for both Phil Willmott and the ever enterprising Finborough. While it has taken a considerable time to get to the UK, it seems almost certain that this satisfying play will become a staple for theatres over here, with its combined appeal to fans of two of today's best-loved playwrights.
Reviewer: Philip Fisher