Trilby
George du Maurier
Finborough Theatre
(2010)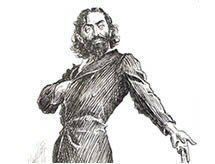 As a companion piece to its well-received Quality Street by J. M. Barrie, the Finborough Theatre is presenting, on Sundays and Mondays only, Paul Potter's and Herbert Beerbohm Tree's 1895 adaptation of George du Maurier's Trilby (1894), a Victorian melodrama set in the fin de siècle louche Latin Quarter of Paris.
It was one of the most popular novels of its time, with merchandise, new catch phrases ("in the altogether"), and a huge fandom. It coined Svengali as a sobriquet, and Trilby, the heroine's name, gave us the trilby hat.
The well-connected George du Maurier (1834-1896) was the father of actor Gerald (1873-1934) and Sylvia Llewelyn Davies (mother of the boys who inspired J. M. Barrie's Peter Pan), and grandfather of the novelist Daphne (1907-89).
He was born in Paris to a French father and English mother, studied art in Antwerp, tried to sing but didn't have the voice, worked successfully as illustrator and cartoonist at Punch, but failing eyesight drove him towards writing and copiously illustrating his own texts.
He moved in artistic and literary circles, and knew well of what he wrote - the novel is full of name-dropping, period references, borrowings, and he shows off his bilingualism in copious French slang. The tone is jocund reality and sinister mystery.
The naïve sweet-natured Irish/French grisette and artist's model Trilby O'Ferrall, the three art student friends, the three honourable musketeers who all love her, and the disturbing Jewish Austro-Hungarian musician and hypnotist Svengali with power over Trilby from beyond the grave, are the central characters. Think Wilkie Collins, Bram Stoker, Henry James. Think the pre-Raphaelite brotherhood. Simon Bejer's cramped artist's studio set is just so.
Trilby and the three young men lead an impoverished but happy life, the only complication being that Little Billee's plans to marry her are suddenly dashed by an unannounced visit from his alarmed mother and her clergyman brother. Kate Lock and Christopher Morgan are perfect as the 'respectable' pair.
Poor Trilby comes under the sway of Svengali. The joke is that Trilby is tone deaf, yet Svengali turns her into a renowned and fêted singer. Svengali marries her, and they become rich and the talk of Europe.
Five years later, the three artists, now eminent and successful men, run into Trilby at a concert in Paris. She is now La Svengali the famous singer, Svengali's creation and creature. Svengali suffers a heart attack (as did du Maurier), and the spell is broken. The theme from Swan Lake underlines that - Rothbart is overthrown. Or is he?
Trilby remembers nothing of those five years, but has a feeling of doom. Little Billee is set to marry her, but a portrait arrives for her, and the lights go out. Love is thwarted again, and evil has a long reach.
An ambiguous ending (not so in the meandering book - for the curious amongst you the novel can be downloaded free from the Internet), but the play thankfully streamlines a tale that seems to have been pieced together from many sources: La Bohème, Les Miserables, there's a hint of Dorian Gray, Mr Hyde, even sly dirty old Fagin. It in its turn inspired Gaston Leroux's Phantom of the Opera
Though the play is named after the girl, it is Svengali, the mesmeric master manipulator, who dominates. A dark role, it has been favoured by many singularly larger than life actors: Beerbohm Tree, John Barrymore (1931 film), Donald Wolfitt, Alan Badel, and Peter O'Toole. Director David Cottis has the sense not to let his actors ham it up (well, just a little bit) or play it tongue-in-cheek.
Rebecca Brewer is a charming Trilby, Caroline Lena Olsson a delightful concierge with a soupçon of an aging Simone Signoret about her, and the three young men sweet convincing boys in love, but Svengali is the reason for bothering with the play.
Jack Klaff plays a cross between Shylock and maestro Valery Gergiev. An evil genius with a strong will. Mesmerising. But the stage is too small for him. He needs more room to stalk and breathe his dragon's breath.
Sundays and Mondays till 20th December 2010
Reviewer: Vera Liber