TRIO ConcertDance
Choreography Demis Volpi, Herman Cornejo, Wayne McGregor, Fang-Yi Sheu, Russell Maliphant, Angelin Preljocaj; music Ligeti, Bach, Glass, Scarlatti, Frahm, Satie, Chopin, Mozart
Alessandra Ferri, Herman Cornejo, Bruce Levingston
Linbury Studio, Royal Opera House
–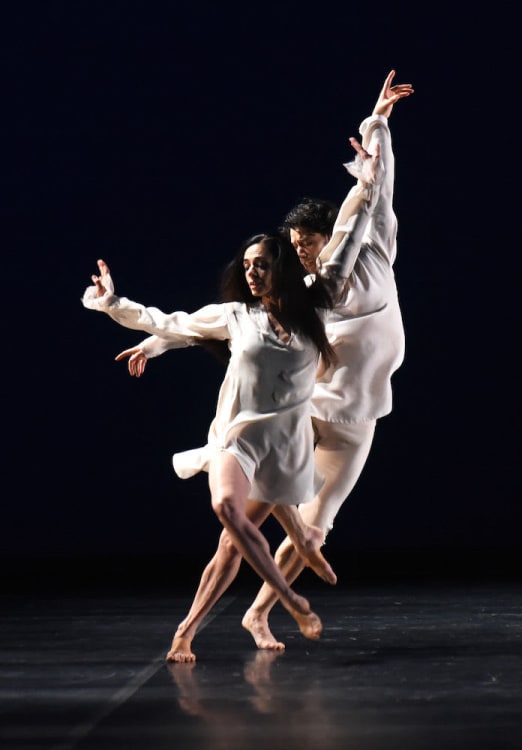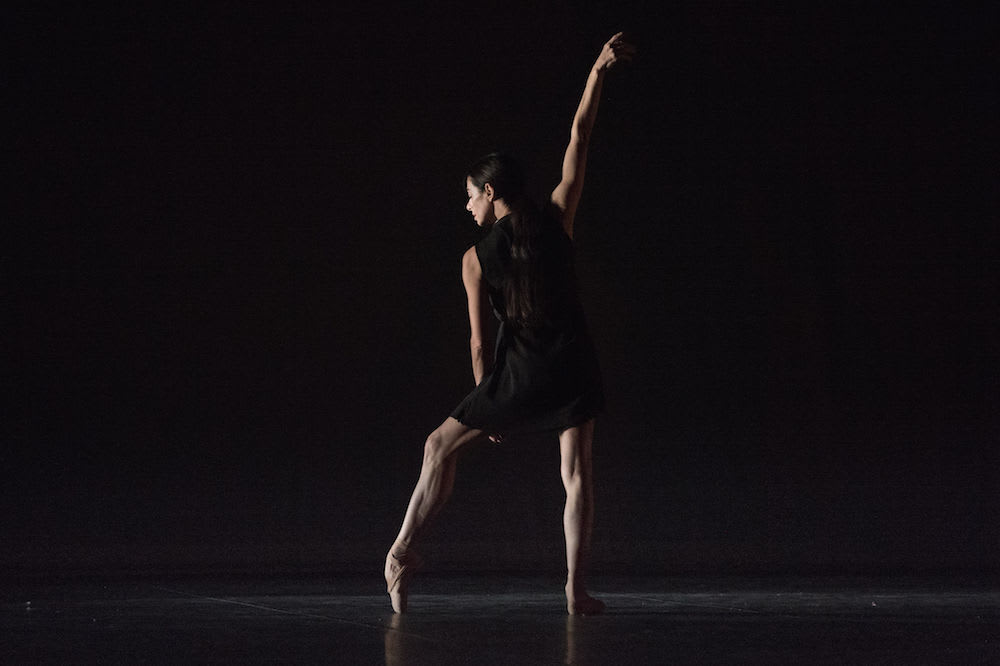 TRIO ConcertDance is exactly what it says on the cover, a dance concert and a trio—with a string quartet for the final number. And it is wondrous, an evening to sooth the soul and smooth the furrowed brow.
Alessandra Ferri, who needs no introduction (her return to dancing six years after retirement was heralded in Woolf Works and Chéri), American Ballet Theater Principal dancer Herman Cornejo and pianist Bruce Levingston are so in tune with each other that one watches the music course through Levingston's body as much as the two dancers.
Six choreographed numbers, seven piano interludes, thirteen pieces of music in all, but a seamless whole of dreamy music and liaisons amoureuses, TRIO ConcertDance is five stars and some. I didn't want the evening, far too short at seventy minutes, to end.
A solo for each and four pas de deux, which showcase arms, intertwined torsos, her elegant legs and perfect arched feet. The longest, most substantial and outstanding piece of the evening is Witness (music Nils Frahm) by Wayne McGregor, though barely recognisable as his work, the usual tics smoothed out: is Ferri his muse?
If so, may it long continue, for she has brought a lyricism out of him that suits both well and he a nonchalance to her—those little shoulder shrugs... Witness, a conversation between lovers, is exultant, sensual, with challenging choreography and exacting lifts, and the couple rise to it.
Demis Volpi's Flair opener is brief and light as air, two bodies rising and falling on each breath as one, folded into each other, sombre, serious, absorbed, exposed and vulnerable in sheer black. They move as if through water, arms are fronds, her legs spiky tendrils.
Cornejo's solo, Momentum, choreographed by himself, is a lyrical dialogue with pianist and piano, a tender touch of the instrument, and the romantic essence of Ligeti's music.
Fang-Yi Sheu's SenzaTempo, a slight solo for Ferri, to Bach's Gottes Zeit ist die Allerbeste Zeit, is also brief. In flesh–coloured short Grecian chemise and bare feet, Ferri stands still like a caryatid at the back of the stage, listens to the heavenly music, steps forward into a rectangle of light (lighting throughout is by Clifton Taylor) and starts with a port de bras: ballet stripped down to its beautiful essentials.
To Philip Glass's Metamorphosis Two (Levingston's playing of his Etudes 2, 5 and 6 is also a wonder to behold) Russell Maliphant's Entwine—the title says it all—is a work of counterpoint, contact work, flow and shift, soft, elegant, meditative, two bodies in unisex black outfits luxuriating in the music, not dissimilar in tone and mood from Volpi and McGregor's.
After a rendition of Chopin's Nocturne in B flat minor, op 9 no. 1, the last dance piece, from Angelin Preljocaj's Le Parc, brings sex and erotica into the night mix to Mozart's Adagio from Concerto no. 23 in A major—and the Halcyon Quartet edging quietly on to the stage.
The libidinous eighteenth century of Mozart's time is enjoyed. Laclos's liaison dangereuse perhaps. Both in thin unlaced white nightshirts—she wets her fingers and circles her breast and pudenda, enticing her lover, her long black hair cascading, nuzzles him, and kisses him like a limpet.
A Klimt kiss that goes on and on as he swings her round and round, and carries her off in his arms. I am reminded of Fonteyn and Nureyev for some reason, their rapport and passion. Wow!
Intimate dance in the revamped Linbury studio intimate space… I can report the seats are very comfortable. Balanchine's "see the music, hear the dance", so often quoted, is appositely quoted again in the programme notes. A perfect programme with which to open the refurbished space: one feels privileged and thrilled to see the trio up so close. The run is sold out, but do try for returns, there were a few empty seats tonight to my surprise.
Reviewer: Vera Liber