Triple Bill: Cristaux / To Begin, Begin / Storyville
Choreography Arthur Pita, Christopher Marney, Christopher Hampson
Ballet Black
Theatre Royal, Stratford East
–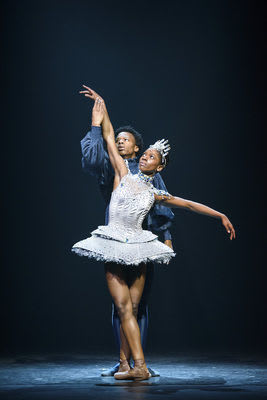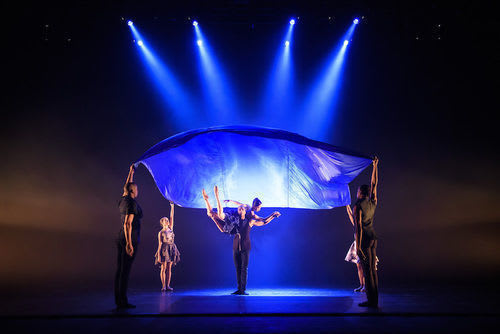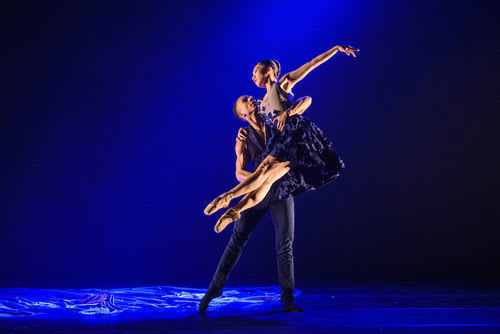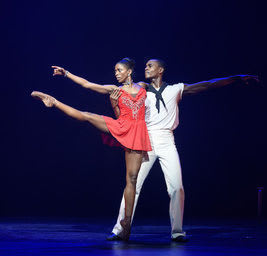 Premiered at the Barbican this spring with new ballets from Pita and Marney and Hampson adding some new scenes to his 2012 Storyville, this trio fits very well on the Theatre Royal stage.
Arthur Pita's Cristaux is set to a score by Steve Reich with repetitious rhythms that are no aid to remembering steps, making it a very challenging duet for its two dancers.
There is a body downstage on the ground, a diamond-shaped pendant hanging high in the air and a tall ballerina, up en pointe, moving on stage from the wings. She looks totally classical and is covered in glitz in the form of Swarovski diamonds, but she is making some very unclassical gestures as her arms move in angular rapidity.
She moves towards the lifeless figure and stretching out an arm in hieratic command brings him to his feet, a dark, midnight-blue clad prince drawn to her sparkling brightness as she gives him the spark of life.
He matches her steps and her complex arm movements until she makes him her support as she guides him to circle and circle. Then there is a change in the balance and it is he who is setting the pattern with high lifts punctuating a rapid reprise of the earlier pattern of choreography. When she disappears he falls back again lifeless. Cira Robinson and Mthuthuzeli November dance it with grace and precision and a touch of tongue-in-cheek wit.
To Begin, Begin by Christopher Marney is another blue ballet in which he makes great use of a large swathe of blue silk which floats like a wave over the dancers, hiding them, winds around a held-high Sayaka Ichikawa like a grand evening dress or is draped trailing cloak-like behind them. Dancers disappear under it or emerge from inside it as two men and Ichikawa suggest a ménage a trio in a pattern of different couplings, a series of romantic liaisons to Dustin O'Halloran's fluid piano score.
Christopher Hampton's Storyville is set in New Orleans of 1912 where an innocent young girl (Cira Robinson) is drawn into the sleazy world of a dance hall in the Storyville red light district. It is danced to music by Kurt Weill: Lost in the Stars, sung by Walter Huston, some French songs and mainly orchestral arrangements of songs from The Threepenny Opera.
There's a madam, Lulu White (Sayaka Ichikawa), a real woman who ran the infamous Mahogany Hall; she draws Nola (New Orleans Louisiana) into the world of evil Mac (a menacing Joshua Harriette, his face hidden under a slouched hat) while Lola's devoted sailor lover (Damien Johnson) seeks to save her.
It is a very compact piece of clear storytelling saved from melodramatic excessive by the precision of the dancing, by Ichikawa especially with Cira Robinson a touching victim as Nola and Johnson smilingly romantic. Together, they make a lyrical couple whether joyfully or anguished.
In the coming weeks Ballet Black will be taking this Triple Bill to Northern Stage, Newcastle (11-12 October), Stanley & Audrey Burton Theatre, Leeds (14-15 October), Tramway, Glasgow (28-29 October), Cast, Doncaster (2 November), Exeter Northcott Theatre (9-10 November), Watford Palace Theatre (15 November), Harlow Playhouse (16 November), Garrick Theatre, Lichfield (18 November).
Reviewer: Howard Loxton