Triple Bill: Polyphonia / Sweet Violets / Carbon Life
Choreography by Christopher Wheeldon, Liam Scarlett, Wayne McGregor
Royal Ballet
Royal Opera House
–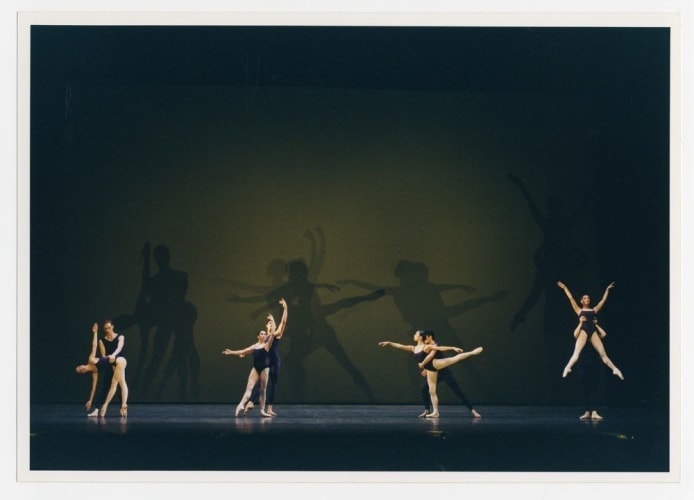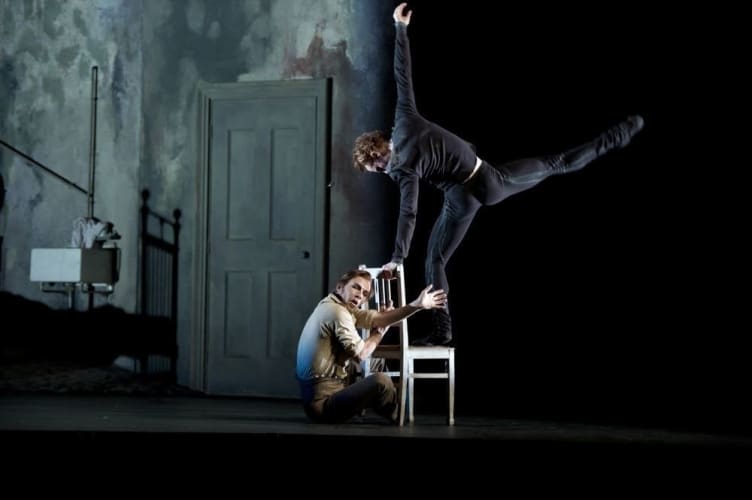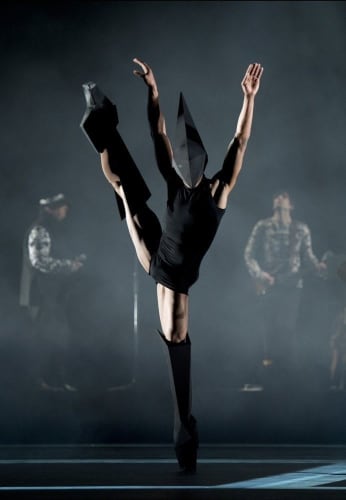 Last month, a working day at the Royal Ballet was streamed live on YouTube and the Guardian web site with choreographers explaining their process, promoting this triple bill to a wide audience. A friendly, savvy pitch, ballet the new rock and roll…
Rock and fashion royalty the big attraction (Rufus Wainwright credited for some of the orchestration) and top price tickets a seductive £42… Resident Choreographer Wayne McGregor has been tilting at the Royal Ballet's traditions for some time now in order to bring in a fresh young audience, with the Royal Opera House on their radar, to leaven the mix.
Intellectual sophistication, ugly drama, and multi-media glut are the building blocks of the evening's entertainment. Christopher Wheeldon presents Polyphonia originally choreographed for New York City Ballet in 2001; Liam Scarlett takes on Walter Sickert and Jack the Ripper; and Wayne McGregor over-indulges himself in Carbon Life. Incidentally, Wheeldon and McGregor have recently been appointed artistic associates of The Royal Ballet.
György Ligeti's complex piano music (pianist Robert Clark), from études to valse, legato, vivace, allegro, and capriccio, spiky, jazzy, dreamy, lyrical, contemplative, provides the lightening changes of mood (assisted by Mark Stanley's lighting colour washes) for Wheeldon's series of set pieces for four couples in quartet, trio, duet variations and a lovely solo danced by Beatriz Stix-Brunell.
'Romantic with modern twists', Wheeldon calls it—maybe… The elegance of Balanchine and the wit of Jerome Robbins, but also the unusual sculptural shapes of Joan Miró, are visible in the cuneiform choreography. Cool, abstract, subversive but still classical, Nijinsky would have recognized those flexed feet and semaphore hands.
Liam Scarlett, a young dancer in his mid-twenties, follows the success of his debut work, Asphodel Meadows, with a narrative ballet, Sweet Violets, taking in Sickert's Camden Town studio, his obsession with the murders in the vicinity, its sordid street life, and music hall. Reaching for Kenneth MacMillan's mantle...
Plenty of time yet, but to inherit it Scarlett needs to learn to jettison, to edit and cut for maximum tension and pace. Good set pieces again, but the storyline can be clear only to those who know Sickert's work, his obsessions, and the suspicions surrounding them. Alter ego Jack (Steven McRae a malevolent Oberon in black), music hall dancers (à la Degas), artists' models, well-heeled boyfriend, and the Prime Minister figure in a loosely knit snapshot scenario—Sickert's nightmare perhaps.
To Sergey Rachmaninoff's sobbing violin, haunting cello, insistent piano, his 1893 Trio élégiaque, written on the death of Tchaikovsky, full of grief and frustration, Johan Kobborg plays an introverted Sickert in thrall to Jack the man on his back, Thiago Soares his friend the murderer Robert Wood, and a parade of the Royal Ballet's best ballerinas are too briefly on the scene.
Leanne Cope is affecting as the first victim, Alina Cojocaru emotes passionately, Laura Morera takes on the shorn-headed look of MacMillan's Anastasia, and Tamara Rojo cavorts naked on the bed. John Macfarlane's wide set is a high-ceiling blood-stained studio, given Sickertian stygian gloom by David Finn's lighting, but sightlines from both sides of the auditorium are poor: one loses, sitting left, the bed on which the murders take place, and right, the music hall numbers.
Modern music hall: beanie hats, piercings, and poseurs make their appearance in the auditorium, and Kate Moss creates a buzz, but in his new work McGregor nearly loses his hyperactive self amongst the strata of Carbon Life. McGregor likes to crowd the stage with multiple sensory stimuli and let the audience pick and mix, stitch the patches together as it likes.
Hologram effects, solos, duets, and formation robotic dance, beats thrown by the highly-connected DJ, music producer, and Olympics anthemista, music supremo Mark Ronson, and on-stage band… "Is anyone out there…" goes the song—Space Oddity, geometric lighting from Lucy Carter, synthesizers and amplified sound—son et lumière from another galaxy. Hmm... Michael Clark has come, been and gone with that sort of thing...
The dancers, all eighteen of them, needless to say, are superb: Eric Underwood, Sarah Lamb, Lauren Cuthbertson, Melissa Hamilton, to name but a few of McGregor's fellow creatives, performing his gymnastic signature extreme pretzel shapes with aplomb, Edward Watson, Steven McRae flashing their moves in a couple of amazing solos.
The Olympic laurel crown goes to them all for their stamina and impeccable form. They put up quite a fight not to be hampered by fashion wunderkind Gareth Pugh's avian-reptilian and replicant Transformers costumes, or upstaged by guest artists Alison Mosshart in billowing black cape prowling the scene, rapper Black Cobain, Jonny Pierce, Hero Fisher, Wale, Boy George, et al.
"I want somebody to love me": a funky plea closes a variable evening of work from three young men scaling the heights, daring to fall to earth, hype and hubris the often inseparable twins of ambition.
Reviewer: Vera Liber