Trocks Tour 2018 Programme B: Les Sylphides; Tchaikovsky pas de deux; Napoli; The Dying Swan; Raymonda's Wedding

Les Ballets Trockadero de Monte Carlo
Peacock Theatre
–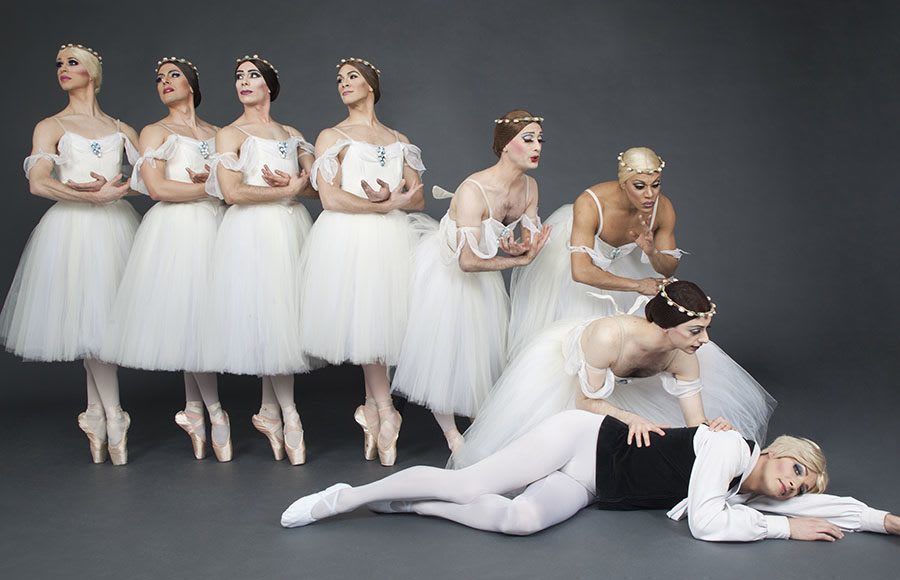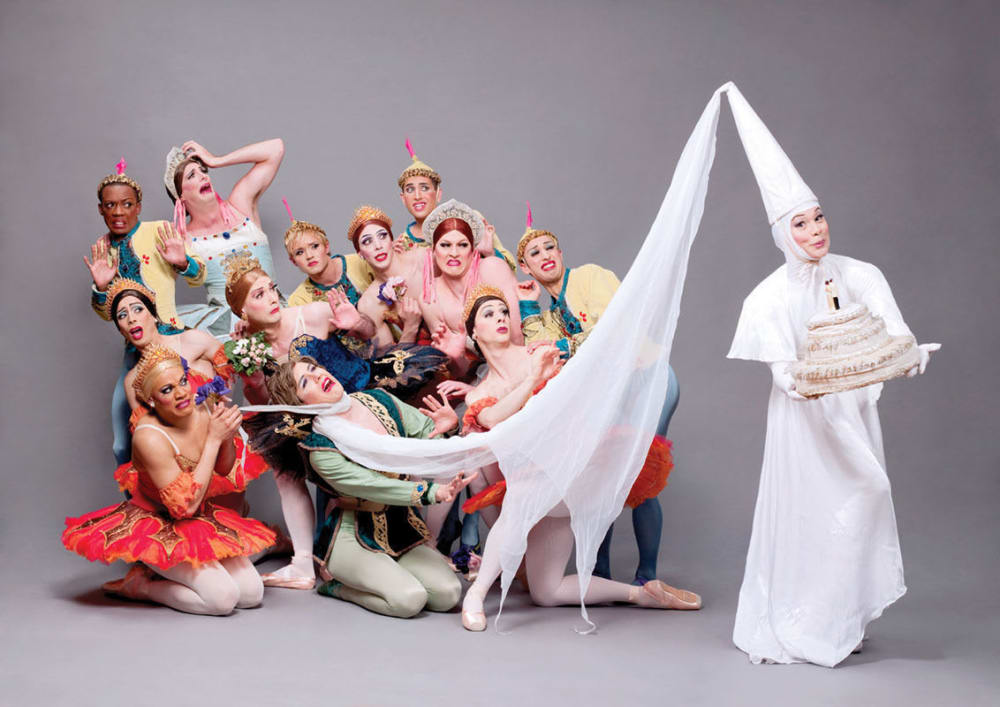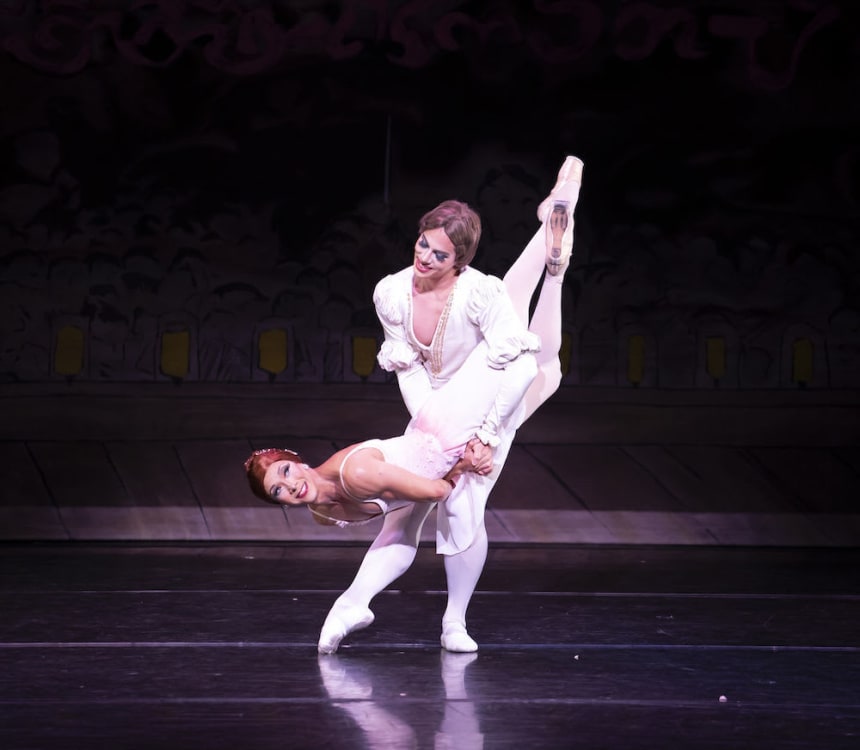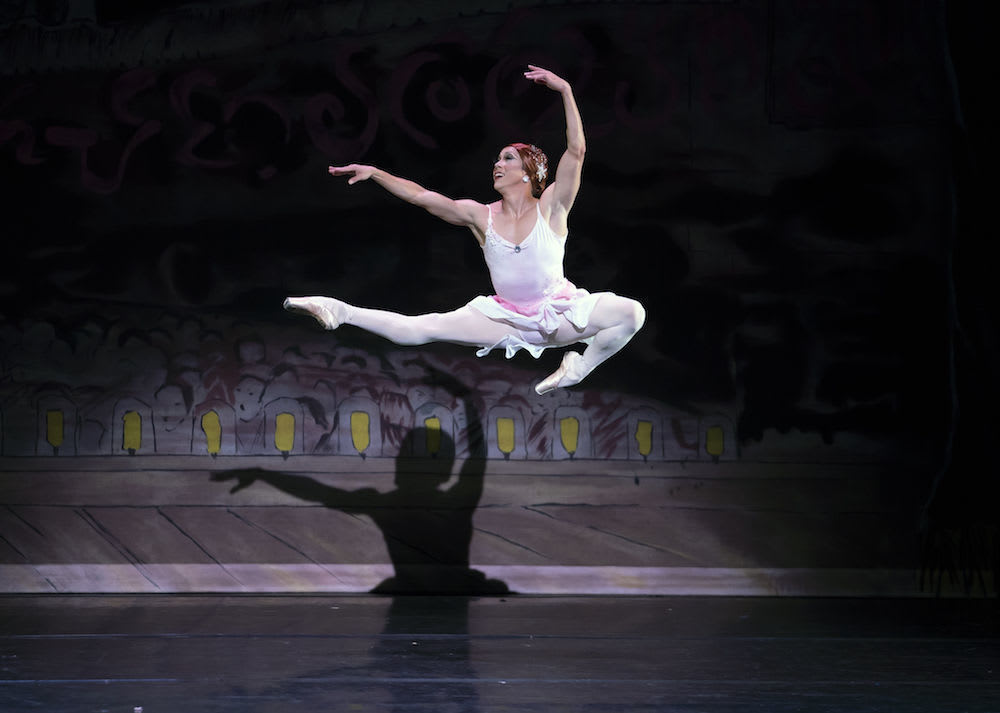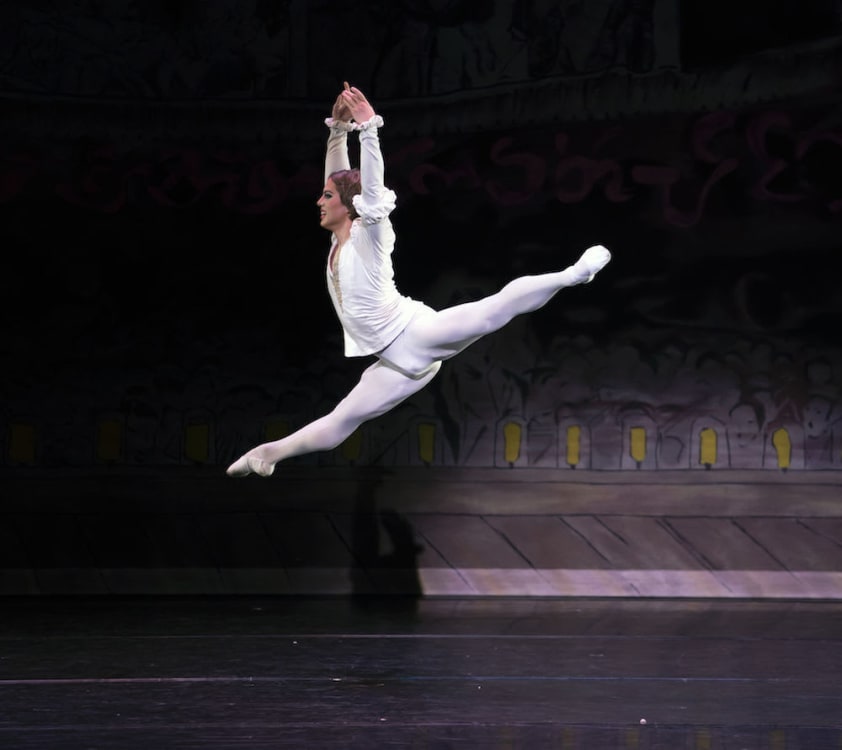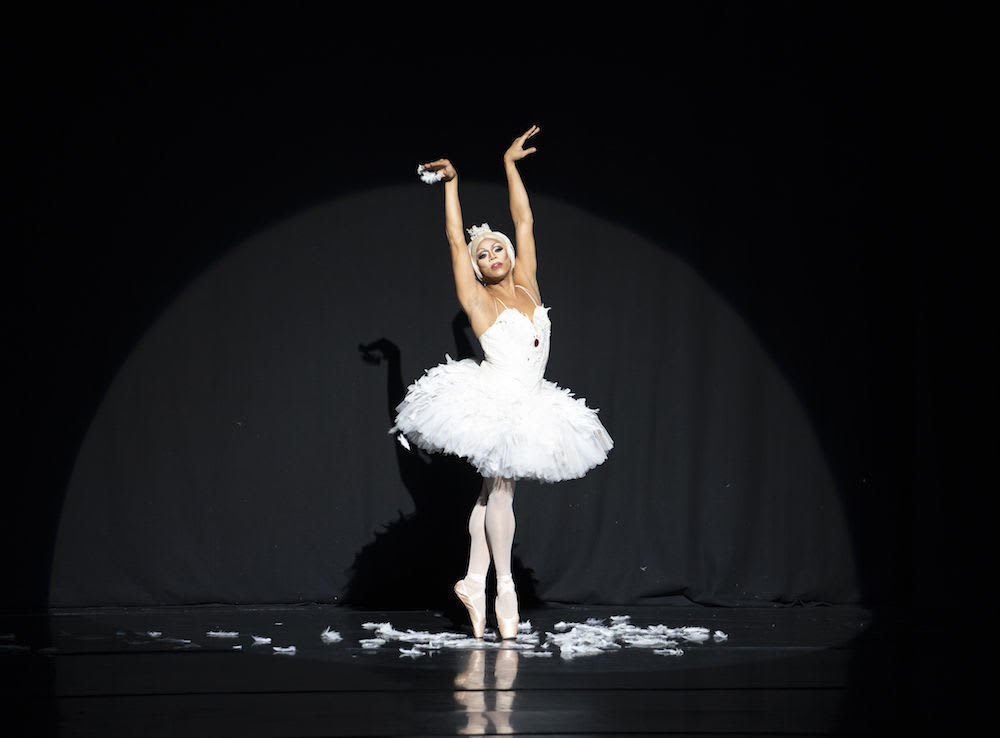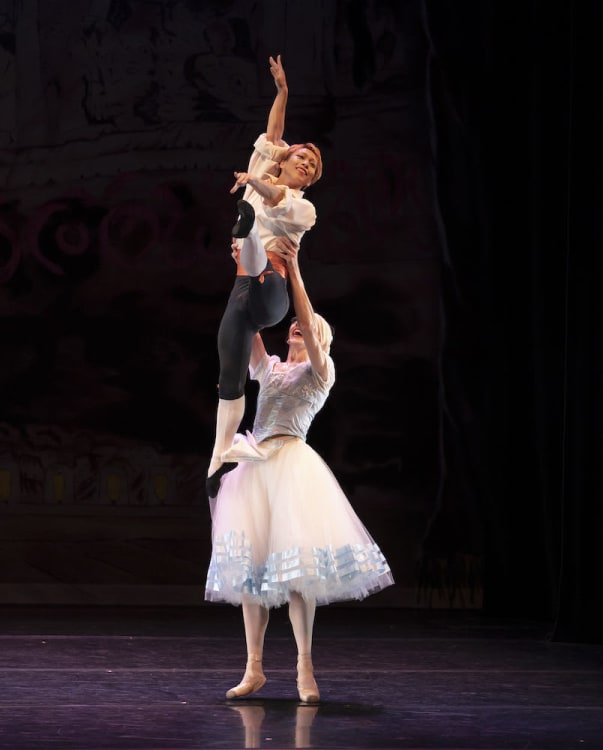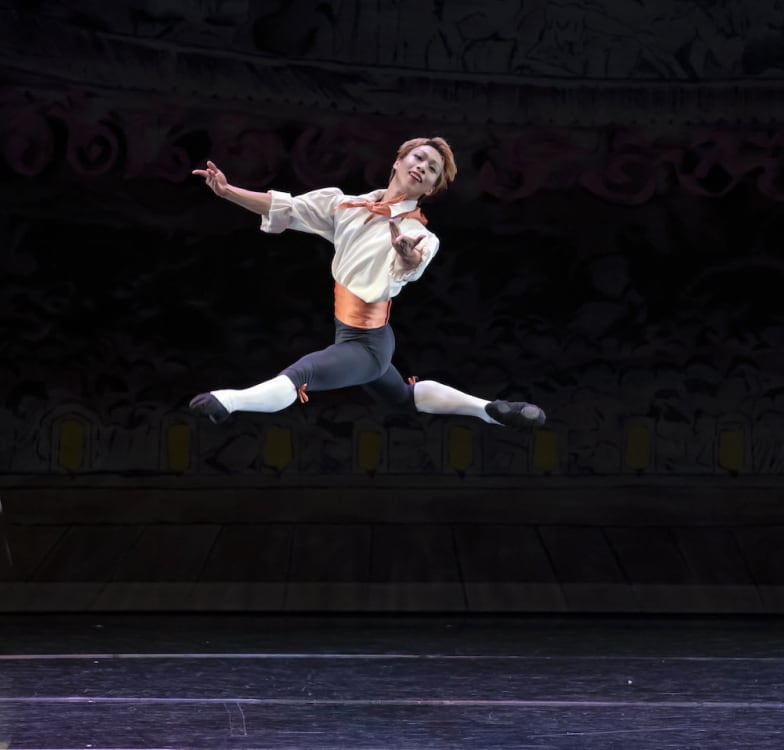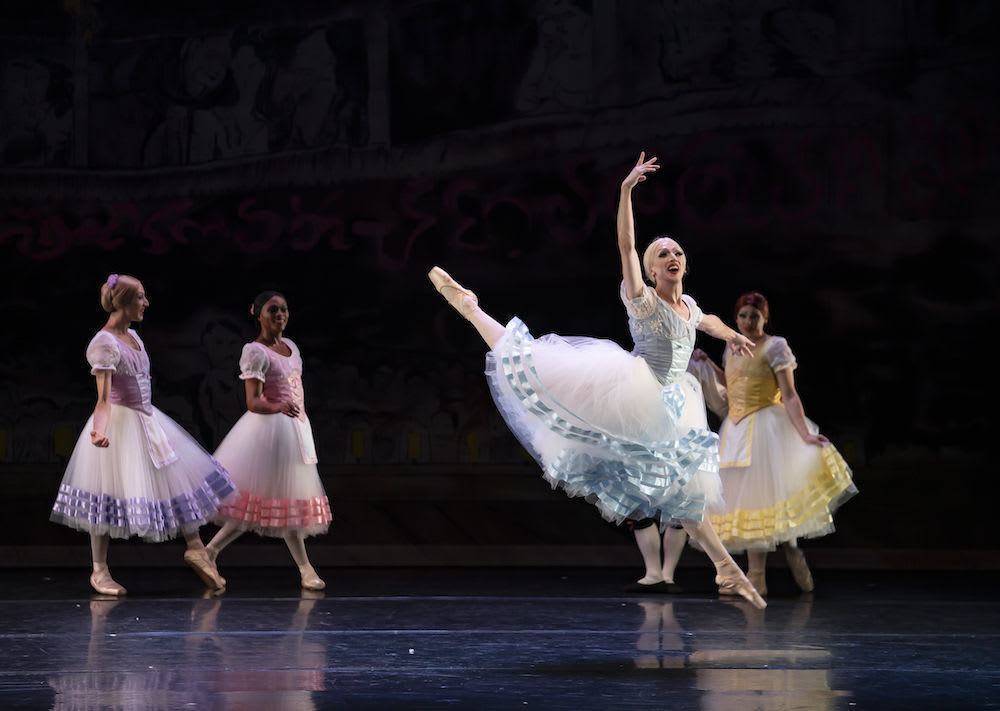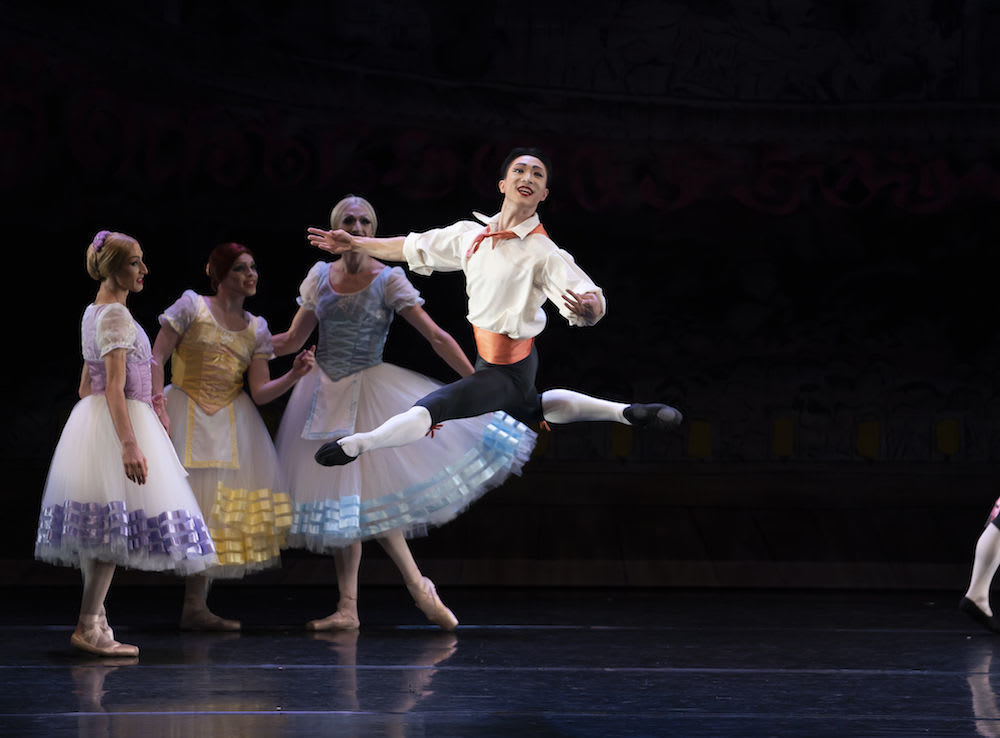 Peacock dance display at the Peacock: it's the last night of the fastidiously flashy Les Ballets Trockadero de Monte Carlo / the Trocks and the mood in the theatre is expectant.
Is there anything more left to say about them, gender fluid avant la lettre? The cast has changed over the years, though several stalwarts remain. Without taking anything away from Programme A, Programme B is better—the best saved for last—out on a high.
The formula hasn't changed much over the years: a classical white ballet, a pas de deux, a pas de cinq or six, always The Dying Swan, and an extract from a Russian ballet infrequently done in the West. The music is nearly always hummable. Someone behind me is doing just that—unselfconscious pleasure.
As always, we are welcomed with an announcement in cod-Russian accent with a sign-off in echt Russian—thank you very much for your attention.
Audience attention is never the issue in a Trock production, though some of the ballerinas do their best to distract each other with trip-ups, glares and personal mime (I'll ring you, I'll text): juvenile, vaudeville, funny if it's your first time. Head inclinations are exaggerated, much is exaggerated, arms flap and the corps de ballet learn to dodge over-enthusiastic extensions and a poke in the eye.
But the dancing is amazing: amongst the playful silliness there are some terrific performances. Three prima ballerinas stand out for me: Carlos Hopuy / Alla Snizova, Long Zou / Nina Enimenimynimova and Alberto Pretto / Nina Immobilashvili. And two danseurs: the small but buoyant Takaomi Yoshino / Boris Dumkopf and Haojun Xie / Nicholas Khachafallenjar.
But let's start at the beginning with the dreamy half-hour Les Sylphides to Chopin's nocturne, mazurkas and waltzes: a reverie, and do the sylphs have a problem with their trippy, dippy poet lost in his rêves. What is he on? Spatial awareness is not a forte.
The self-absorbed poet is probably a tippler—a bottle is presented to him at curtain call. Eyes glazed, expression vacant, hair on end, Giovanni Ravelo / Boris Mudko does remarkably well to partner his sylphs at all: pure chance that he catches them when he does. The corps gets into a tangle behind him as he attempts his solo; one has an attack of sleepwalking (Robert Carter / Olga Supphozova) in the sleepy glade.
Vying for attention, sylphs Pretto and Zou have the daintiest feet and Zou the softest of landings, their variation bourrées and jetés truly scrumptious, whilst tall sylph Joshua Thake / Eugenia Repelskii stands for no nonsense.
Balanchine's Tchaikovsky Pas de Deux follows after the interval and is played almost straight. Allegro vivace personified, vivacious spinning-top Hopuy / Snizova outshines partner Roberto Vega / Mikhail Mypantsarov in a dazzling display (fish dives, shoulder leaps) of gala standard fireworks to rival Natalia Osipova. So pleased are they that high-fives are in order.
The Trock's version (a UK première) of August Bournonville's Napoli Pas De Six fifteen-minute extract plays with height differentials, always an easy laugh, yet the dancing is classy.
Danseurs Yoshino / Dumkopf and Xie / Khachafallenjar earn their medals here, even though Yoshino-Dumkopf has to be lifted (to cheers from the auditorium) by ballerina Thake-Repelskii so small is he, but what ballon… Thumbs up, indeed.
The obligatory Dying Swan brings the second interval curtain down and almost the front stage, as s/he staggers off into the first row's lap. Carter / Supphozova is not subtle or delicate—s/he cricks her back, pleads not to die, tries to stick moulting feathers back on, but to no avail—yet her/his arms are beautifully liquid.
Raymonda's Wedding to Alexander Glazunov's Romantic score is a bit of a high-class hoot, starting with a medieval woman in white holding a wedding cake. She is listed as "left over from acts 1 and 2, she is sometimes a statue, sometimes a ghost, always an enigma".
It matters not whether one knows that it is from Marius Petipa's three-act ballet, Raymonda, first presented by the Imperial Ballet in 1898. The third act party pas classique hongrois brings out enthusiastic heel clicking from the friends of the groom.
Fourteen collide on a stage too small for them, yet again the solo variations and pas de deux are excellent. Zou / Enimenimynimova's Bride has the highest extensions: echoing the nineteenth century tradition of inserting moves of her own, this ballerina adds an exuberant cartwheel. Carter / Supphozova and Pretto / Immobilashvili get vocal approval; Hopuy / Snizova is a supreme coquette and Yoshino / Varvara Laptova hopping on pointe is worth a shout.
Tapping brilliantly into the fact that classical ballet only needs a tiny nudge to push it into the absurd, the Trocks tread a tightrope between the ridiculous and the sublime of ballet's showy moves—you name them they can do them—but why isn't there a clap-o-meter?
My young companion and I drive home singing "New York, New York". Yes, they do it again. When on to a good thing, why change it? Catch them on tour.
Reviewer: Vera Liber