Troilus and Cressida
William Shakespeare
The Wooster Group and Royal Shakespeare Company
Riverside Studios
–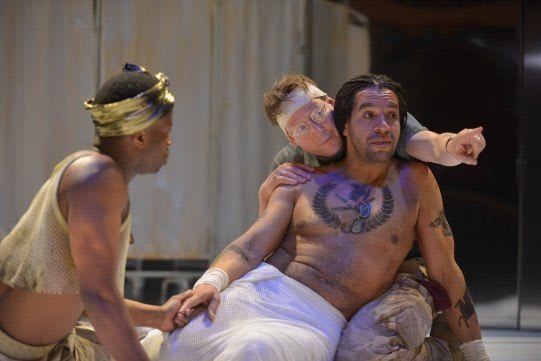 Concept-led Shakespeare can be very hit and miss. Dual concepts with little interaction between them are seemingly even more baffling, if this version of Troilus and Cressida is anything to go by.
The evening can be summed up by a battle in which a Native American Trojan with a lacrosse stick fights a Graeco-British desert stormer wielding a cricket bat.
The Trojans, rehearsed by the Wooster Group's Elizabeth LeCompte, are all American actors speaking as if they were auditioning for a late sequel to Bill and Ted's Excellent Adventure. They play Native Americans, which makes some sense when you see Marin Ireland as young Princess Cressida given up by her inconstant love Scott Shepherd's Troilus to the bold counter-insurgent Greek-Brits.
For some reason that is not apparent to viewers; all of the acting from the Trojan group is directed to screens at the corners of the stage, as this enables emulation of performers in a small but varied assortment of projected films.
The actors are all kitted out with microphones and earpieces (unlike their Greek counterparts), through which they presumably receive instructions to aid speech (which tends to be drawled) or movement.
On this side, the love between the titular duo develops, aided most by Greg Mehrten playing a podgy Pandarus who amuses with his laid-back incitements to lechery.
The Greeks are feisty fighters of the campest kind, with mighty Achilles portrayed by Joe Dixon wearing nothing but tattoos and a sheet, until he dons a fetching scarlet number that might have looked good on Marilyn Monroe. Equally unusual is Zubin Varla's legless Thersites, an androgynous, northern stand-up comedian, were he / she not wheelchair-bound.
Under the direction of Mark Ravenhill, there is far more doubling in this crew, some of it adventurous so that Scott Handy is asked to play both Ulysses and Helen of Troy. He deserves plaudits for the clarity of his verse speaking in a production where this was less of a priority than exploring directorial theory.
The two sides rarely meet, meaning that these three hours tend to feel like two separate plays, neither of which will give much of an idea of the original to those that are unfamiliar with it.
It is only after Cressida is sold out and war declared that the oppositional aspects of the drama really fire up and the contrasts make some limited sense, though less than if either grouping had been placed against their more traditional enemies.
This experiment as part of the World Shakespeare Festival 2012 gives audiences in Stratford and London the chance to test out some transatlantic avant-garde theatre, which is welcome, but whether many will relish the experience is open to question.
Reviewer: Philip Fisher