Troy Story
Homer
Royal Shakespeare Company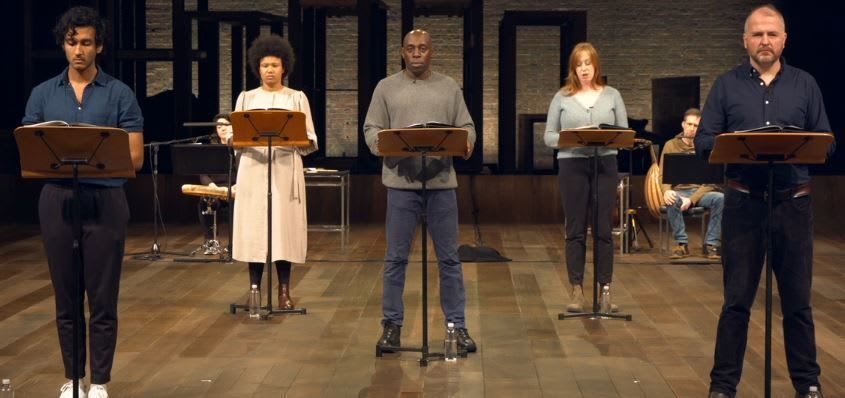 A few weeks ago, I watched an online concert performance of Handel's Ariodante from Covent Garden. No sets, just a nod to costume with each of the socially distanced singers in modern dress according to character. It was, nevertheless, a joy—musically and dramatically.
And so I hoped for something as exhilarating from Troy Story, the RSC's conflation of the Iliad and the Odyssey, broadcast online in five parts over a full day.
OK—the publicity said it was not a full production, and without costumes or sets, but I expected something better than what was on offer, with each of the actors reading from a script on a lectern.
No movement, no eye contact with each other, most actors looking down repeatedly at the words, by which one might suppose they had not been learnt by heart.
The result was just one step above the local u3a poetry-reading group, and several steps below a radio play. For this was not even a play, but rather a reading that one could have done with a few funny voices from the shelves at home.
To think I set aside most of a day to watch this. I've had more fun reading Paypal terms and conditions.
The episodes are preceded by film of people, many of them children, saying the RSC is so wonderful. It is. This Sorry Story isn't.
The only relief came from the all-too-brief interludes of Greek music by singer Dunha Botic and guitarist/oud player Nick Lee.
I thought until now that the most tedious production I had seen in more than 20 years at the RSC was another performance of Classical poetry, the 1999 Tales from Ovid, in which the actors were asked to perform nursery drama class antics of the 'I'm a tree' variety. At least they waved their arms about a bit.
Troy Story ends with a line about 'Sweet forgetfulness'. In charity, one should wish for no more.
Reviewer: Colin Davison