Troyanne
Ian Rowlands
Company Of Sirens
Chapter, Cardiff
–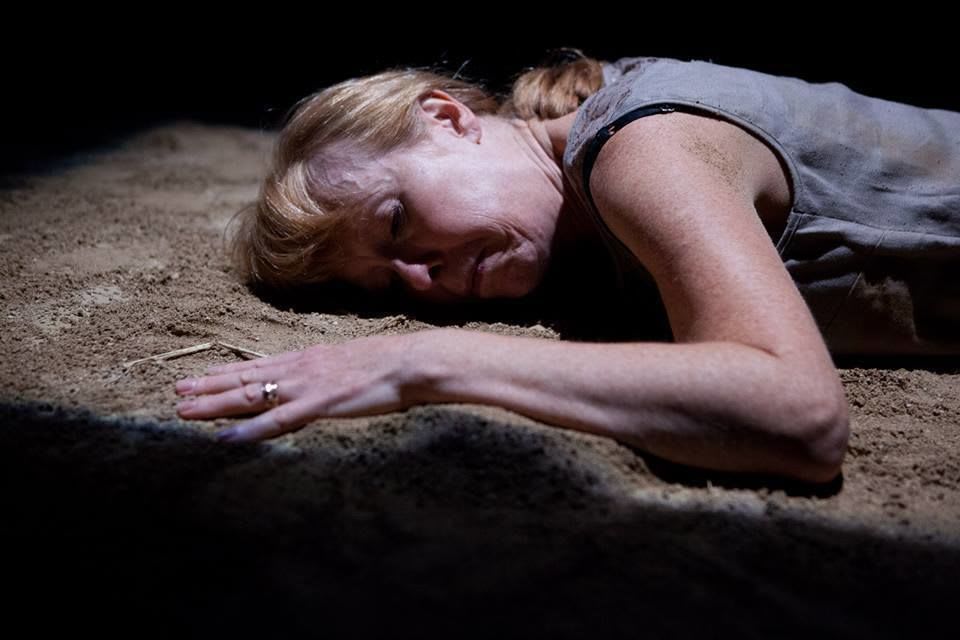 In his programme notes for Troyanne, Ian Rowlands references the selfishness of the writer, remarking on the potential for dramatic invention inherent in the most horrendous news headlines. The play is set in the small town of Troy, Ohio—not too far from Athens, which is also referenced. We are being prepared for tragedy of epic proportions, which is duly served up.
Inspired by stories of accidental family shootings in smalltown America, and with Middle Eastern wars as a backdrop, this could easily have been a shallow, self-righteous rant about US militarism and gun culture. The fact that it is a more nuanced work than the prior publicity suggested is a testament to Rowlands's humanism.
This is a "bare-bones" production in Chapter's small studio space. The small audience is seated on either side of Bethany Seddon's sparsely decorated set, comprising a porch swing, a tree-stump, and a bench. As we enter, a young woman is idly making patterns in the soil on a summer's day; she is joined by two older women, and they start chatting in a genial manner. Then, a shot rings out…
The central character is Hannah, a woman whose husband and son, both soldiers, have survived foreign conflicts, only to die in their own home. Caroline Bunce gives an immensely powerful performance as a woman eaten up with grief and fiercely angry with a God who has abandoned her. Rebecca Knowles plays Tory, her neighbour, who has suffered losses of her own, but has found a degree of spiritual equilibrium.
The first half of the play is reflective, as the two muse on past happiness and misfortune. Just as it seems in danger of floundering, a verbally maladroit but well-meaning police officer (Dick Bradnum) appears, bringing more bad news, and the dramatic temperature rises. The young woman, Hannah's disliked and traumatised daughter-in-law (Jannah Warlow) returns; further unfortunate events ensue.
Director Chris Durnall marshalls his resources with skill and sensitivity; Dan Lawrence's sound design is especially clever, every element—a barking dog, gunshots, emergency sirens—seamlessly synchronised with the text. Jane Lalljee's lighting effects are also highly effective, especially at a crucial, climactic point.
The text only briefly acknowledges that such tragedies as are depicted in the play also occur in corners of the world less subject to the mass media spotlight than the USA. Nevertheless, the fact that Hannah and Tory occupy divergent philosophical positions means that we are treated to more of a debate than might have been expected—possibly down to the author having gathered testimonies from the real women of Troy, as part of the play's development process (in conjunction with The Lark Centre in New York).
It's hard to imagine that a "full" production could be any more potent—the proximity of the actors and the bareness of the performance area mean that the audience has no choice but to focus on the characters and their pain. Its bleakness may not appeal to everyone, but Troyanne is a compelling piece, and Company of Sirens certainly deserves to be successful in its attempt to attract funding for a future, extended run.
Reviewer: Othniel Smith