Truckstop
Lot Vekemans, translated by Rina Vergano
A Company of Angels and Eastern Angles co-production
Unicorn Theatre
(2007)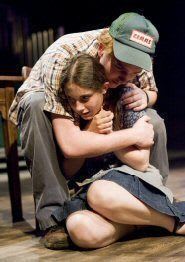 It has been my good fortune to see two award-winning plays in less than a week. (The other was Lilies at the Brockley Jack.) The second one is presented by Company of Angels and Eastern Angles - the former a relatively new body which seeks to bring experimental theatre to young people and the latter a long established touring theatre company known for staging pieces of regional relevance as well as more general content.
There is nothing East Anglian in Truckstop, a play from the Netherlands that concerns the conflicting relationships between a loving single mother who runs the truckstop café of the title, her vulnerable daughter Katalijne, and the hapless Remco with whom Katalijne falls in love.
Mother believes that she knows what's best, that "Katalijne can't decide, she has to be decided for" and whilst we recognise an element of co-dependence, we have witnessed the extent of Katalijne's mental health problems when she has a fit, screeching out of control, until Mother talks her down.
Janet Bamford as Mother and Eugenia Caruso as Katalijne turn in heart-tugging performances reflecting all the push-me-pull-you tensions of a mother-daughter relationship and it is soon apparent why they were jointly awarded Best Actress in The Stage Awards at the Edinburgh Festival.
Adam Best has a tough job too making the good-for-nothing truck driver Remco more than just a looser. His characterisation gives credence to Katalijne falling in love with him. She complains that the others "speak to me as if I was a potted plan" but Remco pays her attention and she falls for his "Samurai of the tarmac" line.
It is inevitable that something has to give and the tension mounts slowly towards the dénouement under the hand of director Chris Rolls, who takes a thoughtful approach to the sensitivities of the story whilst keeping the action going at a reasonable tempo.
The timely sound of trucks driving by and a Dutch-speaking radio station contribute to the atmosphere. It is a compelling piece presented without props on an efficient set designed by Aaron Marsden. The miming of laying tables and such seemed unnecessary at first but was ultimately justified when the anticipated violent ending required no weapon or gory effects.
The simple presentation also means that the young audience has few distractions from the carefully-translated dialogue and the superb performance of Eugenia Caruso. Young people will not be scared by this play but they will be gripped by the plot and moved by the story.
Truckstop is, I fear, playing second fiddle to the production in the main house at the Unicorn, which is a shame because it deserves more than that.
"Truckstop" runs until Sunday 28 October 2007. The running time is 1 hour and 15 minutes without an interval; it is suitable for ages 12 and over.
Philip Fisher reviewed this production at the Edinburgh Fringe.
Reviewer: Sandra Giorgetti