True West
Sam Shepard
Tricycle Theatre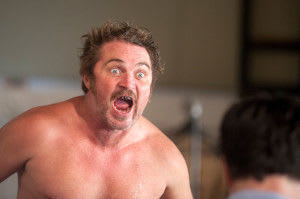 In typical Sam Shepard style, this piece, which will soon celebrate its silver jubilee, is an amusing but challenging theatrical romp.
Set in film country on the outskirts of LA, the action in Philip Breen's sometimes ponderous revival, which was originally seen at the Citizens Theatre in Glasgow in late 2013, takes place in a Max Jones-designed, stylish, widescreen kitchen of a clearly affluent home.
There, we first witness a pair of brothers, like two sides of the same coin with personalities and lives poles apart, at the start of what becomes a conflict of almost biblical proportions.
Eugene O'Hare's Austin is a successful screenwriter with a happy family who is generously visiting his mother's home to water the plants while she is holidaying in Alaska.
After a five-year gap, he is reunited with his bullish brother Lee, the Yang to his Yin. Alex Ferns proves truly terrifying as a housebreaker with psychotically violent tendencies who blows white hot and ice cold on a whim.
Their interactions are often unpredictable, references to drunken dad somewhere in the desert the only common topic as they bicker in their whiny, nasal drawls.
Gradually though, their spheres of interest begin to overlap after Lee meets Steven Elliott playing Saul, a producer who is considering optioning his brother's latest love story.
With no justification, the thief decides that anyone can write a script and, encouraged by the producer over a game of golf, sets out to do just that using Austin as an amanuensis to type up what sounds like a far-fetched and completely unsaleable road movie.
While the alcohol flows in a long dark night of the soul, the roles begin to reverse as Lee's creative juices flow at the same time as the respectable family man goes on a burgling spree which nets enough toasters to provide wedding presents to everybody they have ever met.
From there onwards, True West descends into a wildly destructive comedy of teeth, typewriters and those toasters and begins to feel like some drunken or drug-addled nightmare from which the participants would love to awake.
Once it gets going, Philip Breen and his two leading actors create a striking vision of America on the skids, although, in the early scenes, one could easily mistake the pregnant pauses for an attempt to turn Sam Shepard into Harold Pinter with American accents.
Reviewer: Philip Fisher