Tryst: Devotion and Betrayal
Choreography by Daniela Cardim Fonteyne, Valentino Zucchetti, Érico Montes, Kristen McNally, Andrew McNichol
New English Ballet Theatre
Peacock Theatre
–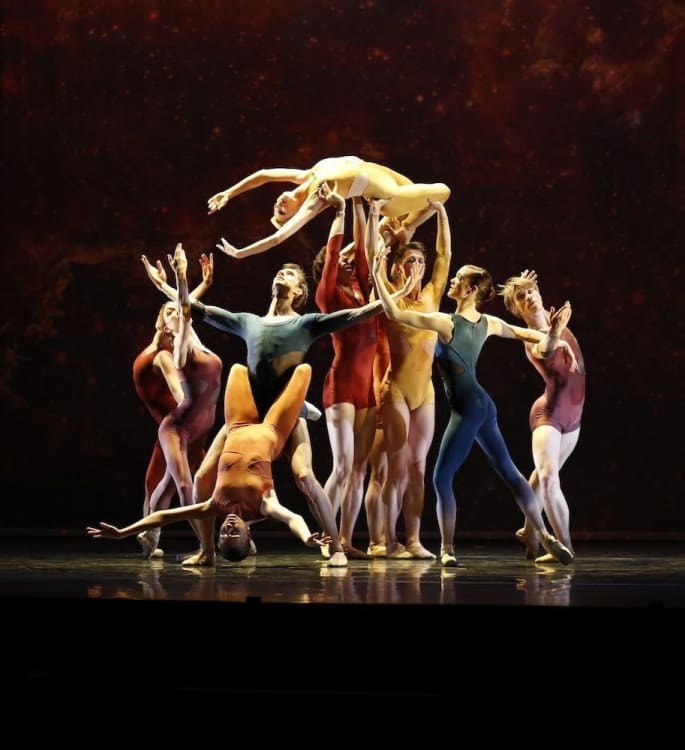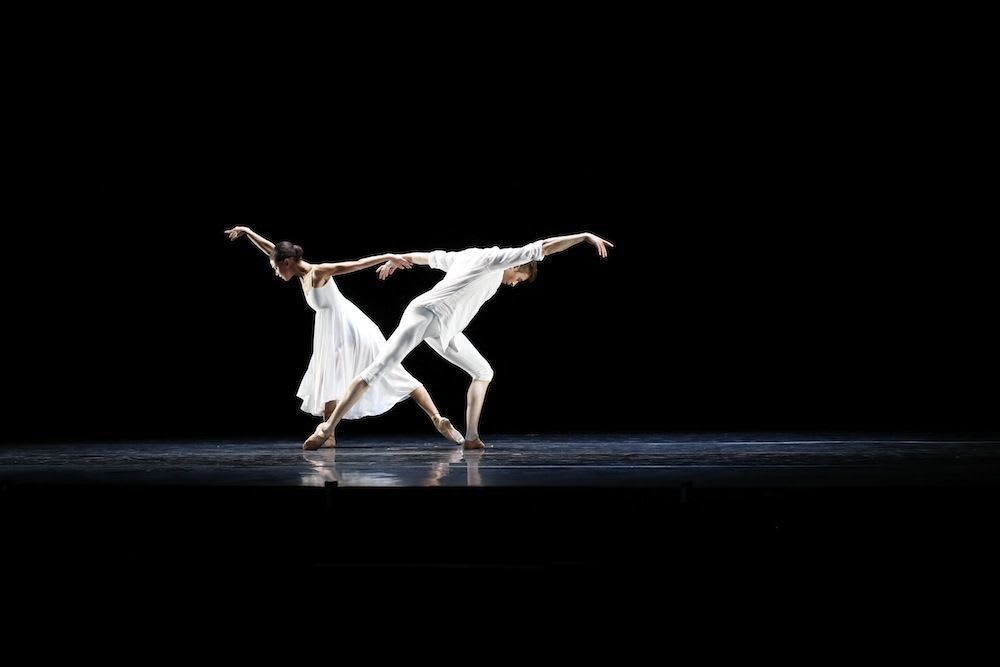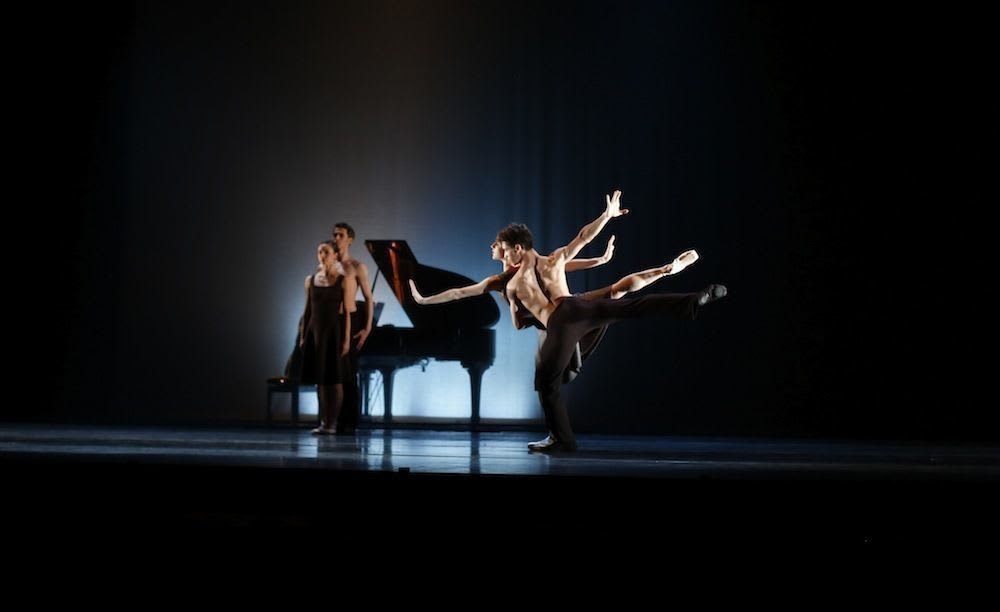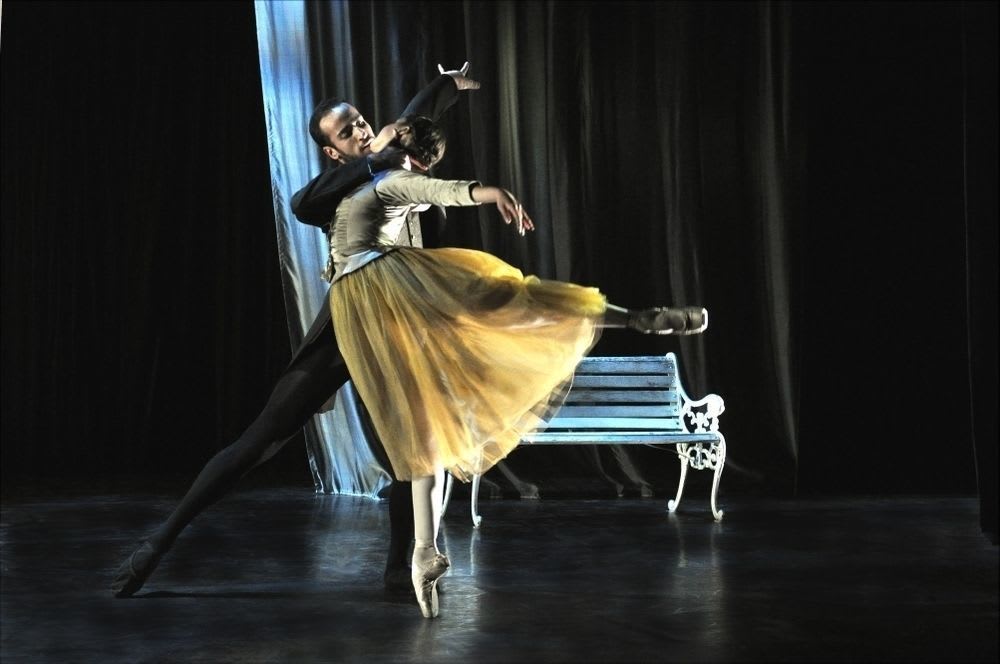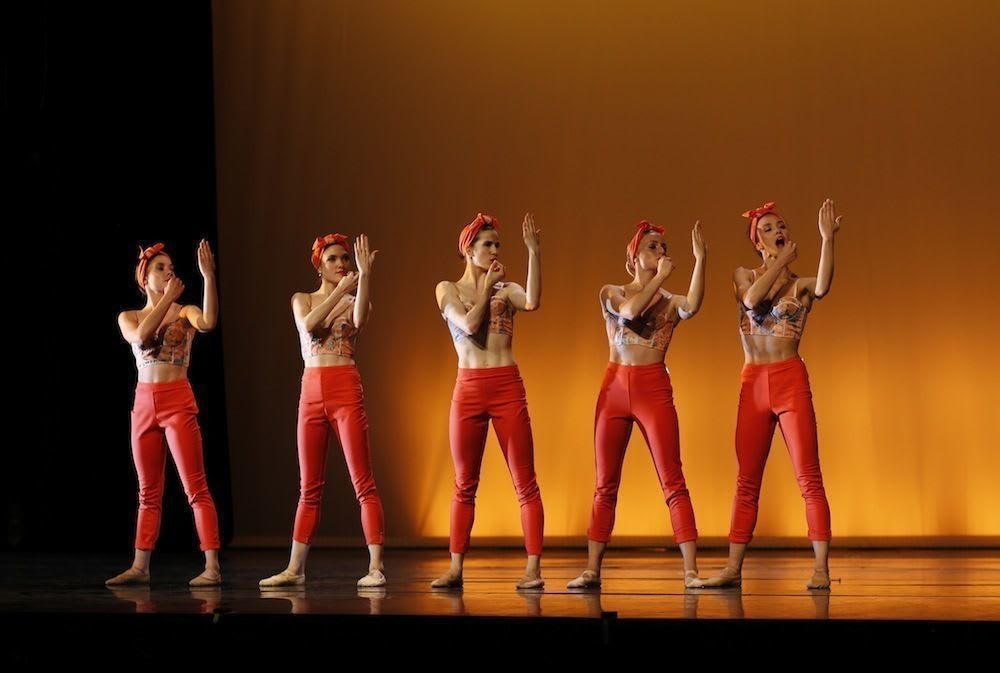 An arresting ambiguous portmanteau title, fourteen dancers, five choreographers, live musicians, and high aspirations, the very New English Ballet Theatre is back with a new programme.
Founded by Karen Pilkington-Miksa with the intention of promoting young talent and preparing it for the competitive world by giving it more stage time, NEBT's debut in 2012 garnered warm reviews. This is its equivalent of the second novel—will it deliver on its early promise?
Deliver it does, in motley fashion—four short ballets before the interval, a longer story ballet after, and filmed interviews with choreographers in between.
All very serious except for Royal Ballet's Kristen McNally's Mad Women, for which much thanks. A precious commodity her little bit of wit and it goes a long way.
The last before the interval, McNally's crowd pleaser is full of character—the music too, a mix of American advertising jingles and songs. Stepford wives in fifties pink Capri pants, short bodices and red headbands, going about their daily 'desperate housewives' lives until a deliveryman delivers.
The doorbell rings and they smile. Consumer culture, American polished gloss, objectified women, who are not as dumb as they are meant to be, knowing looks (especially from Francesca Tennant) to the audience.
Great fun and the only ballet not on pointes, McNally's has something of Lea Anderson about it. And Jerome Robbins, perhaps.
Musical choices can confer gravitas, and which young choreographer doesn't want that? Most dancers and makers of dance will say it's the music that gives their bodies the impetus to be expressive.
The opening piece, former Dutch National Ballet dancer Daniela Cardim Fonteyne's Tangents, takes on Mussorgsky's Pictures at an Exhibition, played live on stage by Viktor Sugeng. Lorenzo Bernardi and Jessica Clyde stand out.
Three couples in varying permutations show off their Russian-inflected moves: flexed feet, crossed fists, flicked wrists, high kicks. Controlled, complex, at times too exacting, I longed for simplicity. Less can be more.
The same might apply to Royal Ballet's Valentino Zucchetti's long, urgent, exhausting Orbital Motion, set to Philip Glass's first violin concerto.
Against a Hubble Space Telescope image of nebulae backcloth (how prescient were John Martin's nineteenth century paintings) five couples in unitards of red, gold, yellow, orange and mackerel sky blue spin and make complicated intricate patterns.
Straining to impress, difficult moves exploding on stage like supernova around a glorious sun (Mercedes Schindler and Joshua Barwick), the young dancers give it everything. Tall Mercedes Schindler could be a Darcey Bussell in the making, and Jessica Clyde shows lovely lyricism.
Never ask for what you want. Toca, choreographed by Érico Montes, is brevity itself. Christina Cecchini (lovely) and Ludovico Di Ubaldo, innocents in a cruel world, dressed in pure white, brother and sister separated when young, meet and fall in love.
Inspired by Eça de Queiroz's The Maias novel, and Villa-Lobos' Études 11 and 10 that tug at the heartstrings, one feels restraint, not passion.
No real fireworks from any as yet. Good work, though, ambitious and demanding.
What fireworks there are come from Andrew McNicol, an up and coming young choreographer, daring to take on Tolstoy's, Beethoven's and Janáček's Kreutzer Sonatas.
The Sacconi quartet playing live Janáček's String Quartet No 1, the Kreutzer Sonata, with Anne Lovett and Andrew Harvey as the alter ego musicians playing Beethoven's Kreutzer Sonata onstage, McNichol's drama has passion, fine dancing and acting. And Emma Bailey's set and bronze / black costume designs to enhance this dramatic piece of ballet theatre.
The final duet between suspicious jealous murderous husband (Silas Stubbs) and the wife (Hayley Blackburn) he sees moved to who knows what by the music and the young violinist (Joshua Barwick) reminds me of the up and come young Royal Ballet choreographer Liam Scarlett (Sweet Violets), and Kenneth MacMillan (Manon, Mayerling) too.
Rich material Tolstoy's conflicted novella: the dangerous power of music, women are whores and marriage is mutual deception.
And double standards: men can dally with harlots in hotels particuliers, but the wife has to be above reproach, satisfy his possessive lust, bear children (three on stage), heaven forbid she has an interior life.
Stubbs, Barwick and Blackburn are excellent, totally in the moment. Blackburn reminds me of a young Lesley Collier and recently retired Royal Ballet soloist Iohna Loots.
An end of term showcase display, and an audience of relatives, friends, and rich patrons one hopes, the future of classical ballet seems to be in willing and encouraging hands, which are much needed after the Arts Council's recent divvying up of funds.
Reviewer: Vera Liber