The Tale of Tsar Saltan
Rimsky-Korsakov
The Mariinsky (Kirov) Opera
Sadler's Wells
(2008)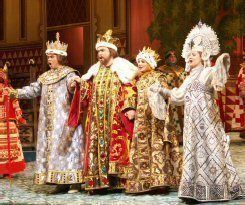 (Premiered Moscow 1900; Mariinsky Theatre 1915; new Alexander Petrov staged production Mariinsky 2005)
A new (three years old) opera production of Rimsky-Korsakov's rarely staged The Tale of Tsar Saltan, of his Son the Renowned and Mighty Bogatyr Prince Gvidon Saltanovich, and of the Beautiful Swan-Princess, to give it its full title, originally composed to celebrate Pushkin's centenary, comes to London from St. Petersburg for two performances only to mark Nikolai Rimsky-Korsakov's (1844-1908) centenary. At last.
London's opera world has been buzzing with anticipation. And what a rare old-fashioned Russian treat for the eyes and the ears it is. Of course, it would be good to hear it in the Royal Opera House, but one is grateful for this, as recordings and productions of the three-hour opera in a prologue and four acts are as rare as hen's teeth.
Rimsky-Korsakov fans no doubt have the Bilibin illustrated edition of Pushkin's tale, so the spectacular fairytale costume and set designs in vivid technicolour by Vladimir Firer after Ivan Bilibin's sketches will come as no surprise. And they won't mistake the wave that carries Gvidon and his mother, Tsaritsa Militrisa, away in a barrel for Hokusai's.
I was so enchanted by the magical storybook set and the animations (!) - knights on horseback, the wave carrying the barrel's precious cargo, but especially the Japanese anime bumble bee which provided the light relief, projected on to the front curtain during orchestral preludes before the beginning of each of the four acts - that the variable singing and the wooden acting from one or two of the young singers, more used to giving concert performances maybe, mattered not a jot.
The plot of the opera is more or less that of Pushkin's tale with minor adaptations, notably Gvidon's three trips to his father's court compressed into the one as bumble bee. The satirical characterization, the repeats and recapitulations are intact.
Three sisters sing of what they would do if they married the tsar. One would cook a feast, the second would weave his linen, but the third would bear him a son. Tsar Saltan, eavesdropping at the window, takes the last as his wife (Tsaritsa Militrisa), and makes the other two court Cook (Povarikha) and court Weaver (Tkachikha).
Jealous, the two ugly sisters and wicked old Babarikha scheme to get rid of Militrisa and her son Gvidon before the tsar returns from battle. Militrisa and Gvidon are cast off in a sealed barrel on the open seas.
Landing on a deserted but for a single oak tree island (stage flats suggest a lush forest - one has to suspend one's disbelief as in all good fairytales), Gvidon, full-grown now, goes off to seek food. He cuts himself a bow and arrow and kills the kite attacking a swan.
The swan maiden is grateful and speaks to him in Russian. What a surprise. The kite was an evil wizard, who had cast a spell on the city of Ledenets, which now rises from the mist.
The people proclaim Gvidon their ruler, but he longs to see his father. Transformed into a bumble bee by the swan-princess, he hitches a ride on a merchant ship, and in this convenient metamorphosis observes how the ugly sisters and Babarikha misinform the tsar, who is intrigued by this idyllic island where 33 warrior knights rise from the sea to guard it, and a squirrel shells golden nuts with emerald kernels.
The tsar travels to Ledenets, where he finds his son married to the beautiful swan-princess, and his wife he thought dead (Leontes and Hermione in The Winters Tale, anyone?). They return to court where a celebratory feast is prepared.
Describing his work as instrumental-vocal Rimsky-Korsakov not only has lengthy orchestral interludes but also a trumpet fanfare at the beginning of each act to signal the start of the action - "a device quite original and suitable for a fairy-tale" he thought.
Also suitable for this traditional folktale of loss, reconciliation and forgiveness, is his music full of recognizable Russian folk music motifs interspersed with sweet arias.
Bass Alexey Tannovitsky, visually a cross between Chaliapin's Boris Godunov and Nikolai Cherkasov (Eisenstein's Ivan the Terrible and Alexander Nevsky), sings the role of Tsar Saltan well, especially his tender aria to his gentle wife whom he so foolishly drove away.
Tenor Daniil Shtoda (Gvidon), and soprano Victoria Yastrebova (Tsaritsa Militrisa) are drowned not by the sea but occasionally by the orchestra. In quieter moments their soft voices came through.
Swan-princess Lyudmila Dudinova's strong direct soprano voice could shatter crystal at several paces, and Old Grandpa Vassily Gorshkov's powerful tenor betrayed a younger man.
Contralto Nadezhda Vasilievna (Babarikha), mezzo-soprano Natalia Evstafieva (Tkachikha), soprano Tatiana Kravtsova (Povarikha), baritone Andrey Spekhov (Messenger), bass Eduard Tsanga (Jester), provided the pantomimic comic acting. Of the three shipmasters, tenor, baritone and bass, bass Mikhail Kolelishvili deserves a mention.
The chorus gave us that unique Russian timbre, lullabies and joyful festive sounds that touch the heart.
But top honours should go to the orchestra under Tugan Sokhiev's baton, not least for The Flight of the Bumble Bee, which almost had the audience cheering.
Reviewer: Vera Liber