Tshepang
Lara Foot Newton
Gate Theatre
(2004)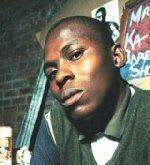 Like Hecuba, currently playing at the Donmar, Tshepang is an irredeemably grim piece. That does not mean that it should not be compulsory viewing as its subject matter is politically and socially of the greatest importance.
In some ways, this tale of evil is even more harrowing because these days, the past is another country far further away from us than South Africa, where this is set.
Thea Sharrock's first play as artistic director of the Gate is written and directed by Lara Foot Newton. She was last seen in the UK directing the very moving and absolutely unforgettable African folk tale The Well Being in Edinburgh.
Tshepang starts with Simon's picture of life in a village where "nothing happens". He uses primitive props, designed with much ingenuity by Gerhard Marx, such as his home made nativity set, trees of glasses and multiple beds.
The stories that he tells us include those of poor little Alfred, a three-year-old almost beaten to death with a broom, Sara the comic-reading prostitute, and, eventually, his impassive, haunted companion Ruth.
Underlying his simple story-telling, drifting from English into his native tongue and back again, is a dark secret. Slowly, it leaks into the monotony of daily life and before too long the leak becomes an unstoppable flood.
Ruth's daughter, Sissy, was raped at nine months. She is the Tshepang of the title, ironically renamed as Saviour, as a result of her travails. The rape is graphically and shockingly symbolised completely silencing the audience.
Initially, as newshounds poured in to pollute the village, police suspected six men of gang-rape. Finally, the guilty party is identified as Alfred, repeating his own childhood molestation.
All that is left is for Simon to report that in South Africa, 20,000 children are raped every year.
Tshepang is a rare chance to witness the African story-telling tradition on a London stage. Mncedisi Shabangu as Simon and Kholeka Qwabe as the shunned, silent Ruth both give moving performances under the writer's direction.
Reviewer: Philip Fisher