Turandot
Puccini
Welsh National Opera
Mayflower, Southampton, and touring
(2004)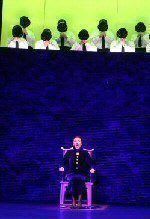 Whatever troubles may have beset the Princess Turandot's ancient Chinese household, all seems surprisingly well with the affairs of Welsh National Opera.
Surprisingly because only a few months after taking over the role of MD, Russian wunderkind Tugan Sokhiev decided the job was not for him. Fortunately, his popular predecessor Carlo Rizzi, who had left to freelance, was free enough to return to post - at least for the time being.
So when Gareth Jones, who was to have conducted Puccini's Turandot at Southampton's Mayflower, was taken ill, it was Signor Rizzi who stepped in to keep this enormous show on the road.
Under Rizzi's baton the brilliant score, with enlarged chorus and scintillating orchestration, thrilled the large house, most of whom would be hearing this music for the first time.
As the Unknown Prince, Raphael Rojas cuts a powerful figure and his tenor generally makes light work of the demanding score, especially in the only aria widely recognised, especially by local Saints' fans, Nessun Dorma. Director Christopher Alden is of course to be blamed for the suitor's lack of gallantry in remaining seated while a dreadful fate is visited upon the slave Liu, exquisitely sung by Mykytenko.
Less exquisite, though absolutely brilliant, is Francesca Patanè as a soaring, implacable Turandot. This performance does not wilt in the light of Eva Turner's distinguished example. Indeed the whole production exults in the distinctly Wagnerian atmosphere of Act 3.
Amidst such thrills, even the World War Two backcloth of Alden's Anderson Shelter setting, and the utility, black and white costumes, are overlooked. With a sound like this, who cares for trivialities?
The production can be seen as WNO's autumn tour visits Llandudno, Birmingham, Liverpool and Bristol.
Reviewer: Kevin Catchpole