Twelfth Night
William Shakespeare
Filter
Home Manchester
–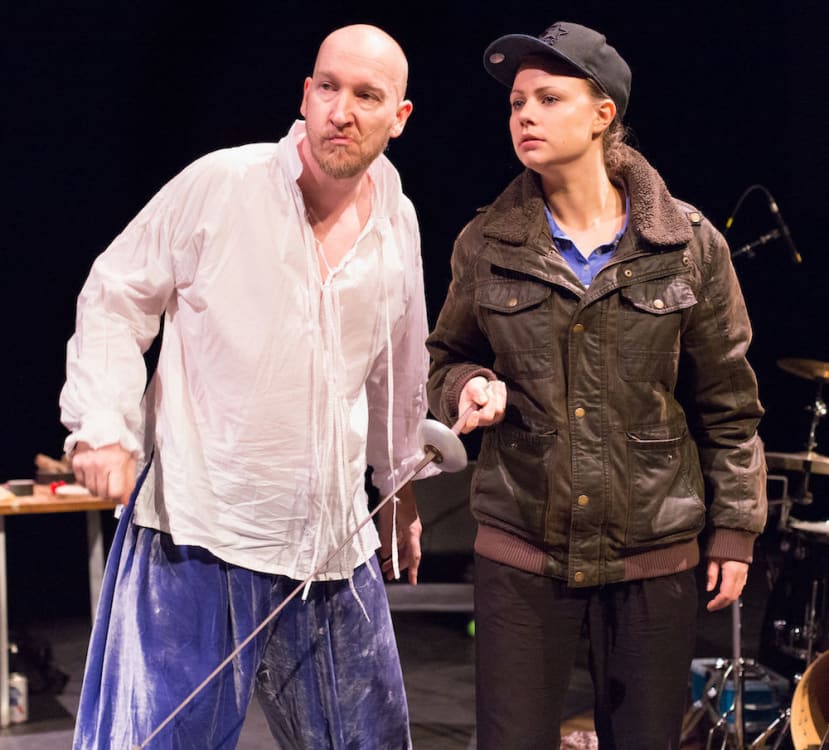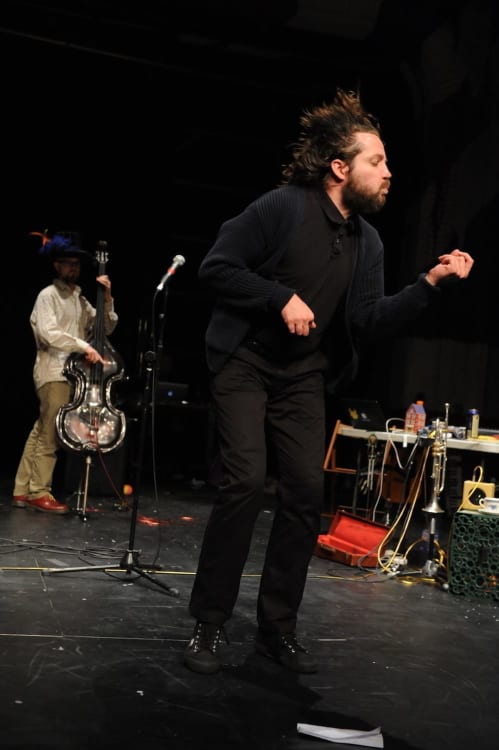 Filter's unique take on Twelfth Night has been touring for some years—our first review of it was in 2008—but, with a rolling cast, has been kept feeling fresh and new.
The audience enters to a stage that looks more like it is set for a music gig than a performance of Shakespeare, with instruments, sound equipment and cables strewn across the floor. Modern-dressed performers are wandering the space setting up in full view before the point at which the house lights would normally go down, but they are left fully up throughout.
This 90-minute piece is more aspects of Twelfth Night with special focus on the clowning than a full realisation of the original text, although I couldn't think of any significant parts of the story that were missed entirely. While there are a few more serious, pensive moments, it is the comedy that is really emphasised in this production, where small moments of the play are built into full routines.
Orsino (Harry Jardine) conducts the opening music, which riffs on the "if music be the food of love..." speech. A convincingly drunken Sir Toby Belch (Dan Pool), the only one wearing anything resembling Elizabethan dress, careers around the stage quoting from most Shakespeare plays. Malvolio (Ferdy Roberts) donning his yellow stockings becomes a heavy rock piece complete with head-banging.
The biggest moment is probably Belch's unwelcome party in Olivia's (Olivia Darnley) house, which begins with Belch and Sir Andrew Aguecheek (Jardine again) drinking and shushing one another, then some hushed games with the audience, very gradually building up into a loud, raucous party with audience dancing on stage.
The technology is integrated into the storytelling. News of the storm that shipwrecks Viola and Sebastian (Amy Marchant as both in jacket and hat borrowed from men in the audience) comes via the radio Shipping Forecast. A messenger, now offstage, delivers lines via mobile 'phone, whereas others use an intercom made from a microphone plugged into a tiny guitar amp. Olivia's seduction of Cesario involves her bowing a bass guitar.
It's all very rough-and-ready and great fun. There are elements of the story that may be confusing to the uninitiated due to cuts and actors playing multiple roles without costume changes, especially the Viola-Sebastian revelation at the end.
While there is little depth of characterisation, there are some interesting twists on expectations for the characters. Orsino is young and lively, not old and maudlin; Aguecheek is foolish but more sympathetic than usual; by contrast, Malvolio, often played for sympathy now for his ill treatment by the others, makes no secret of his lust for his mistress and physically bullies servant Maria (Crystal Condie, who also plays Feste).
Filter's treatment of Shakespeare perhaps isn't for everyone, but as a rock-age clowning show that fits to the narrative of Twelfth Night, it's a fun night out—and one that, if the reactions of the little boy on the front row on press night are anything to go by, can appeal to all ages.
Reviewer: David Chadderton