Twelve Angry Men
Reginald Rose
Birmingham Repertory Theatre Company
Birmingham REP
–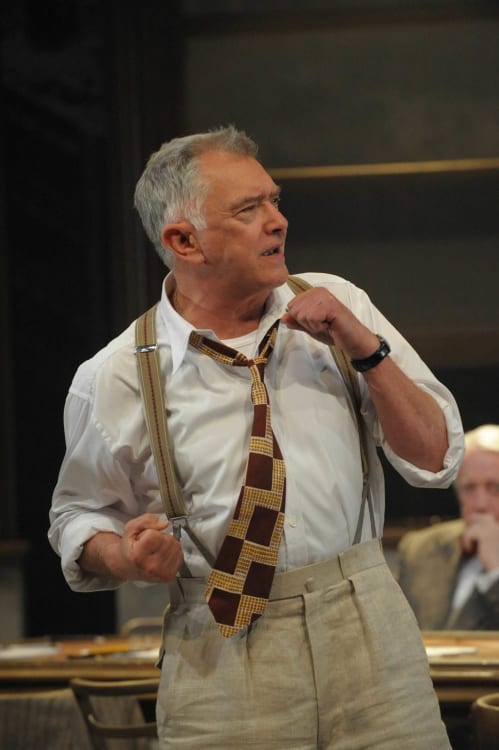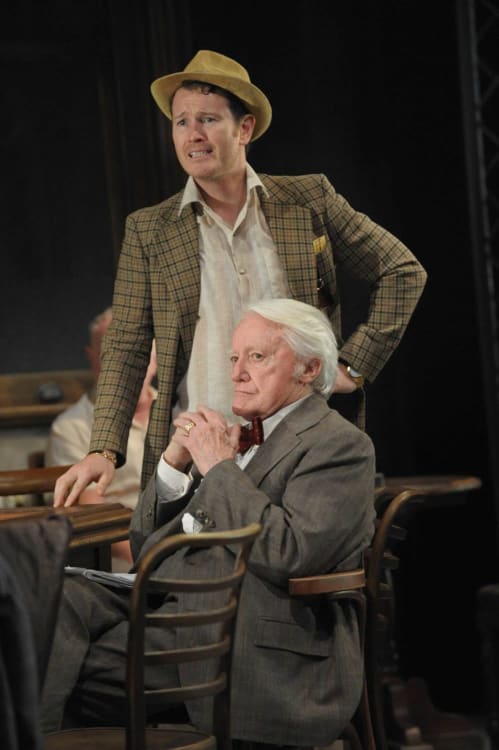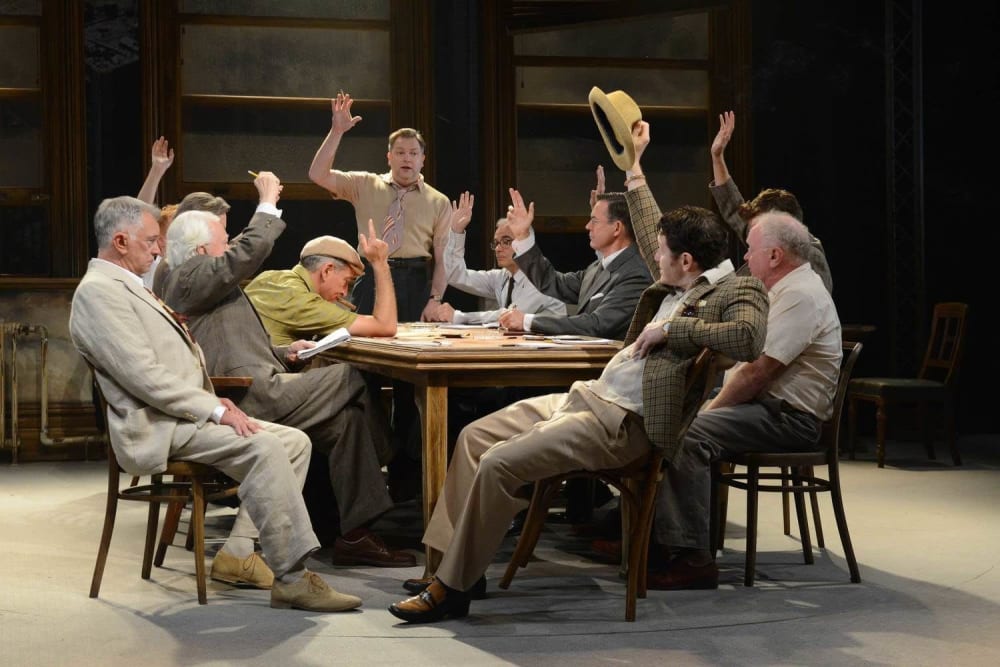 Standing ovations in theatres can be a rare thing—but they're starting to become a regular feature at the newly-refurbished Birmingham REP.
The touring National Theatre production of Alan Bennett's People, which officially reopened the REP, had audiences on their feet and now Christopher Haydon's revival of Reginald Rose's courtroom conflict Twelve Angry Men is getting theatregoers out of their seats.
When the REP announced that Birmingham-born Martin Shaw would play juror eight, the role taken by Henry Fonda in the 1957 film adaptation, it expected good attendances and tickets are selling really well.
Yet Shaw doesn't hog the limelight: there are superlative performances from several others in the cast and there's no weak link anywhere.
The plot revolves around the trial of a 16-year-old—he remains unseen—who is accused of murdering his father. All members of the jury except one are totally convinced of the youth's guilt. Juror eight, concerned about sending the youngster to the electric chair, wants to discuss the case and certain aspects of the prosecution evidence don't stand up to a thorough examination.
Juror eight's insistence that something "doesn't sound right to me" leads to other members doubting the evidence and themselves.
Christopher Haydon, artistic director of London's Gate Theatre, does a marvellous job with a talented cast.
There is tension throughout as the jurors' anger intensifies, leading to a memorable climax.
Rose's script is also full of humour which was skilfully brought out on press night, much to the audience's delight.
Shaw gives a stunning performance, giving juror eight his own sense of anger and quest for justice as he analyses every facet of the case in far more detail than the defence counsel did in court.
Jeff Fahey is equally striking as juror three, the enraged, out-of-control, stubborn man who shows empathy with the murdered father.
Miles Richardson is commanding as juror ten, the gruff-voiced bigot whose extremely prejudiced views become too much for his fellow jurors.
Eighty-year-old Robert Vaughn, whose star graces the Hollywood Walk of Fame, gives a sharp portrayal of juror nine, the respected senior citizen who reveals an incisive perception into the testimony of two prosecution witnesses.
Nick Moran is solid as juror seven, the man who often doesn't take proceedings seriously, while Owen O'Neill and David Calvitto impressively adapt to different roles from the ones they played in Guy Masterson's production of Twelve Angry Men at the Edinburgh Festival in 2003.
Luke Shaw as the foreman, Paul Anthony-Barber, Edward Franklin, Robert Blythe, Martin Turner and Jason Riddington who plays the guard all deserve plaudits for their performances.
Designer Michael Pavelka has come up with an inspired set which is both realistic and functional. It changes inconspicuously, leaving the audience baffled as to when it happens.
After playing a couple of other theatres, Twelve Angry Men heads off to the Garrick in the West End for a four-month run. London will no doubt welcome this outstanding production. You'll definitely be angry if you can't get hold of a ticket.
Reviewer: Steve Orme