Twelve Angry Men
Reginald Rose
Garrick Theatre
–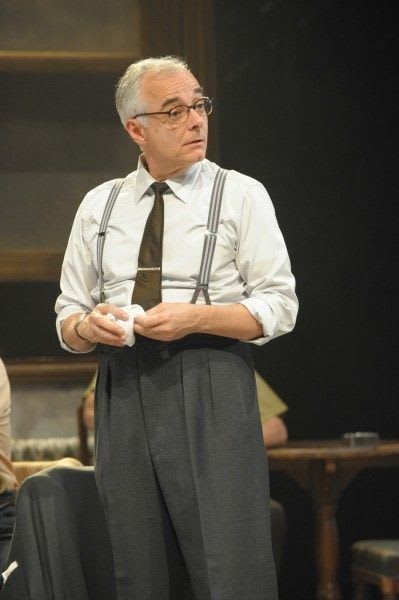 This revival is a reminder of how perfectly Reginald Rose constructed this gripping courtroom drama. The play is as well put together as the Meccano-like scaffolding that comprises the wall-less set in which the actors play their roles on a New York jury.
Like An Inspector Calls, the playwright carefully measures every point, while at the same time shining a light on human nature. To be more accurate, he explores only half of humanity since apparently back in the 1950s, New York courts didn't welcome female jurors.
The Gate's Artistic Director Christopher Haydon, making his West End debut, has put together a jury that welcomes two members of Guy Masterson's 2003 Edinburgh cast of comedians, Owen O'Neill and David Calvitto, both playing very different roles 10 years on.
They are joined by a sprinkling of famous names including Martin Shaw (Judge John Deed crossing to the other side of the court), Lock, Stock and Two Smoking Barrels's Nick Moran plus Americans Jeff (The Lawnmower Man) Fahey, and octogenarian Man from Uncle and, more recently, Hustle, Robert Vaughn.
For a little over two hours, they and their fellows debate the merits of condemning a 16-year-old delinquent to the electric chair following an open and shut case of patricide, the victim an abusive ne'er-do-well.
In an overheated, locked room, the initial vote seems unanimously in favour of a guilty verdict. Only the suitably understated Mr Shaw as Juror 8 has the kind of reasonable doubt that might just save an innocent life or alternatively free a murderer.
The calm architect, played by Henry Fonda in Sydney Lumet's iconic movie, is quietly determined and, without giving away too much, begins to sway his rum bunch of colleagues.
One by one, as a result of plot twists that provoke moments of great drama and occasional comedy and which insidiously change the views of the audience just as surely as those on stage, they are persuaded to reconsider, at the same time re-evaluating their own natures to varying degrees.
The cleverness lies in moving all present from a position of certainty at one end of the scale in the direction of the other without ever being too obvious about it, and that is why Twelve Angry Men remains popular long after other plays of the era have disappeared without trace.
This particular production can be a touch ponderous early on and a little melodramatic in the later stages, but it still represents a worthwhile evening's entertainment, especially for those that have never seen the play or film before.
Reviewer: Philip Fisher