twenty16
Paul Jenkins, Tracy Harris, Aleksandra Jones, The Cast
Theatr Iolo, The Welfare Ystradgynlais
Seligman Studio, Chapter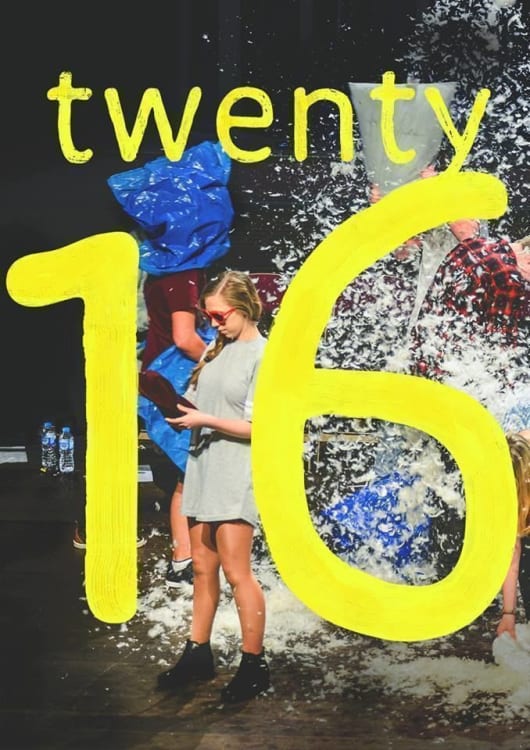 Twenty16 arrives in the studio space at Chapter for a one-off performance (following a showing at its home venue in Ystradgynlais; others are tentatively planned). This comes after a year-long research and development process, as part of the Platfform programme, which is designed to facilitate connections between emerging artists and young audiences and practitioners.
Led by writer and director Paul Jenkins, dramatist and documentary-maker Tracy Harris and choreographer and platform theatre specialist Aleksandra Jones, a group of young people assembled once a week and gradually built a performance which aims to reflect the concerns and experiences of contemporary youth.
The text has been arrived at by asking them twenty questions about their lives and about the world at large; the piece is structured around their responses.
The performance commences with the final group of ten performers (perhaps surprisingly, more males than females), sitting on the stage while Zakk Hein's video back-projection simulates the welter of social media and text communications to which we choose to be subjected.
Gradually, they rise, and start to respond to the stimulus questions. When asked for a word which describes 2016, the responses are both personal and political (President Trump does not come out well). Other questions include "Who did you lose in 2016?" (both family members and much-missed celebrities are referenced), and "What did you do on your 16th birthday?" (alcohol is involved).
There is much music (the piece commences with an ironic cover of "Teenage Kicks", but throughout, the soundtrack comprises vaguely left-field contemporary dance-pop) and much movement, reflecting both the supposed short attention-spans of the target audience and the complexity of the social world they inhabit. This builds to a climax with a clever, collective installation-art-style set-piece at the mid-point which drew spontaneous applause.
In terms of the subject-matter addressed, while the broader political context is mentioned, the focus is on personal preoccupations. The performers' individual stories are foregrounded, as they speak of sexuality, impending marriage, bereavement and career ambitions. The answer to the question of how to make the world a better place seems to be through small acts of self-actualisation.
Inevitably, given the actors' inexperience, there are occasional issues with voice-projection. And while Hein's video backdrop is highly accomplished, there is the danger of both it, and Matt Jones's equally clever sound design (as well as Connor Lovejoy's lighting effects) dominating rather than enhancing the performances.
It would be nice to suggest that the work of these bold, talented performers provides grounds for broadly-based optimism. They are a self-selected group, however, with a proven interest in creative expression, and in dealing with difficult questions—sadly, the world does not seem to be run by such people.
The performers as listed in the publicity materials are: Ross Dyson, Dafydd Rhys Evans, Will Gentle, Suzie Jenkins, Abigail Lara Owen, Lauren Raisbeck, Ioan Roberts, Corey Harkness, Joe Griffin, Theo Joshua James Gordon and Ioan Roberts. Not all of them appeared on stage, but presumably even those who didn't made a significant contribution to this ambitious, entertaining and emotionally trenchant piece.
Reviewer: Othniel Smith