Twentyfour Seven The Musical
Book and lyrics by Graham Whitlock, music and lyrics by Wayne Roberts, Adapted from the Screenplay by Shane Meadows and Paul Fraser
DreamArts
Central School of Speech and Drama
–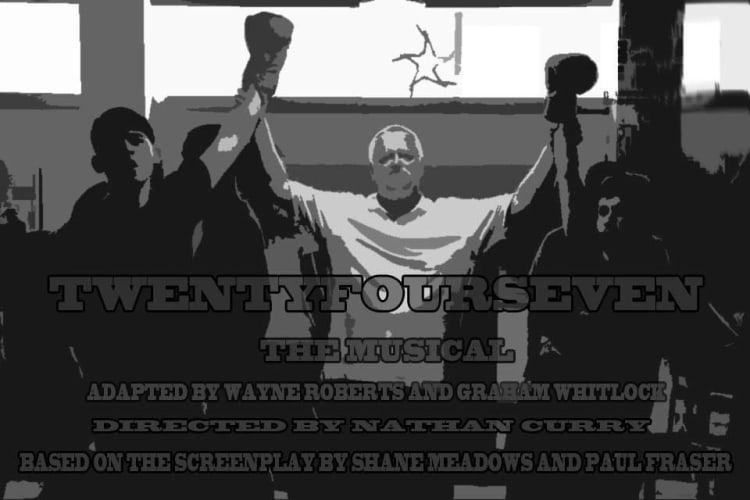 There is very little grey in this story of the disadvantaged being rescued from their tawdry lives by a reopened boxing club, symbolically called the Phoenix.
Good characters remain good, bad stay bad while youngsters switch from bad to good in less time than it takes to complete a round of boxing.
Nevertheless, this adaptation by Graham Whitlock from cult filmmaker Shane Meadows's script is good natured and doesn't overstay its welcome.
Although it is subtitled "the musical", this production falls halfway between a straight play and a musical, with the majority of the time taken up by the spoken word.
That is not to denigrate the rock compositions by Wayne Roberts of which by far the finest is the signature, Darcy Had a Dream, a tune that was ringing in this visitor's ears long after he left the theatre at the end of the 90-minute performance.
Producers DreamArts specialise in training youngsters up for staged performances. On this occasion, they have put together a talented company that is complemented by four professional actors led by Martin Johnston as Darcy, about whom everybody else moves, like boxers circling around a referee.
The play opens with his funeral but then quickly tracks back to the moment when Darcy decided to open a boxing club in order to take a bunch of troublesome kids off the street. In it, they cease to be hoodlums and become boxers, gaining self-respect along the way.
The central figures and the best of the younger actors are Gary Roche playing timid Tim and Iona Moncrieff as Kate, feistier than any of the men. The pair seemed destined to fall for each other from the moment that the girl fights her way into the club via the attentions that her fists pay to his chin.
Tim has his own problems, largely generated by Lloyd Morris as Geoff, the kind of father that deserves to be knocked out, and the lad's more sensitive and sensible mother Claire Morrisey's Carol.
She has some kind of history with Darcy that complicates matters but is never explained. Neither are Geoff's suggestions of the boxing club manager's unhealthy interest in youngsters.
Geoff is not the only older character that makes one cringe. Ronnie, played by Maynard Eziashi, is all sweetness and light, happily financing the club in return for advertising. However, he has ulterior motives beyond those of trying to toughen up his overweight son Tonka. Tristan Finn-Aiduenu in this latter role shows himself to be a comedian in the making, especially during a long-awaited tirade against his duplicitous old man.
Twentyfour Seven The Musical is an enjoyable romp and it is pleasing to be able to say that every one of the younger performers looks as if they deserve to be on a stage with professionals. It is to be hoped that several might be inspired to consider an acting career at some point in the future.
Reviewer: Philip Fisher