Twilight Song
Kevin Elyot
Cahoots Theatre Company
Park Theatre
–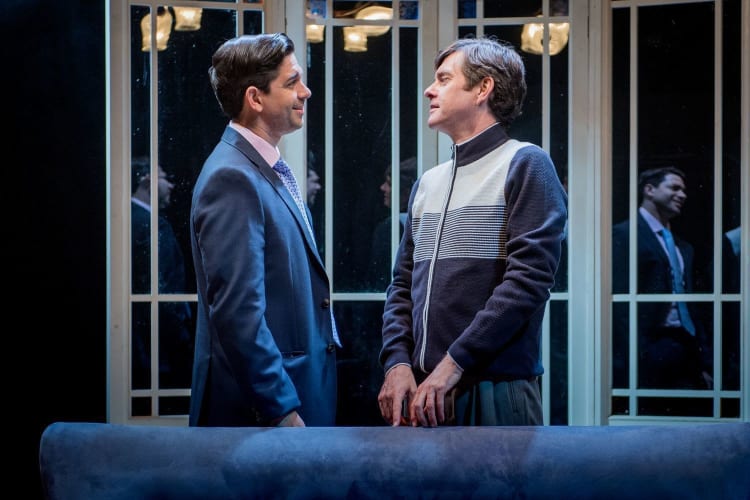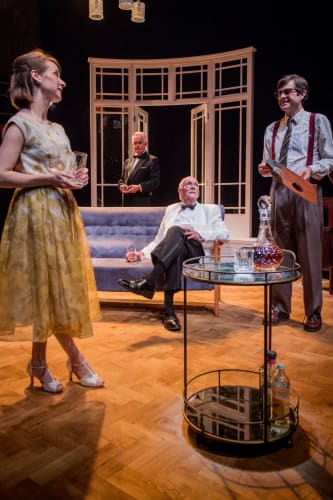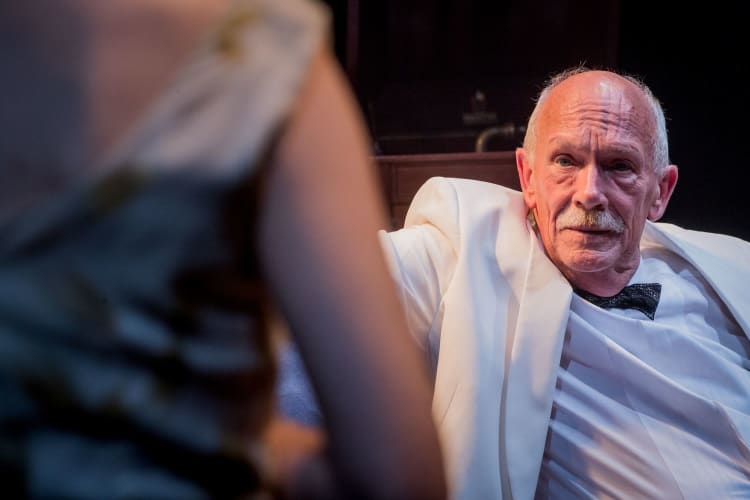 Kevin Elyot's final play, receiving its world première at the Park under the direction of Anthony Banks, was completed shortly before his death in 2014. Like his most famous work, My Night with Reg, this 75-minute-long drama looks at the difficulties faced by homosexuals at a pivotal point in British history.
Where the earlier play focused on the AIDS era, Twilight Song looks back in quiet anger to the 1960s and before, when to have homosexual tendencies could lead to a prison sentence.
Before getting there, the opening scene takes place in the current era, as Paul Higgins's nervous Barry, who has spent his 50 years devoted to an unkind mother, discusses selling the family home with the assistance of cocky Australian estate agent Skinner, played by Adam Garcia.
Among streams of often very witty double entendres, the otherwise bland conversation slowly turns to sex, a trade that the unhappily married Skinner rather implausibly pursues as a profitable sideline.
The scene then remains in the same location but moves back 50 years to a time when Barry's parents, Basil (Higgins again) and Bryony Hannah as Isabella, are relishing the pleasures of recent marriage and the impending birth of their first child.
They do so in the company of camp Uncle Charles, a doctor deliciously portrayed by Hugh Ross and his "friend" Harry, Philip Bretherton, a married solicitor with problems of his own.
As the quartet get ready to leave for a celebratory dinner at Le Caprice, a Gardener muscularly depicted by Garcia is doing what generous Harry has paid him for, plus so much more.
In retrospect, while Barry had seemed to be the protagonist of this play, most of the drama is generated by the unnamed Gardener, thanks to his bold interactions with all of the major players, occasionally at one remove.
Prior to a desperately unhappy final scene between mother and son, many of the evening's mysteries are revealed (or hinted at) in a painful scene set at a slightly later date in the 1960s.
By this stage, Harry is gone, Charles and Isabella, who is pregnant again, are struggling to come to terms with life, while Basil largely escapes into a little world of his own.
For those that are willing to apply themselves to this relatively slight work and add together a series of ends that turn out to be far from loose, Kevin Elyot has written a witty and moving drama about love, lust and long-term relationships that can be both thought-provoking and challenging.
Reviewer: Philip Fisher