Twilight of the Gods
Richard Wagner
English National Opera
Coliseum
(2005)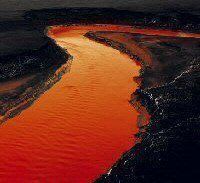 Whatever disappointments may have obscured our view of Phyllida Lloyd's new Ring Cycle for English National Opera when the long Rhine journey began more than twelve months ago, the culmination this weekend in Twilight Of The Gods is one of the most gripping, spectacular pieces of music theatre it has been my fortune to share.
Bayreuth's disappointing Jürgen Flimm production hardly matches the Coliseum for spectacle while the Royal Opera, sparkling with distinguished musical talent, have much to do on this showing.
Saturday's opening night of Wagner's greatest finale boasted, first and foremost, an orchestra under ENO Music Director Paul Daniel capable of anything on this form. There are always moments when horns stray- and, as these seem to sound from all around the vast, refurbished house (crowded with curiosity as to the fate of this huge enterprise), their general discipline is remarkable.
If it is true all orchestras receive an ovation at a completion of The Ring for merely surviving, then this one for Daniels sounded distinctly special.
The spectacle of this Twilight Of The Gods obviously owes much to the work of designer Richard Hudson - although that is only part of the story. In the first place, since the design has been consistent throughout the cycle, settings for Twilight are plainly of a piece with those for Rheingold. Yet somehow they appear better! Never more so than the wedding scene which almost offers a backward glimpse of 1930s Aryan ritual.
More striking still, however, is the funeral scene itself - memorable for the fact that it is composed solely of chorus. Few singers will stir an audience so much by silence.
While it's hard to know whom to blame for Siegfried's appalling dress sense, one of the great risks of modernised productions, such detail evaporates in the apparent ease with which tenor Richard Berkeley-Steele handles this formidable role. Happily, he is matched, in every way but height, by the Brünhilde of the Canadian soprano Kathleen Broderick.
The age of slim, shapely divas cannot be taken for granted and, in addition to bringing to the role the passion of a larger woman, Broderick can also look formidable in leather.
Andrew Shore's Alberich, in appropriately aggressive orange suit, makes an all-too brief contribution to this production. Scarcely surprising that he will undertake this role in next year's new Bayreuth production. Impressive performances, too, by Gidon Saks (Hagen) and Iain Paterson as Gunther with Sara Fulgoni a striking Walträute and Claire Weston as Gutrune.
Not that this truly splendid account is entirely without its strange moments. Such as the serene-faced Norns, charmingly sung by Liane Keegan, Yvonne Howard and Franzita Whelan, soothsaying centre stage from dentists' chairs. Gunther's men arrive menacingly bearing Greek shields beneath quaint wooden rockets before metamorphosing into wedding guests dressed for the Ryder Cup.
And can these delightful Rhine Maidens, the personification of pleasing pulchritude, really be of the demi-monde, however careless of their gold?
Not that such trivial considerations matter one jot in the context of greater issues, human greed and selfishness, which Richard Wagner brings before us in The Ring. ENO's new production reminds us, in a most convincing manner, that this sort of behaviour always ends in tears. And that, in the theatre, tears precipitate a great ovation!
The ENO production of "Twilight Of The Gods" is sponsored by MFI and supported by other donations and can be seen at the Coliseum on Wednesday April 6th (4 pm), Saturday April 9th (3 pm), Saturday April 16th (3 pm) Wednesday April 20th (4 pm), Saturday April 23rd (3 pm), Wednesday April 27 (4 pm) and Saturday April 30th (3 pm).
Reviewer: Kevin Catchpole