Two Roses for Richard III
William Shakespeare
Companhia Bufomecânica
Roundhouse
–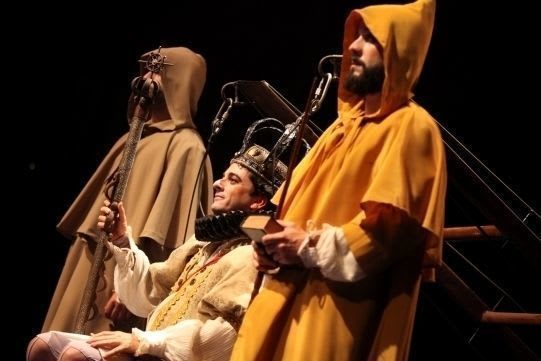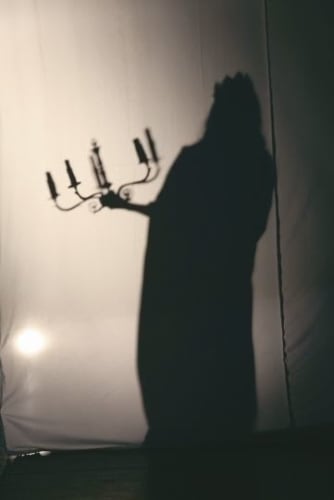 There is always value in seeing theatre from around the world and, at the moment, London is host to a plethora of Shakespearean productions in numerous languages, several presented in this season, the World Shakespeare Festival 2012.
Unlike the Globe to Globe programme, this RSC-supported Brazilian take on Richard III has the benefit of surtitles, for visitors that are not fluent in Portuguese.
In reality, it is probably best enjoyed by those who know the play well and can go with the flow, not worrying too much about reading the titles, which inevitably takes the attention away from the spectacle and performance.
Two Roses for Richard III is a mildly eccentric series of riffs on the original that can be faithful but tends to prefer the combined directorial adventure of Cláudio Baltar and Fabio Ferreira from Companhia Bufomecânica to get its kicks.
In the early scenes, after a boar-headed Richard has killed Henry VI and then, to make a point about the company ethos, the actors have swapped clothes, a real surprise sets the tone of the evening.
That is the use of multiple Richards, possibly to convey a split personality. At times, three or four actors can be sharing the role simultaneously and at the death (literally) both Richard and Richmond are played by women.
The plot drifts in and out of a series of vignettes, the best of which can be spectacular. These usually combine some aerialism and a murder or two. The most beautiful moment comes with the mid-air assassination of Clarence, though the young princes also go out in style.
The drama is spiced up with live rock music, video projections and physical theatre, though there is not too much done or said that adds to our understanding of either the play or its central character.
There is though one moment that speaks volumes when the putative King is given a bible to swear on and knows so little of his creator that he tries to do so while holding it upside down.
However, once he ascends the throne, Sávio Moll who is the main Richard proves himself to be an actor worthy of playing the role at the RSC, while the impassioned female Richard, Carol Machado, also shines at Bosworth Field, albeit briefly.
While the 2¾ hours contains a number of memorable images and some spectacular physicality, there is too little coherence to compare this with the best productions of this popular history play. This means that anyone who is not very familiar with Richard III is going to struggle.
Reviewer: Philip Fisher