Two-Way Mirror
Arthur Miller
Theatre by the Lake, Keswick
–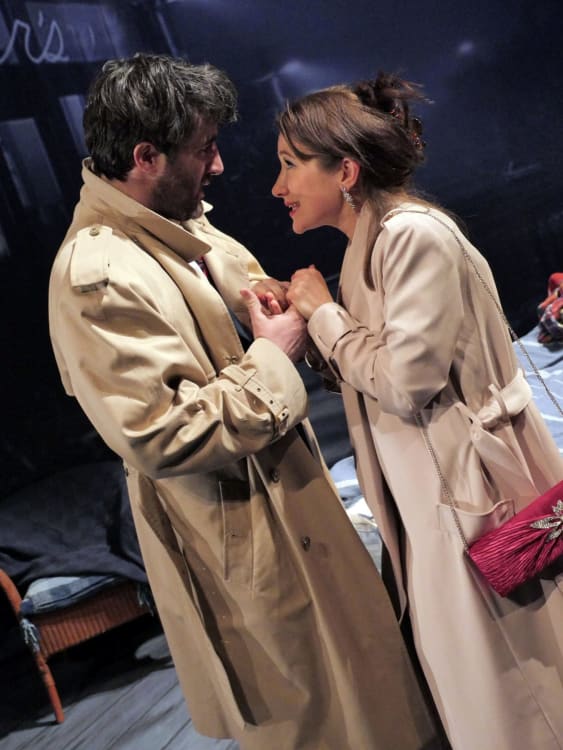 A rare gem, of an Arthur Miller double bill of one-act plays, is polished up to near perfection to open Theatre by The Lake's 2017 season.
Underlining the rarity value, this is only the second appearance of the double bill on the British Theatre Guide's web site—the last was at the Courtyard in Covent Garden 11 years ago. In 1989, David Thacker directed Helen Mirren and Bob Peck in an Old Vic production.
It's an intimate pairing of works, perfectly suited to Keswick's tiny Studio space and may—or may not—offer audiences an insight into Miller's own intriguing relationship with his wife Marilyn Monroe. Two-Way Mirror has come to be recognised as some sort of coded epitaph to the tumult and tragedy of their marriage.
The writer of some of the greatest plays of the 20th century is certainly in much more reflective territory. The ambiguity of the title, the contrasting scenarios, the hazy narratives, and indistinct interaction between characters, all demand—and reward—concentration.
The first play, Elegy For A Lady, is a 25-minute encounter between a shop owner and a customer desperately seeking a gift for his dying mistress. Their conversation reflects and distorts each other's thoughts on the nature of love and loss.
At twice the length, Some Kind Of A Love Story initially hints at a more clear-cut narrative, or even a caricature of so many encounters between a Bogart-style private detective and a Bacall-like beauty. But again it's much more opaque.
He is intent on righting a wrong, while his fragile ex-lover knows more than she's letting on. Reality and truth are refracted through the distorting effect of their exchanges.
Sarah Ovens and Philip Cairns both serve up sharply contrasting performances between both plays, and catch the demandingly-different rhythms. She is especially notable as either the demure and attentive shopowner, or the sharp-edged hooker, lapsing dramatically into a psychotic personality.
The post-show discussion, with director John Dove and the cast, reveals widely-varied audience reactions to the plays, all of which probably mirror Miller's intent?
After opening here in March, Two-Way Mirror has been on the road to town and village venues in and around Cumbria before returning to Keswick for a final fortnight.
Reviewer: David Upton