Tylwyth
Daf James
Theatre Genedlaethol Cymru / Sherman Theatre
Sherman Theatre, Cardiff
–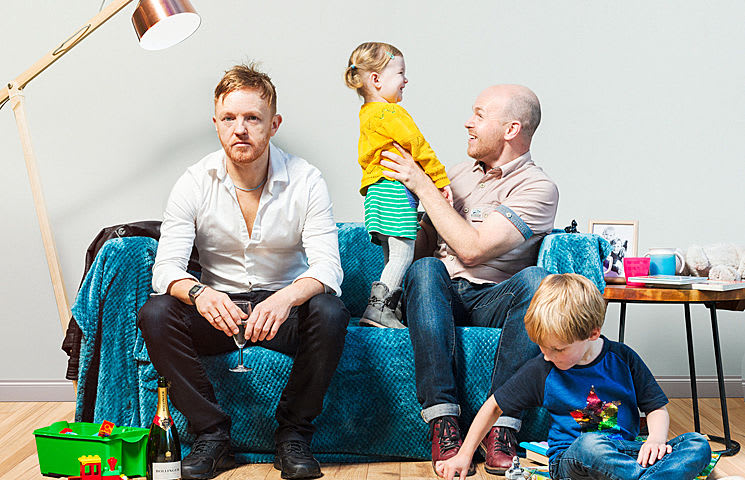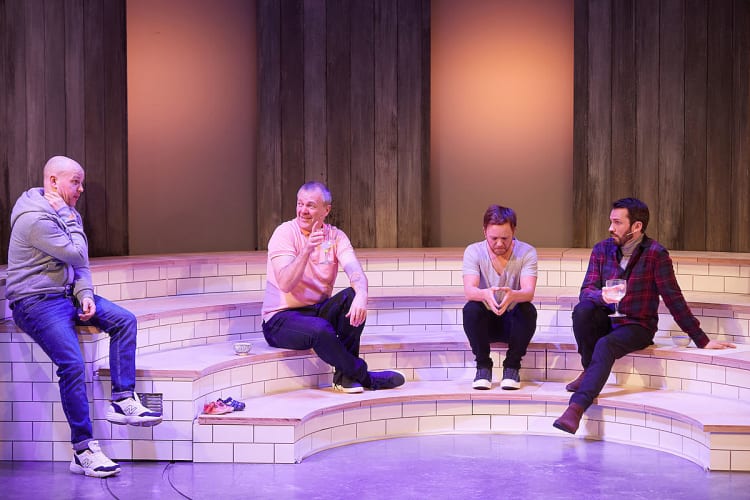 It is ten years since Daf James's Llwyth was the hit of the season, as the first Welsh-language play to focus on the lives of young, gay men (Roger Williams having long since staked out that territory in English, with Cardiff-based plays such as Gulp and Saturday Night Forever). Llwyth was not only a commercial and critical success in Wales and on the Edinburgh Fringe, but travelled as far as Taipei, taking Welsh theatre into previously unexplored territory.
2020 sees a sequel of sorts. While Llwyth—meaning "tribe"—saw a gang of hedonists out in Cardiff on the night following a rugby international, Tylwyth—"family"—finds some of the same characters experiencing something like domestic bliss.
The play actually begins with Simon Watts's Aneurin out poetically on the pull on another Cardiff match-day, where he hooks up with unworldly North Walian Dan, played by Martin Thomas. Almost immediately, we fast-forward several years: Aneurin and Dan are cosily cohabiting and have recently adopted two small children from troubled backgrounds.
One evening, they invite their old friends round for the first time in ages: recently married couple teacher Rhys—Arwel Davies—and entrepreneur Gareth (the only non-Welsh-speaker amongst the group)—played by Michael Humphreys; along with the older, gentler, terminally single Dada—Danny Grehan.
It quickly becomes evident that Aneurin is finding a life of sober responsibility something of a strain, seeming to question the very concept of gay parenting. He is also frustrated that his career as a screenwriter seems to have foundered on the rocks of institutional philistinism.
Sensing Aneurin's need to let off a bit of steam, Dan gives him permission to go out on the town with the others. There, things take a sinister turn when they bump into Aled ap Steffan's Gavin, with whom members of the gang had dealings when he was underage, and who is now in an abusive relationship with a drug dealer. Disturbed by this encounter, Aneurin is sorely tempted to revisit unhealthy habits, to the possible detriment of his relationship with Dan.
Tom Rogers's set is patterned after the iconic bathhouses of gay mythology, and good use is made of the venue's revolving stage, the actors shifting the scenery themselves (perhaps signifying their characters' never-ending Sisyphean struggles). The lighting and sound design (by Ceri James and Sam Jones respectively) truly come into their own during a hallucinogenic disco sequence, director Arwel Gruffydd enlisting the aid of physical theatre specialist Eddie Ladd to help convey Aneurin's existential confusion.
James's text is witty and pointed, containing several in-jokes which were greatly appreciated by the near-capacity, largely Welsh-speaking audience (even without the surtitles I'd have got the one about "Pobol y Bwm") as well as much sniping at sacred cows. The play seems, perhaps contentiously, to argue that its protagonists are inherently doubly self-sabotaging, being both gay and Welsh.
The performances are cleverly pitched, the friends' badinage barely concealing discontent; and ap Steffan is especially poignant as the physically and psychologically damaged Gavin. Watts's self-flagellating (not literally) Aneurin is on-stage throughout, even in scenes where the character is absent, suggesting that he is, in some sense, the author in disguise.
Over nearly two hours, Tylwyth visits some very dark territory, and is satisfyingly complex in its excavation of conflicting emotions. The over-the-top saccharine ending seems incongruous, therefore, even if it is intentionally parodic. This is a minor quibble, however. Tylwyth is a crowd-pleaser, but not a shallow one.
Following its brief Sherman run, the play goes on a Welsh tour (mostly without the benefit of surtitles). Even those who, like me, missed out on Llwyth will find much to applaud.
Reviewer: Othniel Smith