Ugly Duckling
Emma Reeves
tutti frutti and York Theatre Royal
York Theatre Royal
–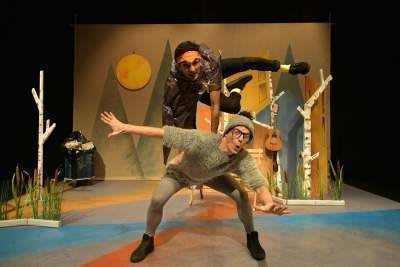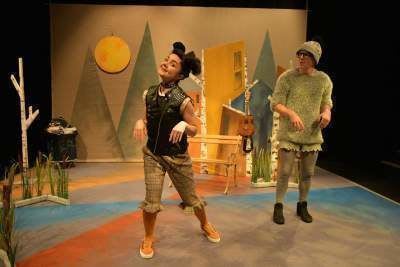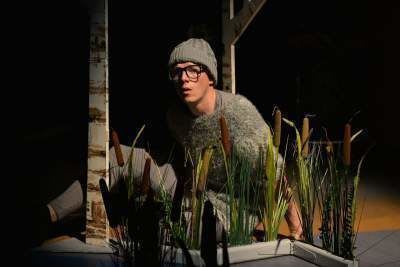 Following the success of Underneath a Magical Moon last year, children's theatre company tutti frutti returns to York Theatre Royal with a brand new adaptation of Hans Christian Andersen's much-loved fairy tale The Ugly Duckling (1843).
The show opens by the edge of a pond, where Mother Duck (Mave Leahy) and her adorable offspring eagerly await the arrival of a new family member. However, when the enormous egg finally hatches, the ducklings' new brother looks nothing like them: whereas they're yellow and fluffy, he's grey and gangly.
Christened Ugly because of his unconventional looks, our plucky hero (Danny Childs) is ostracised by his siblings and cruelly tricked into leaving the nest. Unable to find his way back to his loving mother, he sets of on adventure to find his place in the world, encountering a variety of different creatures en route.
As the seasons change and the verdant forest morphs into a wintry snowscape, Ugly looks up in wonder at the swans flying overhead. Will our young hero ever find his place in the world?
tutti frutti has gained an excellent reputation for delighting families with their shows, and this tradition continues with Ugly Duckling. The youngsters in the audience were transfixed from the very beginning where a dragonfly puppet flits from tree to tree across Catherine Chapman's charming storybook set.
As with Underneath a Magical Moon, much of the production's magic stems from the ingenuity of Wendy Harris's staging. The rendering of the passing seasons is beautifully done, particularly the arrival of winter where the three cast members strew the stage with white confetti.
The three performers give committed and energetic turns. Danny Childs is charmingly bewildered as hapless Ugly, and skilfully charts his development from gangly cygnet to graceful swan. As a child of the eighties, I applaud the decision to style the adults swans in white suits à la Don Johnson in Miami Vice.
Maeve Leahy imbues Mother Duck with genuine warmth and delights as an attention-hungry dog, particularly when she gets members of the audience to scratch her ears.
Daniel Naddafy impresses in his various roles, including Ugly's mean older brother, an aggressive goose and a supercilious cat. I think it's fair to say that most of the adult-generated laughs came from his vibrant characterisations.
Emma Reeves, an Olivier Award nominee for her work on Hetty Feather (2014), has crafted a lovely family show that preserves the central moral of Andersen's story (the importance of inner beauty) without being overly moralising.
I think Ugly Duckling would make a super introduction to the theatre for little ones.
Reviewer: James Ballands