The Umbrellas of Cherbourg
Based on the film by Jacques Demy, music by Michel Legrand, English lyrics by Sheldon Harnick
Kneehigh
Gielgud Theatre
(2011)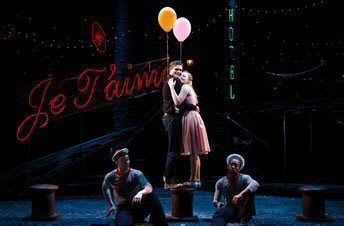 Cornish company Kneehigh had their greatest popular hit with an innovative stage version of a classic romantic movie, Noël Coward's Brief Encounter. That production first conquered the West End, before crossing the Atlantic to play on Broadway for three months.
This successor attempts to reprise the success with a sung-through musical drawn from another much-loved film, this time French.
Emma Rice's vision for Jacques Demy's iconic The Umbrellas of Cherbourg is unusual in this day and age, in that this is an easy listening musical romance, with compositions from Michel Legrand.
The story, which opens in 1957 in the tawdry port of the title, centres on the tender love affair of Andrews Durand's handsome mechanic Guy and umbrella shop owner's daughter Geneviève (Carly Bawden).
Their love seems unshakeable but life intervenes, as Guy is called up and sent to fight for his country in Algeria for two years.
He leaves his teenaged not quite bride pregnant but faithful until his long silences (where did his letters get to?) force her to consider an offer of marriage from Cassard, the rich benefactor who saved the family from penury when business wasn't going too well.
That is pretty much the sum total of the plot, which then develops to a bittersweet conclusion as, in time, the couple are separated and marry others, having matching puppet children, with more than a hint that they would have been happier together.
Kneehigh attempt to stamp their mark on The Umbrellas of Cherbourg in a number of ways. First, Emma Rice creates a staged musical with appropriately period choreography, led by three sailors considerably less macho than Guy's wheelchair-bound aunt, played by Dominic Marsh who also takes on the role of Cassard.
At the start of each half of the 2¼ hours, cabaret star Meow Meow struts her stuff, providing a little French-accented narration. She also sings Sans Toi, a song borrowed from another movie, Agnès Varda's Cléo de 5 à 7, giving it the full Piaf treatment. The slight problem here is that the sexy kitten's activities rarely seem to have any significant interaction with the main story.
That takes place in a mildly surreal but seriously depressing town, broken up impressionistically by designer and costumier Lez Brotherston after a first magical vision in toy town size. He also uses Brechtian techniques with bilingual signposting and actors hefted around by their colleagues.
In addition to the signature tune I Will Wait for You, the music is at its best when Joanna Riding as the single mother and shopkeeper Mme Emery argues in fiery duets with her headstrong little daughter, a character played in the movie by Catherine Deneuve in her first leading role.
Overall, the production follows much of the music and lacks energy, relying on viewers being bowled over by the love story and lush arrangements, which are built on to a 1950s Gallic feel that is the company's main achievement.
Reviewer: Philip Fisher