Un ballo in maschera
Giuseppe Verdi
Opera North
Leeds Grand Theatre
–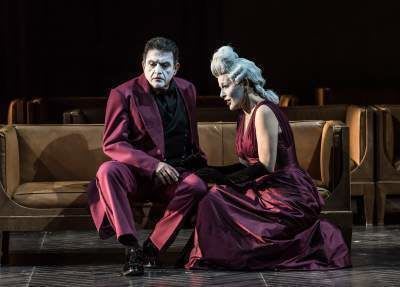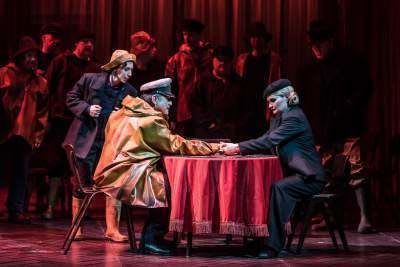 Alongside revivals of Madama Butterfly (1903) and Don Giovanni (1787), Opera North's latest season includes its first-ever production of Un ballo in maschera (1859). While this opera does not enjoy the fame or popularity of Verdi's earlier works, particularly Rigoletto (1851) and La traviata (1853), it does contain some of his most subtle and sophisticated music.
Un ballo in maschera is also interesting because of its unusual performance history. Verdi based his opera on the assassination of the Swedish king Gustavus III in 1792, but this subject was rejected by Italian censors on the grounds that opera should not delve into politically sensitive material. Consequently, it was agreed that Un ballo should be set in America—colonial Boston, to be precise—and the King of Sweden should become an English aristocrat.
Like many contemporary productions of Un ballo in maschera, director Tim Albery returns the action to Sweden, albeit in the 1940s. Although one could view the opera as a political thriller, it is first and foremost about a tragic love triangle.
King Gustavo is hopelessly in love with Amelia (Adrienn Misch), the wife of his best friend and trusted advisor, Count Anckarström (Phillip Rhodes). When the latter discovers that he has been betrayed, he joins a conspiracy to eliminate King Gustavo, culminating in bloodshed at a grand masked ball.
Un ballo in maschera is a beguiling mixture of light and dark, in which Verdi combines courtly music reminiscent of the 18th century with more brooding, ominous sounds. The score is thrillingly performed by the Opera North orchestra, who manage to capture its heady mixture of gentility and suspense.
Following hot-on-the-heels of his revived production of Madama Butterfly, Un ballo in maschera serves as further evidence of Tim Albery's directorial flair, particularly when it comes to directing melodrama.
The production's 1940s setting is clearly evoked through Hannah Clark's costumes. Clad in trenchcoats, baggy suits and trilby hats, the conspirators look they've stepped out of a film noir. The final scene, in which all the characters are dressed in identical costumes and wigs, is an extraordinary sight.
The high-walled set, modelled on a room at Drottningholm Palace, is striking in its stark minimalism and offers a pleasing contrast to the red velvet curtains that decorate the dwelling of Ulrica (Patricia Bardon), the fortune teller. Unfortunately, there was a mishap with the curtains on the night I attended, which meant that they did not disappear entirely when they were lowered, resulting in unshapely piles of fabric on the floor.
There is excellent work from the ensemble cast. Rafael Rojas, who memorably assailed the title role in Andrea Chénier (1896) two years ago, is given ample opportunity to demonstrate his vocal versatility. He also captures the psychological anguish of a man struggling with an immoral passion. Equally strong is Phillip Rhodes, particularly in the scenes where his character is plunged into homicidal anger.
However, I would say that the three most dynamic turns come from the female leads. In her Opera North debut, Adrienn Misch sings beautifully as Amelia and skilfully conveys the character's sense of entrapment. Patricia Bardon gives a magnetic performance as Ulrica, the mystical denizen of a cabaret bar, and Tereza Gevorygan is impeccably boyish as Oscar, the king's secretary.
The music in Un ballo in maschera is lighter and more jovial than one might expect for a tragic opera, but Opera North still manages to bring out the darkness of Verdi's work.
Reviewer: James Ballands