Madama Butterfly
Giacomo Puccini
Opera North
Leeds Grand Theatre
–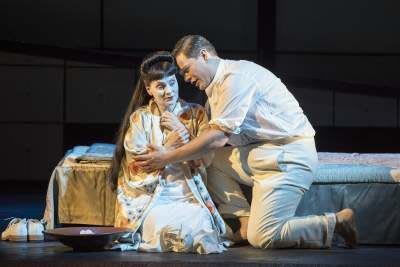 Following the critical success of last year's Little Greats season, which included a delightful Gilbert and Sullivan farce (Trial by Jury) and a magical childhood fantasy from Ravel (L'enfant et les sortilèges), Opera North has chosen to explore the dark side of opera. Their new season, entitled Fatal Passions, is devoted to works that deal with forbidden and transgressive desires.
The first of the three productions is Puccini's beloved masterpiece Madama Butterfly (1904). Inspired by harrowing real-life stories, this opera focuses on the exploitation of a 15-year-old Japanese girl, Cio-Cio-San (Annie Sophie Duprels), at the hands of an older American naval officer, Lieutenant Pinkerton (Merūnas Vitulskis).
Fatherless and romantically inexperienced, Cio-Cio-San rejects her family, religion and culture in order to wed Pinkerton. However, the callous naval officer has no intention of sticking around after the wedding night. He is aided in his scheme by the strange nature of their marriage contract which allows the union to be dissolved at a month's notice.
Three years after her wedding, the now 18-year-old Cio-Cio-San refuses to accept that she has been abandoned by her faithless husband. However, Pinkerton's return does not herald the family reunion that our heroine has waited for.
First staged by Tim Albery in 2007, this production of Madama Butterfly takes on new, troubling resonances in the wake of the #MeToo revelations that have flooded Twitter over the last few months. Puccini is rightly admired for his gallery of wronged women, but Cio-Cio-San may be the most tragic of them all.
Reprising her role from the 2007 production, Anne Sophie Duprels delivers an outstanding performance as Cio-Cio-San. In the first half, her hypnotic stillness and lavish geisha costume (beautifully designed by Ana Jebens) make her a mesmerising figure. In the second, her resonant voice skilfully captures the character's overwhelming love for her husband and her mounting frustration with his absence.
Lieutenant Pinkerton is a thankless role for an operatic tenor. Indeed, the audience booed and hissed when Merūnas Vitulskis, making his Opera North debut, took his bow at the end. However, Vitulskis imbues the character with an earthy solidity that contrasts pleasingly with his delicate young bride. I was also moved by his stunning duet with Duprels at the end of the first act. Although the character has already stated his intention to desert Cio-Cio-San, Vitulskis allows us to entertain the possibility (albeit briefly) that perhaps he will be a dutiful husband after all.
There is also excellent work from the supporting cast, particularly Ann Taylor as Suzuki (Cio-Cio-San's faithful servant) and Peter Savidge as Sharpless (the American consul), both of whom revive their performances from the 2007 production. The "Humming Chorus", as sung by the Opera North Chorus, provides one of the evening's undoubted highlights.
Tim Albery's simple yet intense staging is effectively served by Hildegard Bechtler's geometrical set design, with its ramps, sliding panels and mountainous panorama. Not only does it form a restrictive prison for Cio-Cio-San, it also opens up to reveal the country that she has forsaken in the name of love.
Peter Mumford's gorgeous lighting complements the drama beautifully, particularly during the long sequence where Cio-Cio-San and her household wait for Pinkerton to return.
Madama Butterfly has become a familiar part of our cultural landscape, its music featuring in everything from Fatal Attraction (1987) to The Simpsons (1989). Puccini's superb score, which draws heavily upon Japanese folk music, is performed with gusto by the Opera North Orchestra, conducted by Martin Pickard.
Opera North rarely disappoints and Madama Butterfly represents another rousing success for this tremendous company.
Reviewer: James Ballands