Unbroken
Alexandra Wood
Gate, Notting Hill
(2009)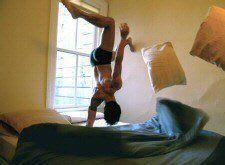 Ever since Sir David Hare turned La Ronde into The Blue Room and (with a little help from Charles Spencer) "pure theatrical Viagra", anyone working with this play has a lot to live up to.
To be fair to its creator, Arthur Schnitzler, the original was pretty hot stuff, examining fin de siècle sex, Viennese style.
The latest entrants into the field are writer Alexandra Wood and director Natalie Abrahami, the team behind The Eleventh Capital, seen at the Royal Court in 2007.
Unbroken starts at a disadvantage in only attempting 60% of the expected couplings, with three couples swapping pairings swiftly in a performance that only lasts 50 minutes.
Where it scores is in combining dance and physical theatre with Miss Wood's text, which addresses very modern problems and pleasures.
Trying to combine dance and straight acting was always going to be a challenge and on this occasion, both performers are more comfortable in the physical dimension.
Bearded Darren Ellis especially is far better at portraying character through his muscular physicality than his facial expressions and vocal intonations. The bleach-blonde Gemma Higginbotham excels at feline movement, seducing not only her husbands and lovers but viewers who sit very close but on the far side of a thin netting barrier, which covers the whole of the wide but very shallow stage space, pockmarked like some war zone.
The first couple of scenes feature a newly-minted rock star who still can't quite believe his luck in becoming the object of dreams, while the other characters are more ordinary. The best sections shine the spotlight on sparky Zoë, an intern first seen speed dating and then seducing a boring, married colleague.
The stories are enhanced and practically overtaken by Ugo Dehaes' choreography. This is of the slow, sinuous variety, which speaks volumes in its erotic evocations but even more so when Johnno the rock star is rejected by his old flame Laura. Then he resorts to the kind of force that would be described as rape if it hit the front page of the News of the World, which with his high profile might be all too likely.
The Gate now specialises in dance-heavy work and is to be congratulated on this enjoyable experiment that has attractions for lovers of both modern dance and drama.
Reviewer: Philip Fisher