Uncle Vanya / Three Sisters
Andrei Konchalovsky Production Centre
Mossoviet State Academic Theatre
Wyndham's Theatre
–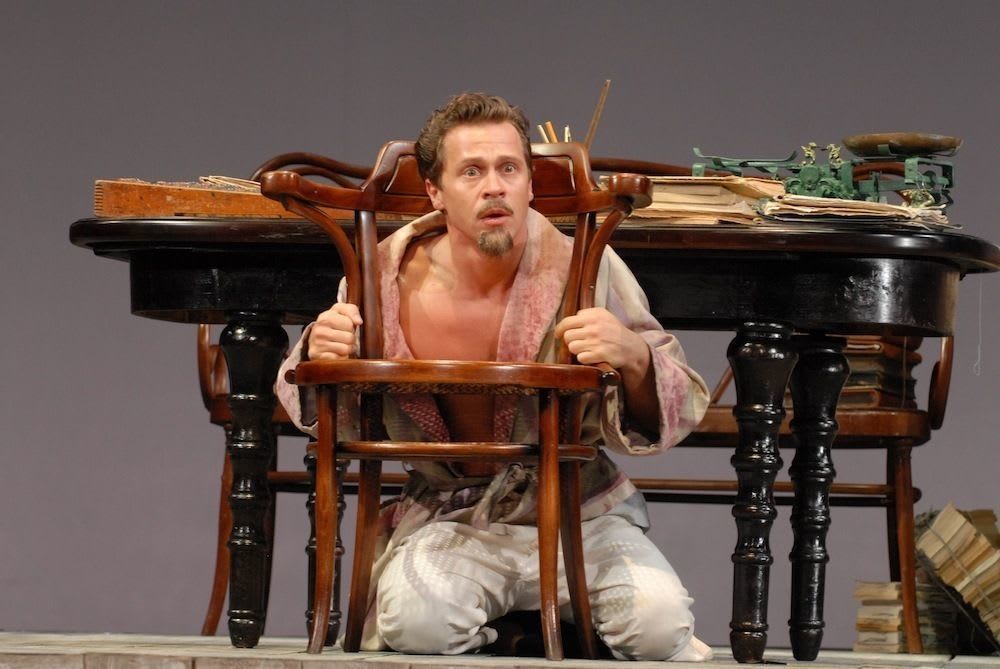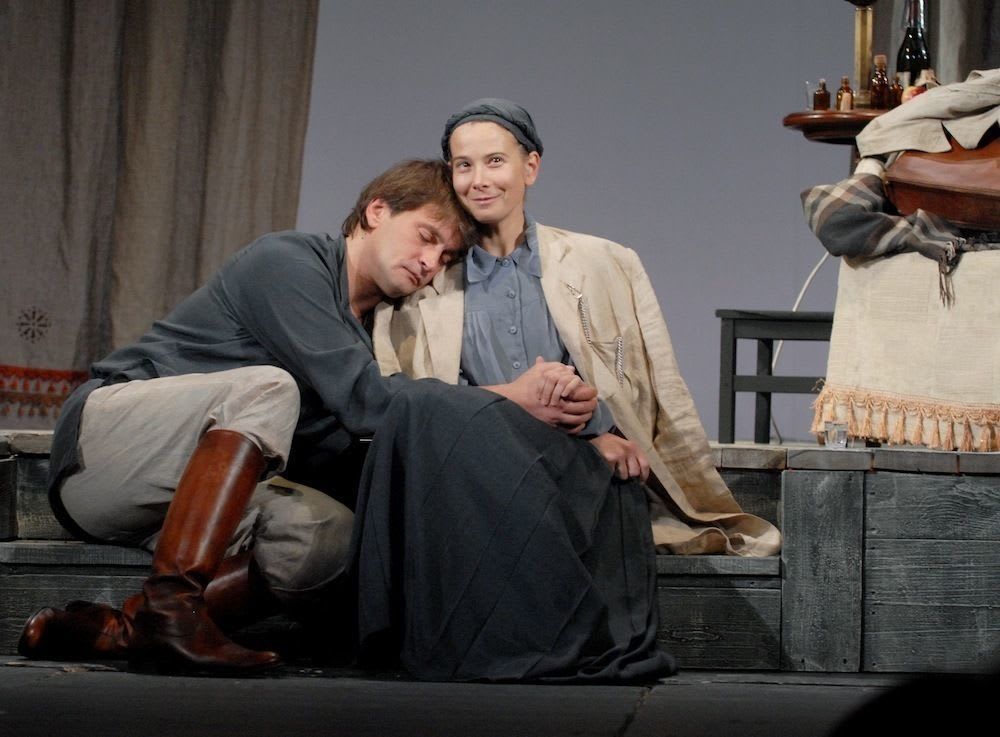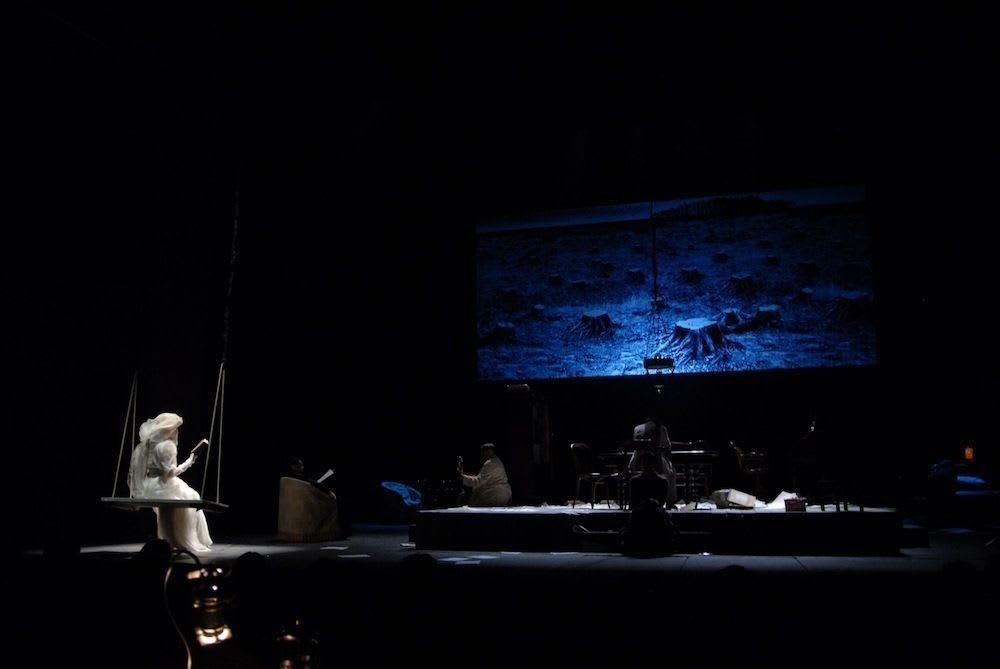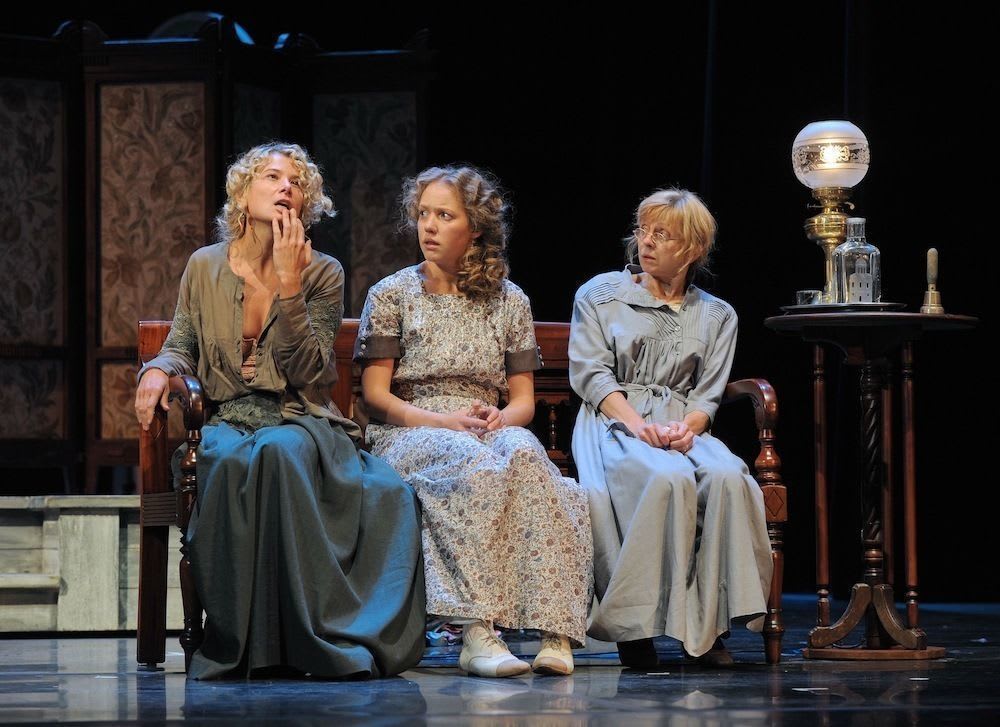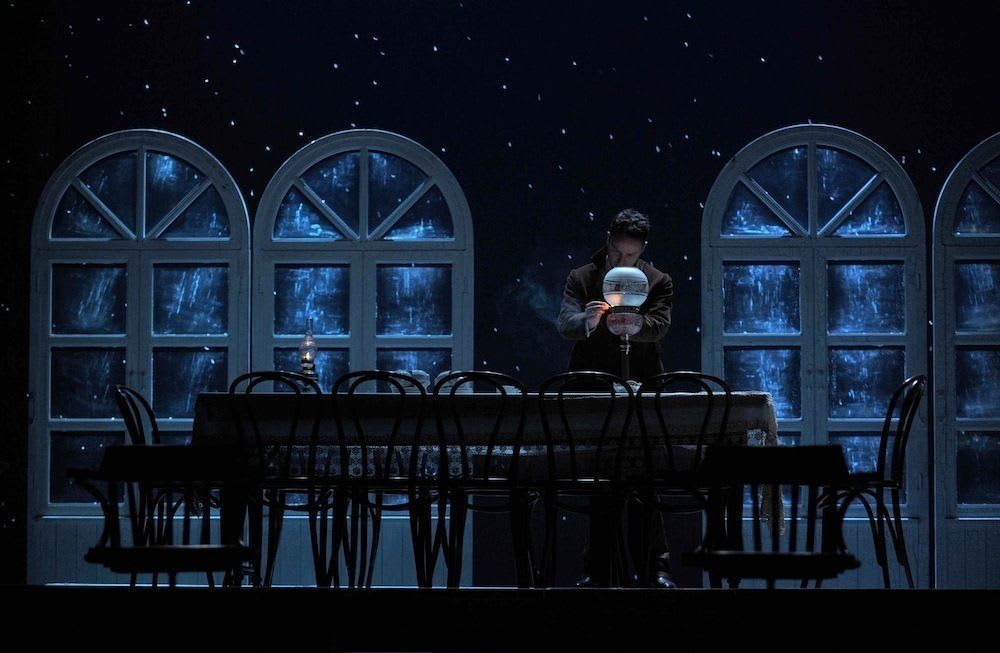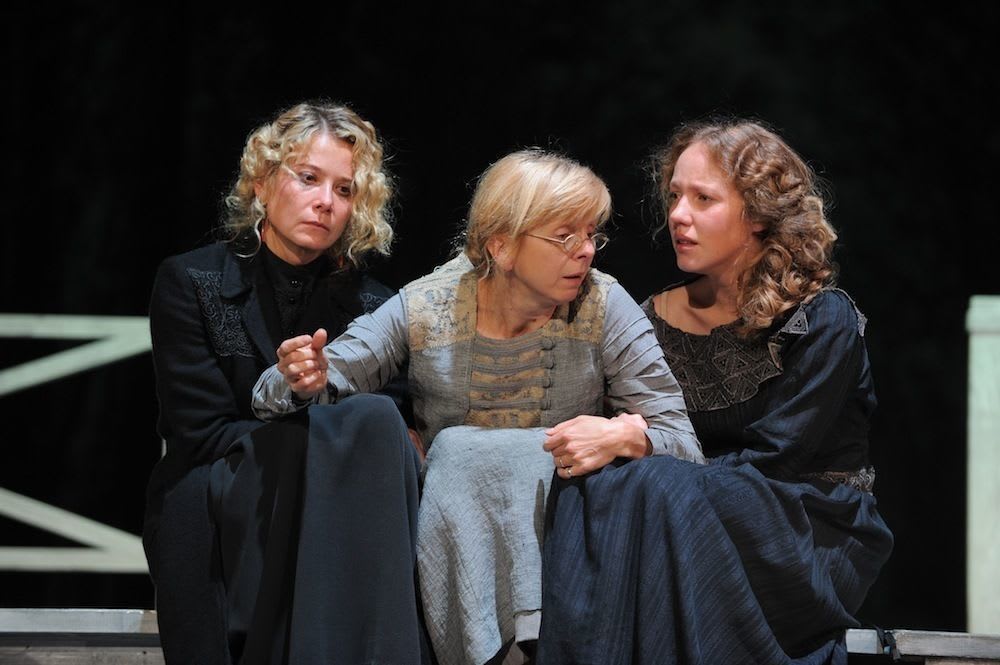 Chekhov was a stickler for detail and wouldn't appreciate the sound of a mobile 'phone ringing during the staging of his plays—politely announces a Russian speaker over the Tannoy. It is not translated into English. A large Russian audience is anticipated.
Andrei Konchalovsky, the internationally renowned director of double bill Uncle Vanya and Three Sisters (presented back to back for the press), thinks it matters little whether you understand Russian or not—the emotions on the stage will be clear.
The surtitles are so often out of synch that non-Russian speakers will be occasionally bemused, and sometimes the actors are inaudible, but there is a silent screen demonstrativeness in the acting on stage. And an out-of-tune piano as accompaniment.
The past and present, theatre and cinema, are forced into a shotgun marriage. A woman in white, ghost of Sonya's dead mother, sits reading on a wide wooden swing (and wanders through both plays), whilst the soundscape is traffic noise. Old photographs flicker large on the screen.
Doctor Astrov's ecological concerns find example during scene changes: backcloth projection of a contemporary Moscow night scene, cars blaring, neon lights, and desolate images of deforestation and Russia's famines.
Indolent gentry with their philosophising, and peasant squalor: humanity under Chekhov's microscope, but life must be lived. By producing the two plays in tandem as one production on the same veranda set, Konchalovsky intends to draw out Chekhov's variations on a theme. He says he'd have liked to include The Cherry Orchard, but feared that would be too much for audiences in one day...
Konchalovsky, son of Soviet and Russian national anthem and children's book writer Sergei Mikhalkov, brother of Oscar-winning Nikita Mikhalkov, grandson of avant-garde artist Pyotr Konchalovsky, and great grandson of eminent painter Vasily Surikov, has an illustrious cultural legacy and instinct to draw on.
He has worked with Andrei Tarkovsky, written and directed numerous screenplays, acted, directed theatre and opera, and made a film of Uncle Vanya as far back as 1970 starring Innokenty Smoktunovsky (the Russian Hamlet) and Sergei Bondarchuk (director of War and Peace). Credentials for getting under Chekhov's skin…
And this is what I think he is doing, scenting out his heritage. Marina (Larisa Kuznetsova a hyperactive nanny, and highly-strung Olga in Three Sisters) set in her ways, lighting the samovar in her peculiar way, using an old boot as bellows, Vanya's mother (Irina Kartasheva) reading her pamphlets, Astrov drowning his disillusionments with vodka, foolish Vanya and saintly Sonya enduring life's cruelty.
They will take tea with jam, will be frustrated in love, strum guitars, bare their souls, make fools of themselves, have their hearts broken. Town folk, or soldiers' battalions, will intrude into their dull country life, but will go away, and those buried in the country will remain buried. It is the gradual realisation of this inevitable inertia that gives Chekhov's plays their tragi-comic clear-sightedness.
Yet, Konchalovsky's production of the two-plays-as-one seems to take Chekhov's allusions to Gogol and Lermontov too much on board. Solyony in Three Sisters styles himself on Lermontov, we know, but Alexander Domogarov's Vershinin—monocled with an affectation and a fluting-voiced effeteness straight from Gogol and his Petersburg sketches—is a delightful surprise after his virile Astrov.
Pavel Derevyanko makes a far better youthful Baron Tuzenbach than Vanya, whom he overplays with pratfalls and slapstick (clown red nose, top hat and evening suit in one scene). And when his hand creeps up Elena's skirt to the top of her thighs—and she doesn't object—one is a little shocked. That can't be right.
Konchalovksy sees sex-starvation in both plays. Solyony (Vitaly Kishchenko) not only has his hand under an unresisting Irina's (Galina Bob) skirt, but he also unbuttons her blouse fully. Chekhov as bodice-ripper, now there's a thing.
Seventy-six-year-old Konchalovksy has a wife half his age (Yulia Vysotskaya, his fifth, Sonya and Masha in the two plays), which resonates in the sympathetic portrayal of Serebryakov (Vladas Bagdonas, Chebutykin in Three Sisters) and his young wife Elena (Nataliya Vdovina, also excellent as Andrei's nouveau riche wife in Three Sisters), after whom both Astrov and Vanya lust.
Yulia Vysotskaya hair under a scarf, which makes a mockery of the 'beautiful hair' line, makes a beatific Sonya, face glowing in the presence of Astrov. The moment he eats a slice of cucumber off her hand and she raises that hand to her cheek is touching.
Her Sonya has so much more spirit than her Masha, and her final scene sweeping papers off Vanya's table speaks of despairing anger rather than the endurance she preaches.
Alexander Bobrovsky is another funny character from Gogol as Telegin and Kulygin. I keep seeing Chekhov's influences rather than Chekhov… And Alexey Grishin and Vladimir Goryushin are a good double act as Andrei and Ferapont in Three Sisters.
All the actors are given a moment to explain what Chekhov and the characters they are playing mean to them in another screen interlude. Now that's a new phenomenon, interviews inserted into a play. Some are serious; one takes the opportunity to say hi to her family and friends…
The neat Konchalovsky-designed set is fine, and the actors sit on the sides when not needed, ever present. Eduard Artemyev's music reminds me a little of the Vakhtangov Uncle Vanya production that visited London last year. Memories and nostalgia...
Founded in 1923 Mossoviet State Theatre is one of the oldest theatres in Moscow, but this is its first visit to London as part of the UK-Russia year of culture. The company is a close-knit ensemble: their acting is edgy and intimate, sometimes too large, but traditional on the whole in its interpretation of Chekhov, with a few incongruous directorial add-ons, not least a Brechtian stage manager.
Konchalovsky, taking Astrov's 'This is a farce' at face value, loses some of Uncle Vanya's lyrical subtlety and rhythm in the process. His Three Sisters is more poignant, opening with 'how long ago it all was…' written up as a silent screen caption (reminds me of a popular sentimental song from a 1976 Soviet film).
Did it actually happen? 'Maybe I don't exist', Chebutykin wonders. What do we know? The battalion leaves and chilling footage of other soldiers marching take their place, whilst Vershinin plays that piano (Konchalovsky's brother made a film in 1977 called An Unfinished Piece for a Mechanical Piano based on Chekhov's Platonov).
Reviewer: Vera Liber