Underground
Dreamthinkspeak, inspired by Fyodor Dostoevsky's Crime and Punishment
Part of the BITE:05/Young Genius season
The Old Abattoir, Clerkenwell
(2005)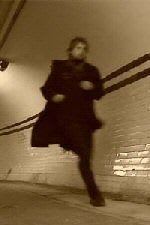 Site-specific works are frequently both surprising and ingenious. In Edinburgh alone this year there was a selection of superb work of which the very best was The Devil's Larder in Debenhams department store on Princes Street.
It seems that companies that have the imagination to create site-specific pieces also have the ability to carry them through to successful production. Dreamthinkspeak have opened up an old abattoir and on two levels, one appropriately below ground level, they have recreated one of the Russian classics, Crime and Punishment.
Having entered the strange, enclosed and rather claustrophobic world created by Dreamthinkspeak, one initially has time to wander around, soaking up the slightly dank atmosphere while travelling in time and space to St Petersburg 140 or so years ago.
Using a variety of media, the city is brought back to life. Visitors are encouraged to enter an assortment of small rooms, some with greater significance than others. Particularly memorable are a magic mirror, several loops of film and the showroom of a pawn broker, a small Japanese lady who, if you are unlucky, will assail you and then chivvy you out of her shop.
During a brief visit to a bar in which the fortunate are offered glasses of red wine or to be more accurate, vin rouge, the plot begins to thicken when a sinister, moustachioed man appears to bully and take advantage of a pretty young lady.
Soon, one is likely to come across an axe-wielding madman bent on murder. This is Rodion Romanovitch Raskolnikov, an idealist who turns murderer as part of a sociological experiment. Scot Iain Pearson is very convincing particularly, as the weakened young man succumbs to interrogation from the terrier-like Porfiry, played by wild-haired Miltos Yerolemou.
Throughout, other scenes are taking place in which one can observe a church service or a scene featuring innocent Sonia forced into prostitution by her awful father Marmaladov. Towards the end, her mother Katarina Ivanovna comes centre stage and, in a scene all too chilling as bird flu approaches Britain, dies horribly from a consumption that she passes to the sombrely dressed citizens who mill around like ghastly automatons as an accompaniment to the proceedings.
Underground is one of those unusual theatrical creations that can be difficult to describe but should not be missed. Director Tristan Sharps shows great imagination and is well supported by his multinational cast who speak in a variety of tongues just to add to the overall impact.
Part of the fun of the evening is in the choice offered to spectators. One is allowed to remain in the space for as long as is necessary although the storytelling probably takes something like 1½ hours from start to finish.
Once it becomes apparent that there are a number of key figures who might be of interest, the event becomes something like the Open Golf Championship. It is necessary to decide whether to join the crowd and follow Tiger Woods or Colin Montgomerie (or Raskolnikov and Porfiry in this case) or to stay put and allow the action to come to you. Almost inevitably, a combination of the two will provide the richest reward.
At the end of this unusual experience, the average audience member will have soaked up a lot of the atmosphere of St Petersburg in the 1860s and with a little luck, should have followed the fate of Raskolnikov through his crime and into his largely internalised punishment.
Reviewer: Philip Fisher